Why Oprah Winfrey 'Hated' David Letterman – Inside Their Decades-Long Feud
Though Oprah Winfrey and David Letterman are friends, it hasn't always been smooth sailing between the two as they were considered "frenemies" a few years back.
There have been plenty of infamous celebrity feuds over the years. But one that holds a distinct place within pop-culture lore is the feud between Oprah Winfrey and David Letterman.
The television icons allegedly quarreled for more than two decades, with Winfrey not even speaking to Letterman for much of that time. So what caused there to be bad blood between these two powerhouse hosts, and have they made amends? Here's everything we know.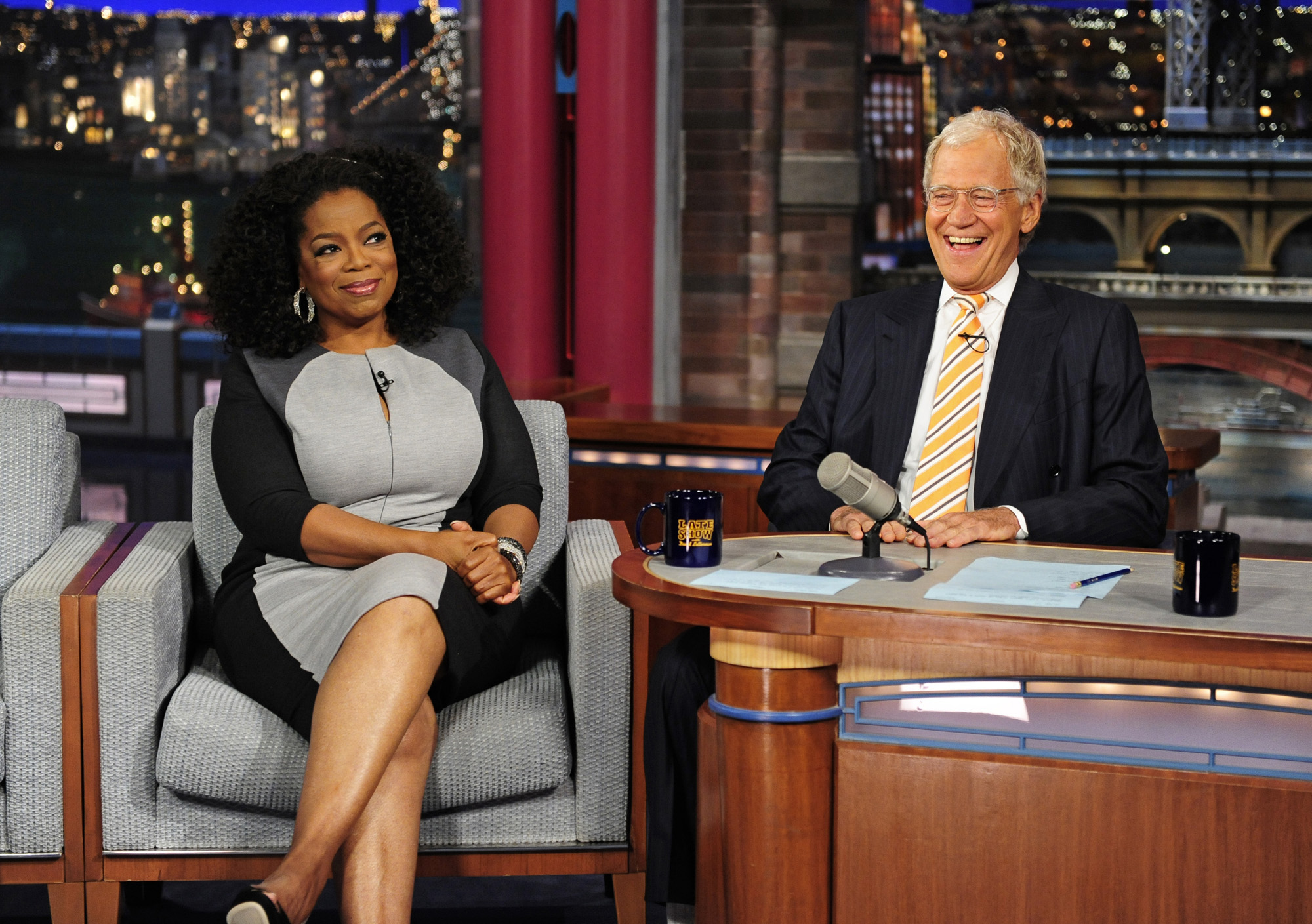 Oprah had an uncomfortable first-time experience on 'Late Show'
Winfrey and Letterman's apparent feud dates back to the late 1980s. According to Business Insider, their alleged bad blood started after Winfrey appeared on an episode of The Late Show with David Letterman and felt that it was an "uncomfortable" experience.
The situation made her refuse to be a guest on Letterman's show again. He then started making jokes and exaggerated rumors about her feelings toward him.
In 1995, Letterman poked fun at the media mogul while hosting that year's Academy Awards.
"I've been dying to do something all day and I think maybe we can take care of this," Letterman said seconds after the telecast aired on March 27, 1995. He then introduced The Oprah Winfrey Show host and another incredibly famous woman who also has an unusual name.
"Oprah? Uma. Uma? Oprah." Letterman said before adding, "I feel much better. Have you kids met Keanu?"
David Letterman joked that Oprah 'hated' him
Though many assume that Letterman's "Uma, Oprah" speech during the 1995 Oscars caused Winfrey's ill feelings toward him, he said that her dislike of him originated years prior.
While speaking with Jon Stewart in 2010, Letterman revealed that Oprah "hated" him after he stuck her with his restaurant bill while they were vacationing in the same place.
"This predates the Academy Awards. She hated me long before then," he said of Oprah, per HuffPost. "She was with Steadman. I was with my then-girlfriend Regina. We were both at a restaurant having lunch on vacation. I said to Regina, 'Oh, this is hilarious, I'm gonna make Oprah buy us lunch.'"
When the waiter came to grab the check, Letterman told him, "Oh, this woman right over there has been kind enough to take care of our check."
The former talk show host said he waved to Winfrey as he and Regina left the restaurant.
"We got a free lunch and that's where it started," he said.
Oprah Winfrey and David Letterman have buried the hatchet
After going years without speaking to each other, Winfrey and Letterman made amends on The Late Show in 2005.
"Could you tell me please what has transpired?" Oprah asked Letterman, according to Bustle. "I have never for a moment had a feud with you….I want you to know, it's really over, whatever you thought was happening."
In January 2013, Winfrey and Letterman officially put their feud behind them during an episode of Oprah's Next Chapter. It was there Winfrey explained to Letterman why her past appearance on his show was so uncomfortable for her.
"You had asked me before to do [your show] in Chicago… and it was a terrible experience for me. The guy in the audience started yelling, 'Get her, Dave!' You were sort of baiting the audience, and there were a bunch of drunk guys down the front," she said. "I was trying to like, you know, mitigate the whole thing, and it felt so uncomfortable to me. I didn't want to have that experience again."
After hearing Oprah's side of the story, Letterman apologized and said that he would be "embarrassed" to see the tape now.