Oprah Winfrey Was 'Terrified' of Steven Spielberg After Making a Rookie Acting Mistake During Filming for 'The Color Purple'
When we think of Oprah Winfrey, "fearful" isn't a word that comes to mind. While Winfrey has never given us a reason to believe that she's afraid of anything, she previously revealed that she was pretty fearful at the start of her acting career, especially when she was around Hollywood director Steven Spielberg.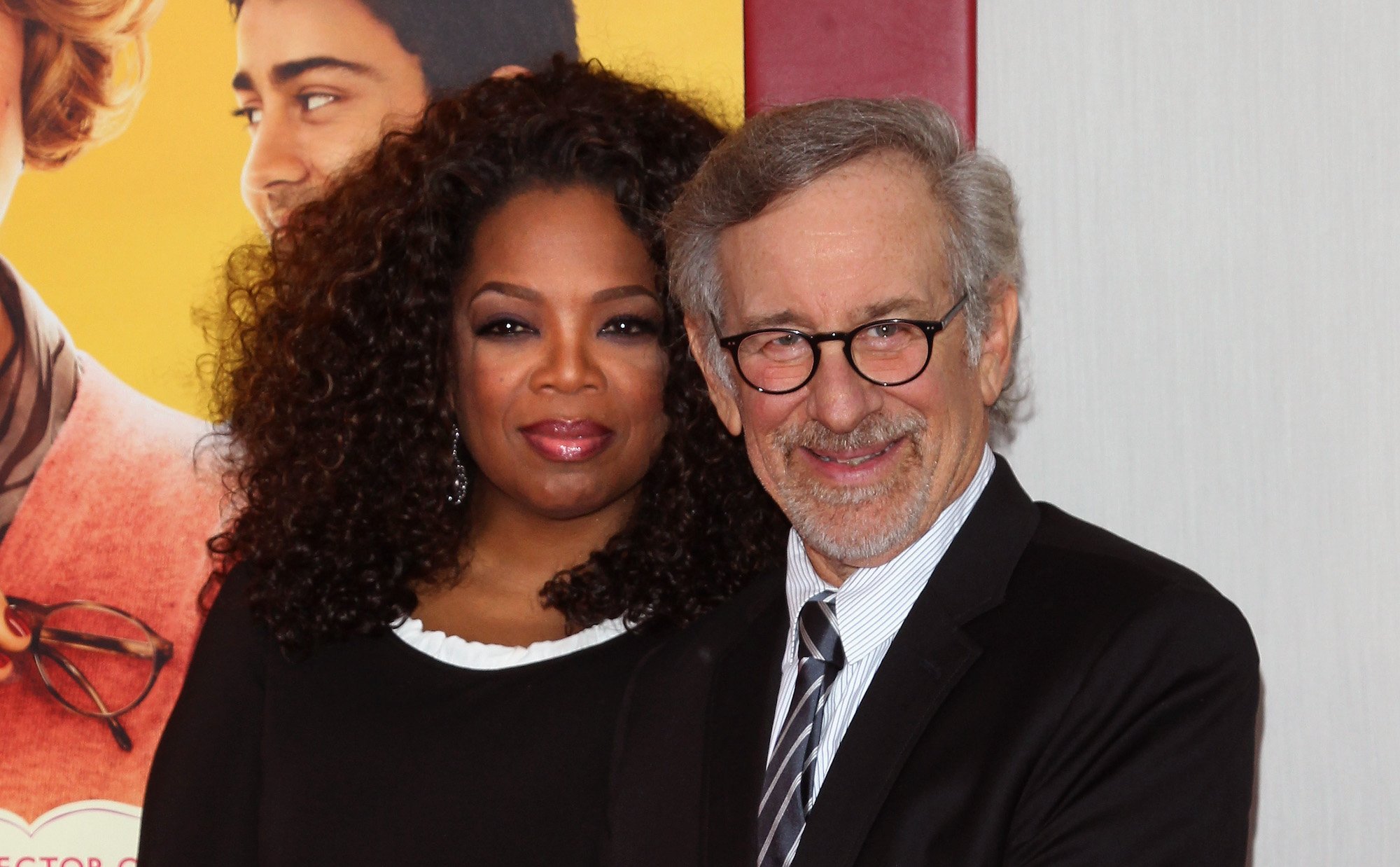 Oprah Winfrey was afraid of Steven Spielberg on the first day of filming 'The Color Purple'
It's no secret that Winfrey and Spielberg are good friends. The two have known each other for years and have collaborated several times since they worked on the film The Color Purple together in the early 1980s.
Though they have a great relationship today, things between the two didn't start out great as Winfrey was "terrified" of Spielberg back in the day.
In 2013, the famed talk show host admitted to being fearful of the famous director after making a rookie mistake while filming the coming-of-age period drama.
RELATED: Steven Spielberg Got Cussed Out By This Legendary Singer Behind the Scenes of 'The Color Purple'
"I didn't know anything about acting," Oprah explained during The Hollywood Reporter's Actress Roundtable with Julia Roberts, Octavia Spencer, Emma Thompson, Lupita Nyong'o, and Amy Adams. "I'd never even been to Universal Studios. So I walked in, first scene, first day…I looked directly in the camera because that's what you do on television. I walked in and went, 'How you doing, Miss Celie' and [Spielberg] went, 'Cut! Cut! Cut! What is wrong with you?' And I'm standing there, trembling. [I was] terrified."
Oprah Winfrey was convinced Steven Spielberg 'hated' her
Since Winfrey's acting chops weren't finely tuned at the time, she had trouble evoking certain emotions on demand. Because of her lack of acting experience, Oprah had a pretty challenging time on set.
"There was a scene where [Spielberg] asked me to cry. I loved being in that film so much, it just changed everything in my life, and I came to set even when I didn't have to work, and I'd be in the background crying," Oprah shared. "So Steven goes, 'I want you to do that this afternoon.' Well, I had no idea how to make that happen again."
She continued, "I had no technical skills, and when the scene was being filmed, I couldn't cry. I could hear the film turning in the camera, and the entire room waiting for me to cry."
While filming for the movie was taking place, Oprah kept a journal with her in which she wrote down everything she experienced on set.
In 1993, the media mogul shared one of her journal entries with Spielberg on an episode of The Oprah Winfrey Show, revealing that she was a nervous wreck when she couldn't cry on demand.
"Today, I did the scene with Harpo and me washing dishes at the bar. The line was, 'Why don't you see him home, Harpo? Why don't you see him home? I kept messing it up," she read from her journal. "The more I tried, the more nervous I became. Steven said, 'Why don't you relax? Try it again. You're being too stoic.' Stoic? I'm a nervous wreck. I'm trying to figure out how you can act and tell the truth at the same time."
Since she wasn't an experienced actor, Oprah was convinced that Spielberg hated her and would eventually fire her from the movie if she didn't get things right.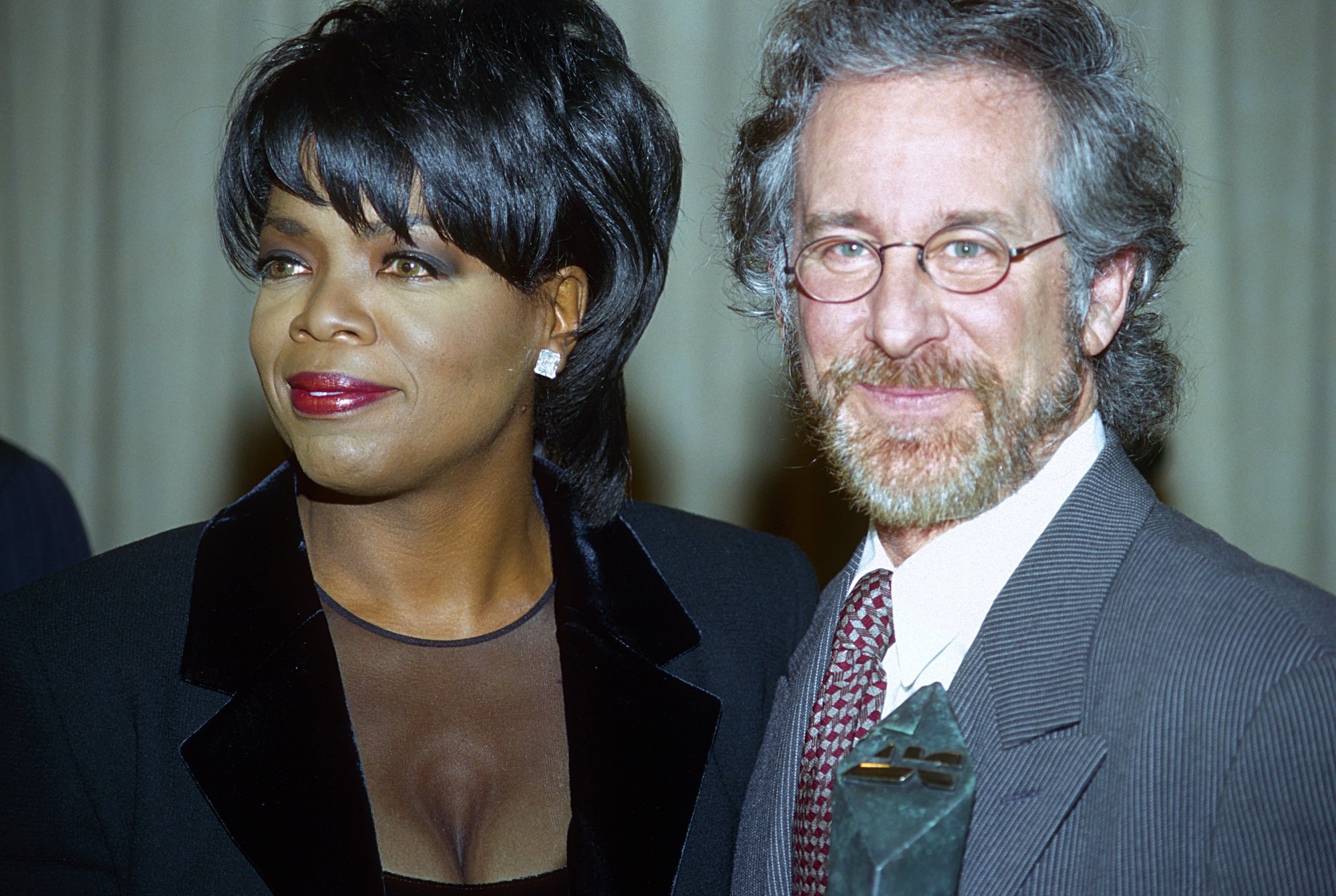 RELATED: Oprah Winfrey's 'The Color Purple' Salary Was a Shocking Low $35K
"I know he hates me. I know he must be sorry he ever cast me, a non-actor in this movie. If I don't get better soon, he's probably going to ask me to leave or maybe we've shot too much already," she read. "Oh god, why didn't I take an acting class."
Steven Spielberg 'loved' Oprah Winfrey in the movie
Although Winfrey had the preconceived notion that Spielberg wasn't a fan of her acting, he assured her that she did great in the movie, noting that he never hated her.
"I didn't know about that," Spielberg said after Oprah read her journal entry. "I loved you every day of that movie. I never stopped loving you."
"You didn't hate me?" Oprah asked before Spielberg insisted, "I never hated you."
Though he never had any ill feelings toward her, the Jaws director did confess to getting a bit "frustrated" with Winfrey when she wouldn't cry on demand.
"I was a little frustrated the first day when you couldn't cry, and then it was a very important moment," he explained. "But I didn't hate you for not crying because when I said 'Cut, I'll accept the no tears,' then you began to cry."