Oscars 2020: Has Quentin Tarantino Ever Won an Academy Award?
Some consider him a cinematic genius, while others say he's just an expert at remixing the classics. But whichever camp you fall into, no one can deny Quentin Tarantino is one of the most influential filmmakers of the past few decades. But this kind of impact doesn't always translate to Oscar gold.
After all, legendary directors like Alfred Hitchcock and Stanley Kubrick never won a competitive Academy Award. Perhaps Tarantino has suffered the same fate over the years. So has the director of Pulp Fiction, Kill Bill, and Inglourious Basterds ever won an Oscar? Read on to find out.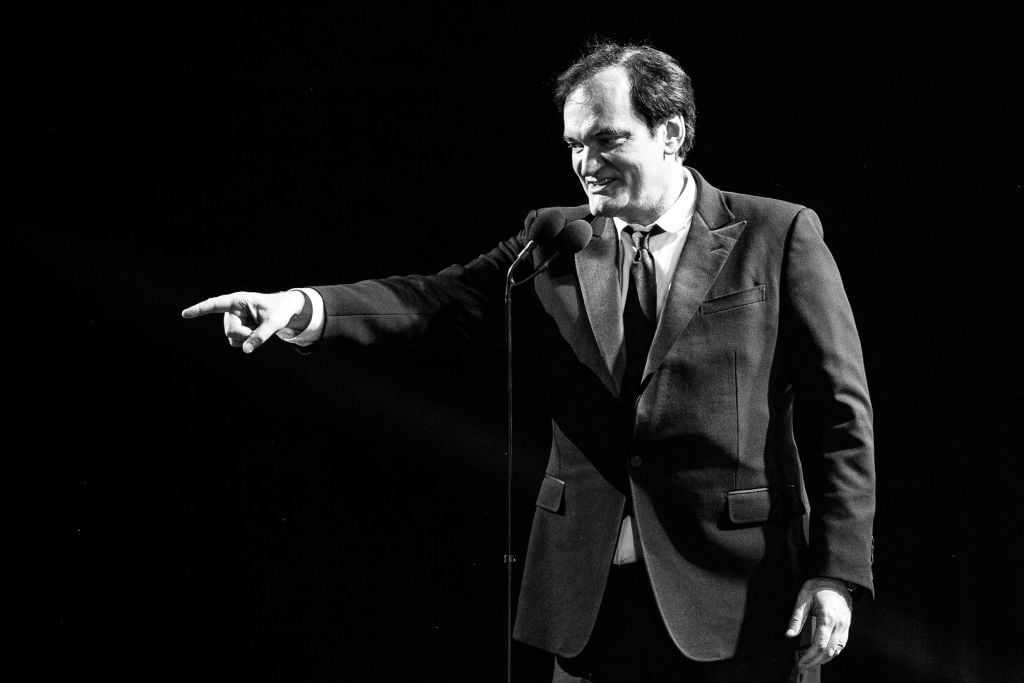 Quentin Tarantino's carefully curated filmography
As one of the most famous cinephiles alive, Tarantino is known for his encyclopedic knowledge of the movies. His love of spaghetti Westerns, martial arts movies, grindhouse flicks, and old Hollywood is all over his work. But his meticulous devotion to the art form doesn't stop there.
Because Tarantino is so intimately aware of his favorite filmmakers, he's been very vocal about protecting his own cinematic legacy. To that end, he's repeatedly stated he will quit making movies after just 10 films. His latest, 2019's Once Upon a Time in Hollywood, is his ninth.
So, if Tarantino is true to his word, fans are running out of new releases from the director. He has stated he is still interested in working on TV, on stage, and perhaps writing a novel. But cinematically, Tarantino's time is running low. With that in mind, let's check in on his Oscar stats.
His history at the Oscars
Tarantino's directorial debut, Reservoir Dogs, became a cult favorite in 1992. So his next release was primed to be his big breakthrough, and boy, was it. Pulp Fiction became one of the biggest films of 1994, earning seven Academy Award nominations. Although the movie lost Best Picture and Best Director, Tarantino and co-writer Roger Avary did win for its screenplay.
After Pulp Fiction, Tarantino was absent from the Oscar conversation for a while. Jackie Brown earned a nod for Robert Forster's supporting performance. But the next Tarantino movie to make a big splash at the Oscars was Inglourious Basterds in 2010. Of eight nominations, the film won just one: Best Supporting Actor for star Christoph Waltz.
Waltz won again for Tarantino's next film, Django Unchained. This time, the academy gave Tarantino his second Oscar, again for screenplay. 2015's The Hateful Eight was less well-received by the Academy Awards but nevertheless delivered legendary composer Ennio Morricone his long-awaited first win.
How this year's Academy Awards could be different
And that brings us to the 2020 ceremony. Although Tarantino has two screenwriting Oscars to his name, Once Upon a Time in Hollywood could be a very different case. Sure, the filmmaker is once again recognized with a nod for his writing. But the film's strong buzz means it could be the one to get Tarantino another prize.
The movie marks his third nomination for Best Director. And seeing as Tarantino's big-screen career might be winding down, there's a chance the academy finally gives that award to him. Moreover, the movie is the first time Tarantino himself has been nominated as a producer. So if Once Upon a Time in Hollywood wins Best Picture as predicted, the director gets that statuette too.
We'll find out soon enough if Tarantino's movie has what it takes to land a Best Director or Best Picture trophy. The 92nd Academy Awards air on ABC on Feb. 9, 2020.