Oscars 2020: 'Parasite' and 'Jojo Rabbit' Just Took a Big Step Toward the Oscar Stage
The Oscars is shaping up to be filled with tight races.
Whenever the awards season comes around, industry insiders are all watching to note any trends. If a film wins a Golden Globe or other award, pundits believe it bodes well for that movie's Oscar chances. Of course, a lot can change from the beginning of awards season to Oscar night.
But now the 2020 Academy Awards are so close. And it feels like the winners are crystallizing. All four acting awards — barring any major upsets — are just about locked in. Likewise, 1917 is the clear frontrunner for Best Picture. Now it looks like two other Best Picture nominees are about to own two other categories.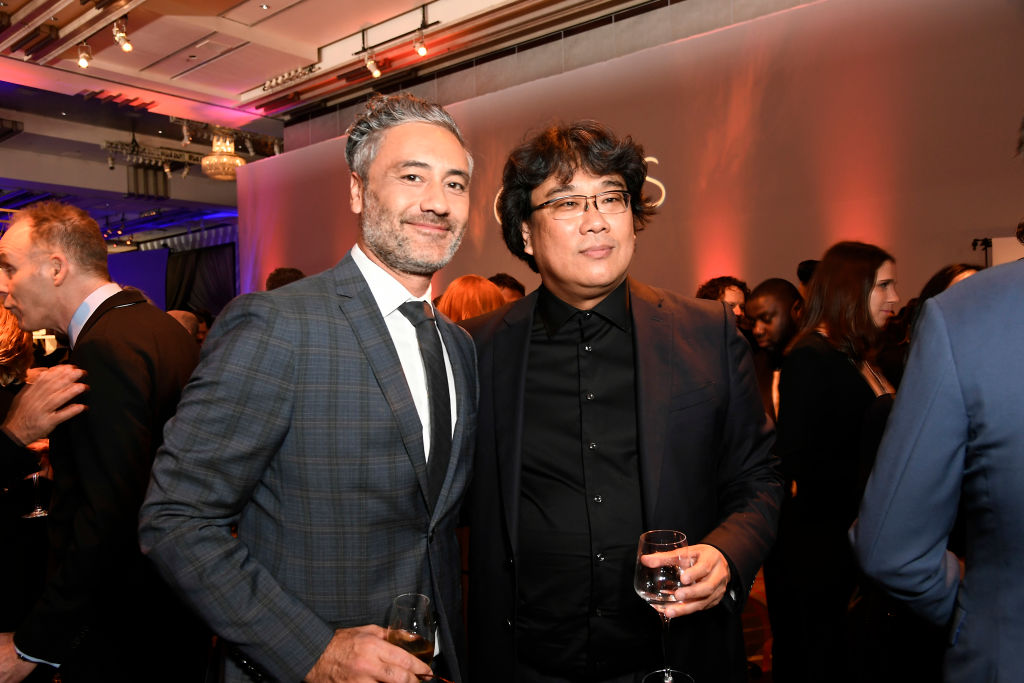 The same two Best Picture nominees had a very big awards weekend
Of the many awards considered precursors for the Oscars, all had been given out except two. The Writer's Guild of America represents both branches of the U.S. labor unions, including both film and television writers. And the WGA Awards offer a hint of what Oscar voters — or, at least, the writers in the academy — might be thinking.
Likewise, the British Academy of Film and Television Arts presents annual awards widely considered the British equivalent to the Oscars. Unlike the WGA Awards, the BAFTA Awards recognize cinematic accomplishments across various departments. In fact, it features nearly identical categories to the Academy Awards, making for a very easy comparison between the two.
Both the WGA and BAFTA award ceremonies took place recently. And though they only have two categories in common, they chose to recognize the very same films. Taika Waititi won Best Adapted Screenplay for Jojo Rabbit, while Parasite writers Bong Joon Ho and Han Jin Won shared Best Original Screenplay.
The screenplay Oscar races are really heating up now
Of course, Waititi and Bong also directed their films, which boosts their visibility and likely their Oscar chances. But what makes these WGA and BAFTA wins so impressive is how competitive the screenplay categories at the Oscars are.
After all, fellow directors Quentin Tarantino, Greta Gerwig, Rian Johnson, Noah Baumbach, and Todd Phillips are all nominated for Oscars for either writing or co-writing their films. In fact, Tarantino and Gerwig were considered likely frontrunners for their original and adapted screenplays, respectively.
But the WGA and BAFTA wins tell a very different story. Waititi and Bong are now gearing up for likely wins for their writing. If they do take the Oscars, the filmmakers' more offbeat tales will defeat more traditional Oscar films like Martin Scorsese's gangster epic The Irishman and Sam Mendes' war drama 1917.
Will either Taika Waititi or Bong Joon-ho win at the Oscars?
Both Parasite and Jojo Rabbit are nominated for six Oscars this year. The former has, of course, dominated the conversation as of late. One of the most critically acclaimed films of the year, Parasite is a lock to walk away with Best International Feature and is gaining steam in Best Picture. So if Parasite wins Best Original Screenplay — as many feel it deserves — that win is far from the film's only or even best shot at Oscar gold.
On the other hand, Jojo Rabbit hasn't been nearly as talked about in the awards circuit. In fact, Waititi's film has been on a consistent losing streak at most of the major Oscar precursors. These back-to-back wins could indicate its destiny as an Oscar-winning film. Jojo Rabbit did land a surprise Best Supporting Actress nomination for Scarlett Johansson. So perhaps the writing was on the wall all along for Waititi to claim a trophy.
We'll find out soon enough how well Jojo Rabbit and Parasite do on Oscar night. The 92nd Academy Awards air on ABC on Feb. 9, 2020.