Oscars 2020: What Movies Has 'Parasite' Director Bong Joon-ho Made?
'Parasite' is a major contender at the Oscars this year. But what other movies did director Bong Joon-ho make before his Oscar-nominated hit?
Parasite is taking Hollywood by storm this award season. In fact, the South Korean release is gearing up as a Best Picture frontrunner heading into Oscars 2020. Director Bong Joon-ho's latest film defies genre to tell a complex story about two interconnected families and, by extension, delivers some crucial social commentary.
With Parasite's success, we're sure moviegoers will be interested to see some of Bong's previous work. Prior to his Oscar-nominated hit, the director had made six films. Here's a quick breakdown of the features he has directed throughout his career.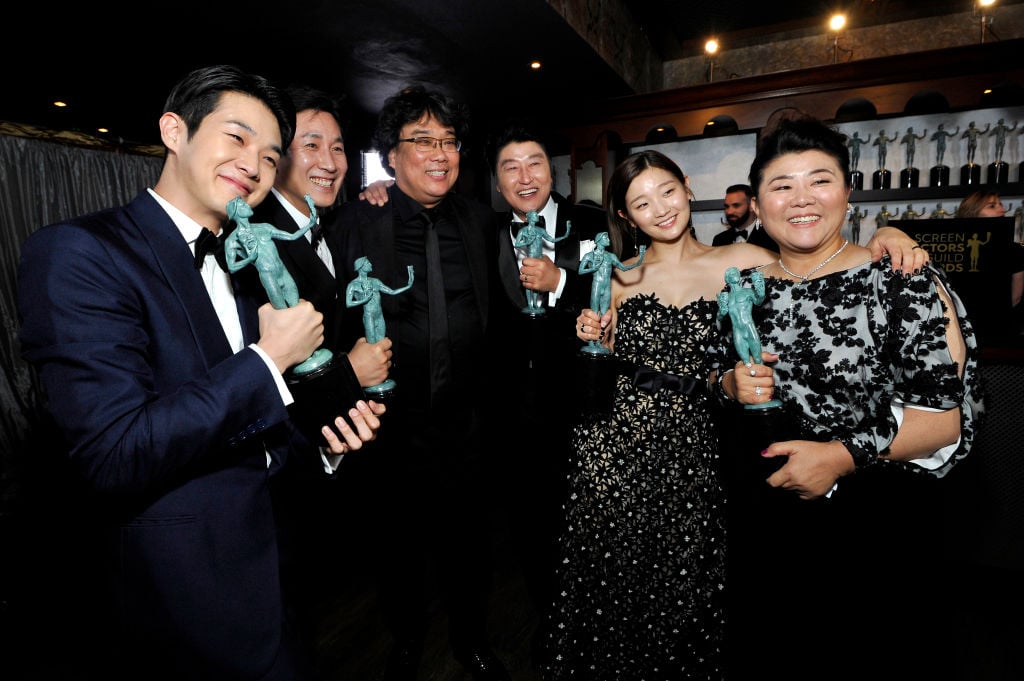 'Barking Dogs Never Bite' (2000)
In his 2000 directorial debut, Bong already aimed to combine genres in an innovative way. This dark comedy-drama follows an unemployed college professor (Lee Sung-jae) who begins abusing and kidnapping dogs the barking dogs in his apartment building. At the same time, a young woman (Bae Doona) takes note of his activities, launching an investigation into the surge of missing dogs.
Despite its bizarre-sounding premise, Barking Dogs Never Bite gave Bong the chance to try his hand at directing a feature. Prior to this film, the Parasite filmmaker had only directed three short films. However, he previously earned writing credits on 1997's Motel Cactus and 1999's Phantom: The Submarine.
'Memories of Murder' (2003)
In his 2003 sophomore effort, Bong landed his first collaboration with Song Kang-ho. The actor delivers a critically acclaimed standout performance in Parasite. Song has sustained an ongoing collaboration with Bong over the course of both their careers.
In Memories of Murder, the actor and Kim Sang-kyung play two detectives trying to solve the real-life case of Korea's first serial murders. The investigation continued from 1986 to 1991, and the film — based on a 1996 play — earned strong reviews for its depiction and performances.
'The Host' (2006)
Memories of Murder gained Bong international acclaim. But The Host solidified him as a commercially successful filmmaker. The film follows a man's (Song) effort to rescue his daughter after she is kidnapped by a giant monster.
At the time of its release, The Host became the highest-grossing South Korean movie of all time. Although mainstream success in the United States eluded Bong, this film was a critical step in establishing his reputation for offbeat, inventive genre projects.
'Mother' (2009)
No, this one has nothing to do with either the 1996 Albert Brooks film or the 2017 Darren Aronofsky release. Rather, this Mother follows a mother's (Kim Hye-ja) search for the killer responsible for framing her son (Won Bin) for murder.
It might not have received as much attention stateside as some of Bong's other films. However, Mother was still a critical smash in South Korea and beloved by critics. As has become Bong's trademark, the movie expertly combines a number of genres, including family drama, horror, and comedy.
'Snowpiercer' (2013)
Bong made his English-language directorial debut with this dystopian sci-fi thriller. Led by Chris Evans, the film features an all-star cast that includes Tilda Swinton, Octavia Spencer, Jamie Bell, John Hurt, Ed Harris, and — of course — Song. It's also the most expensive Korean production in history.
Snowpiercer is set aboard the titular train, which carries the last remnants of the human race. The film tackles key issues such as climate change but does so in a way that never fails to be thrilling. In fact, its success — much like that of Parasite — has inspired a new TV series.
'Okja' (2017)
This Netflix film might be a lot of moviegoers' first exposure to Bong. Part of that comes from its accessibility on the streaming service. Yet, Okja — Bong's second consecutive English-language release — is just as much in line with his distinctive sensibility as his other films.
The movie centers on a genetically modified creature named Okja, its friendship with a young girl (Ahn Seo-hyun), and her efforts to protect it. Okja also features an international cast which combines South Korean performers with stars like Jake Gyllenhaal, Paul Dano, and Swinton.