'Oscars 2022': Will Smith and Chris Rock — Here's What Happened
The 2022 Oscars blew up in the final hour with an on-stage smack dealt from Will Smith to Chris Rock. The comedian threw a dig at Smith's wife, Jada Pinkett Smith, that went too far. Smith marched up on stage and made a point. Here's the complete rundown of what happened between Will Smith and Chris Rock, including Smith's heartfelt apology.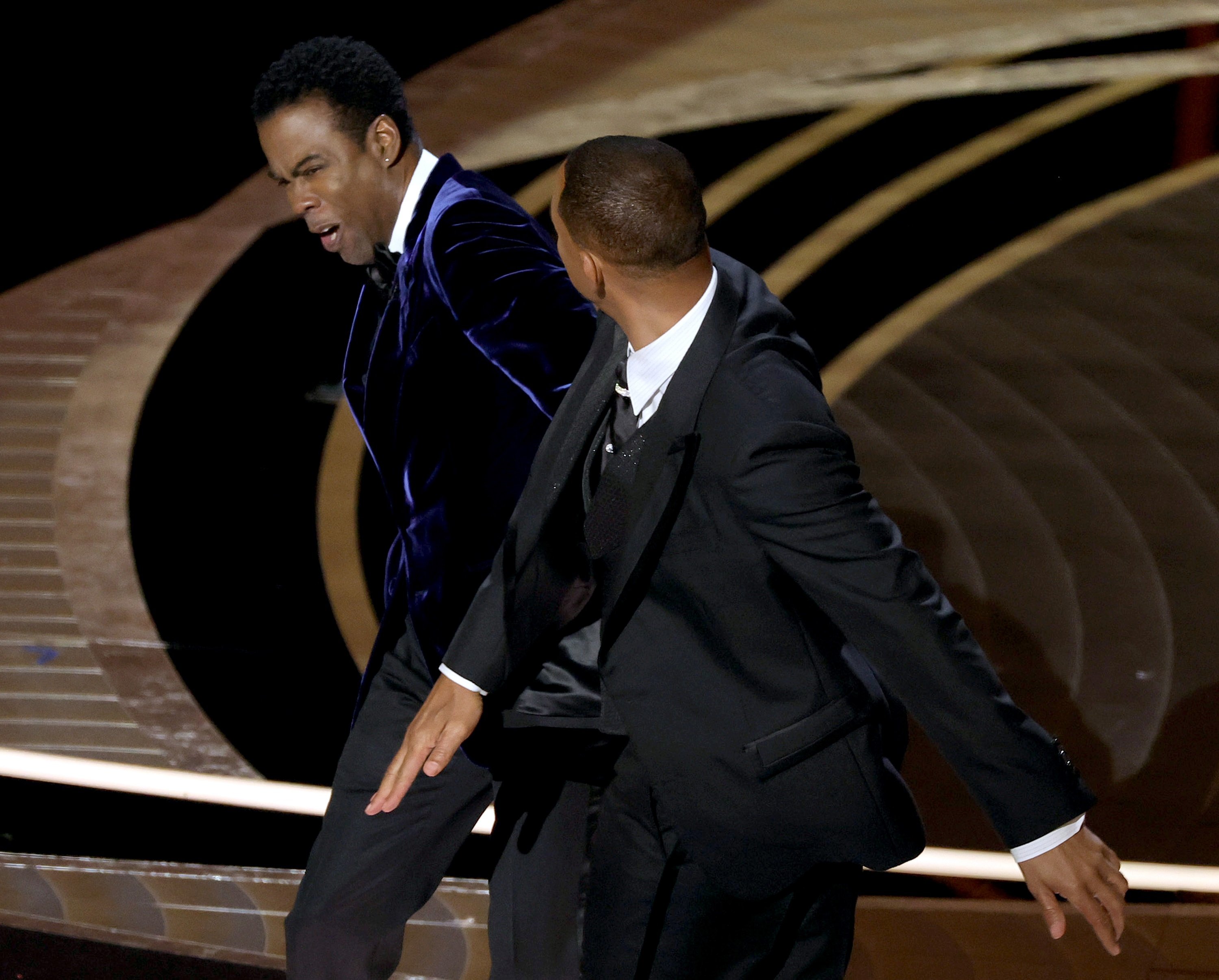 Chris Rock made a joke about Will Smith's wife, Jada Pinkett Smith
Stand-up comedian Chris Rock took the stage to introduce the nominees for a documentary feature and began with a few jokes. However, he took one too far for Will Smith.
"Jada, I love ya, G. I. Jane 2, can't wait to see it," Rock said about Jada.
The camera panned to the Smith couple. Will laughed about the last joke, but when Rock called Jada G. I. Jane 2, she looked extremely angered. Pinkett Smith recently shaved her head, so Rock took the opportunity to compare her to Demi Moore in G.I. Jane.
RELATED: Willow Smith Admitted To Jada Pinkett Smith That She Still Worries When Bringing a Partner Home 'It's Like a Sacred Place'
Will Smith took the stage to punch Chris Rock at the 2022 Oscars
Will took the stage, walked up to Rock, and swung in the next moment. He didn't strike him, but he made contact enough that Rock's mic picked it up for the world to hear. After the mayhem on stage, Rock tried to laugh it off and continue to joke about it. Although ABC cut his mic, various uncensored versions are floating around on Twitter already. Journalist David Mack shared an uncut clip to Twitter.
"Will Smith just smacked the sh*t out of me," Rock laughed.
RELATED: Will Smith Tried To Stop 9-Year-Old Willow From Shaving Her Head — 'Don't Cut Your Hair, All Your Femininity'
However, Smith did not laugh. He sat back down in his seat and yelled at Rock.
"Keep my wife's name out ya f*cking mouth," Smith yelled.
Rock tried to play down the joke.
"I'm going to, OK," Rock responded.
The entire interaction was less than a few minutes, but Twitter blew up wondering what just happened between Smith and Rock. 
Will Smith later apologized when he accepted his Academy Award
Later, Will Smith won the Academy Award for Best Actor in a Lead Role for King Richard. In his acceptance speech, he apologized to the Academy and explained his perspective. He indicated that he was fiercely protecting his family.
"Richard Williams was a fierce defender of his family," Smith began. "In this time in my life, in this moment I am overwhelmed by what God is calling on me to do and be in this world. Making this film I got to protect Aunjanue Ellis who was one of the most strongest, most delicate people I have ever met."
Will Smith did not mention Chris Rock in his apology or acceptance speech but he spoke highly of the other actors he worked with in the film.
"I am being called on in my life to love people and to protect people and to be a river to my people," Smith continued. "I know to do what we do you gotta be able to take abuse. You gotta be able to have people talk crazy about you. In this business you gotta be able to have people disrespecting you and you gotta smile and pretend that's OK."
Smith also mentioned what Denzel Washington said to him before he took the stage.
"Denzel said to me, 'At your highest moment, be careful, that's when the devil comes for you.'"
Smith recognized that he made a mistake taking the stage to approach Rock after the joke and apologized.
"I want to apologize to the Academy," he continued. I want to aplogize to all of my fellow nominees. This is a beautiful moment and I'm not crying for winning an award. It's not about winning an award for me. It's about being able to shine a light on all of the people."
"Love will make you do crazy things," he concluded.
The altercation between Will Smith and Chris Rock was a shocking moment, but the heart-felt speech was even better.
RELATED: Will Smith Regrets His Jealousy of Tupac Shakur and Jada Pinkett Smith's Relationship — 'I Was Deeply, Deeply Insecure'