'OutDaughtered': Danielle and Adam Busby Just Said What They Think of the Duggars
Danielle and Adam Busby from "OutDaughtered" have met their TLC co-stars from "Counting On," the Duggars. Here's what the couple said about them.
There are plenty of famous families featured on TV, but few are as loveable as the Busbys. Adam and Danielle Busby are the proud parents of their 8-year-old daughter, Blayke, and 4-year-old all-female quintuplets. And thanks to their show, OutDaughtered, fans get an in-depth look into what their hectic lives are like while they're trying to raise so many little girls at once.
We love how candid Danielle and Adam get on the show — and they've recently unearthed some truths in interviews, too. It turns out the Busbys are somewhat familiar with the infamous Duggar family. Here's what Adam and Danielle really think of them.
The Duggars and the Busbys are both known for having large families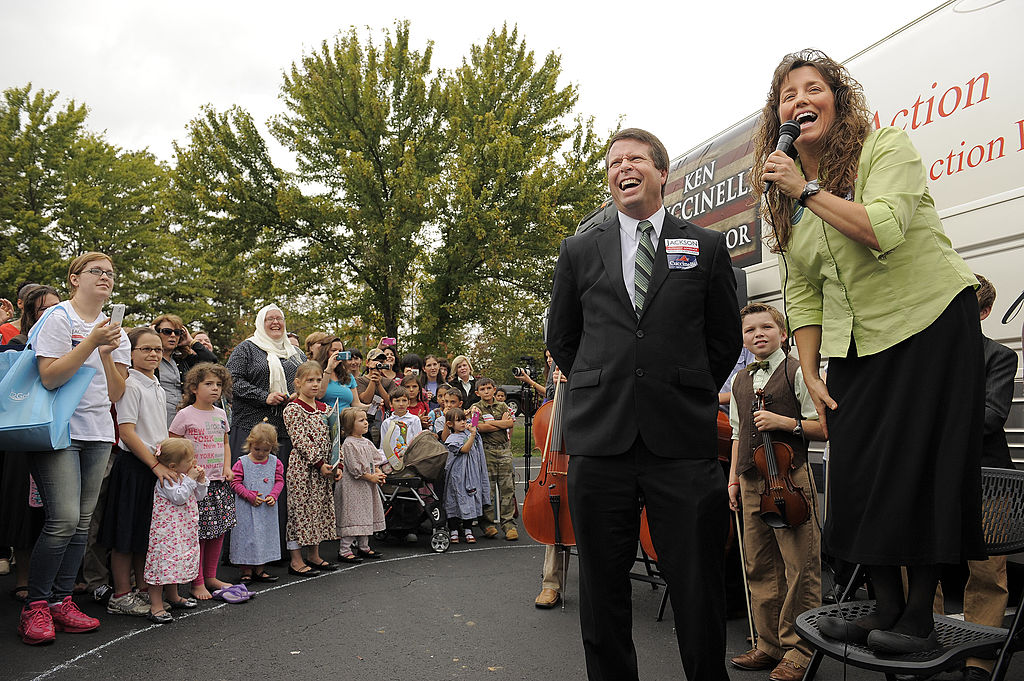 The Busbys and the Duggars both have larger-than-average families — and they're both featured on TLC, so it makes perfect sense that they would have met once or twice. Many first remember the Duggars for their multiple TV specials and hit show, 19 Kids and Counting. Michelle and Jim Bob introduced their 19 children to the world along with their intense fundamentalist Christian values and strange parenting guidelines. And while Michelle and Jim Bob were once the stars, their older kids — particularly their oldest daughters — have now taken over the spotlight with TLC's Counting On.
The Busbys don't have the 10+ years of experience on reality television as the Duggars do, but they've broken records with their family as well. Adam and Danielle have the only group of all-female quints in the United States, and the fact that Danielle went through infertility issues makes their family even more remarkable. Their quintuplets are only 4 years old, so their dynamic is much different than the Duggars. But we can't wait to see now OutDaughtered continues as the quints age and develop their own personalities.
The Busbys are much less controversial, however
While the Busbys and the Duggars do have a few similarities, the way they choose to parent is much different. Both families are religious and follow Christ heavily, but the strict rules of the Duggar household have made the family even more famous than their number of children. The Duggars don't believe in birth control and abide by a specific dress code to ensure the women aren't giving men the wrong idea. Not only that, but when it comes to dating, the Duggar kids are not allowed to hold hands, hug, or kiss until their wedding day.
We're not sure what rules Adam and Danielle will instill upon their six daughters, but we're certain they won't be that strict. Danielle's already posted photos of her in a bikini on Instagram, for example. And when Hazel Busby's preschool teacher told Adam and Danielle that the little quint likes to be near boys, the couple laughed without taking it too seriously. Even the fact that the Busbys are putting their kids in school differs completely from the Duggars, too, as Michelle chose to homeschool all of her children.
Danielle and Adam Busby think the Duggars are a 'very sweet family'
The Duggars have been through a ton of controversy over the years. From Josh Duggar's molestation scandal to Jill Duggar getting kicked off of Counting On due to her husband's transphobic and homophobic tweets, we wouldn't be too surprised if the Busbys chose to keep their distance. Surprisingly, though, during this interview with Us Weekly, Danielle and Adam said they actually really like the Duggars.
"We've met the Duggars," Danielle told the publication. "Super sweet," she added. And Adam agreed. "Very sweet family, very nice family," he said. And while some may think that the Duggars would offer the Busbys advice for raising so many kids, Adam and Danielle said they never really had any in-depth conversations with them, so they never got that far. "As far as like, parenting advice, no," Adam said, "it's usually just quick exchanges, really."
It doesn't look like there will be an OutDaughtered/Counting On crossover anytime soon, then. But the Busbys do seem to be close with the Roloffs from Little People, Big World, so perhaps we can hold out hope for that.
Check out Showbiz Cheat Sheet on Facebook!