'Outer Banks' Star Chase Stokes Addressed the Insensitive Tweets From His Past
After some insensitive tweets surfaced, 'Outer Banks' star Chase Stokes apologized, then claimed his Twitter account was hacked.
Outer Banks star Chase Stokes is currently in some hot water. After insensitive tweets from his past surfaced, the Netflix star posted a sincere apology. Shortly after the apology was posted, it was removed — along with the derogatory tweets — which Stokes attributed to his account being hacked. Here's what we know.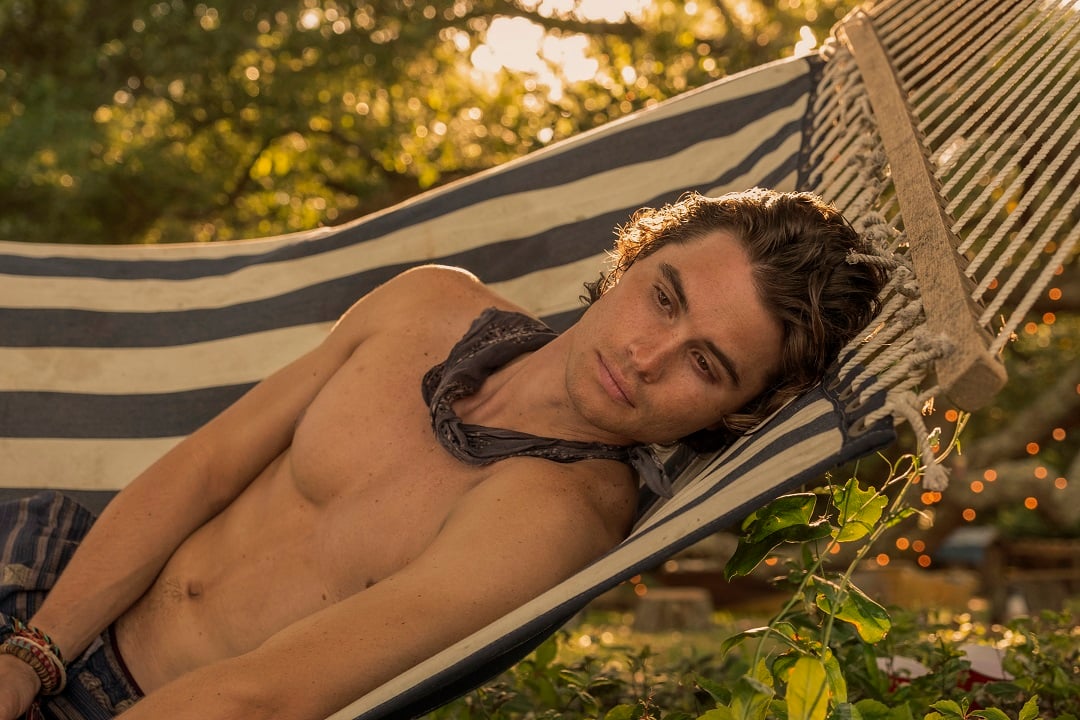 Fans love Chase Stokes as John B 
Stokes has recently been in the spotlight thanks to his role as John B on the Netflix series Outer Banks. The show tells the tale of a group of high-school-aged teens in search of $400 million in gold. As the lead in the series, Stokes quickly became a fan favorite. 
The derogatory tweets from Chase Stokes' past
A few insensitive tweets from Stokes' youth surfaced on May 18. Fans took screenshots of the tweets in question. In one tweet, Stokes was presumably referring to Justin Bieber, writing: "Bieber means beaver in German ha..F*g."
Another tweet included a photo captioned, "Surf n*gg." Stokes later claimed the photo wasn't of him or anyone that he knows. Another screenshot showed a tweet that read, "Just because [you're] old doesn't give you the right to drive like a r*tard." 
Chase Stokes apologized for the tweets — then the apology was deleted
"I am flawed, and I am sorry," the Outer Banks star tweeted on May 18. His apology was included as a screen shot of a note that read:
Yes. I will address this. I was not hiding. I consulted in one of my closest friends just as anybody else would. I have posted insensitive tweets. My Facebook has been hacked countless times. The picture isn't even of me or anybody I know. Again, I am incredibly sorry. I really am. I hope you guys see what I am currently doing and how I am continuing to do the right thing by being respectful in today's climate. This does not excuse my words, nor am I excusing myself. I will continue to work towards using my platform in the same capacity I have been and doing/bringing light to the world.
Shortly after Stokes published the apology on Twitter, it was removed — along with the derogatory tweets. 
Chase Stokes said his Twitter was hacked 
After removing his formal apology and the insensitive tweets fans had found, Stokes claimed he was locked out of his Twitter account. He then explained how he had been trying to reset his password. 
"Somebody obviously got access to my account. So I'm trying to solve this," he tweeted a minute later. Some fans seemed to be confused by the rapid pace at which this story developed, while others defended Stokes. "I already dug into one of the people trying to cancel you so I'm not going to repeat myself too much," one fan tweeted. "Just wanted to say that a lot of the people attacking you are actual children that don't even remember 2007, 2010 or 2013. You were a kid and you made mistakes, that's ok."
Other fans weren't so sure Stokes was telling the truth about his account being hacked. "I'm sorry Chase but the whole hacking thing happening at the same time as everything else is [really suspect], ur gonna have to prove that someone hacked into ur account or something bc i KNOW people aren't gonna believe it," a speculative fan wrote. 
Chase Stokes apologized — again
UPDATE: On June 30, Stokes spoke out about the tweets from his past.
"I'm going to go ahead and nip this in the bud," he tweeted. "I have NEVER agreed on, or said EVER that I believe in reverse racism. Never. Those words never came out of my mouth. So that's done."
He continued to explain the situation in a thread:
Over the past few months I have received some of the most horrific messages, tweets about my image, how I look, people telling me to kill myself. Daily. People have shit on my weight, my girlfriends weight, but apparently it's okay for another human to do that.

We all as a cast have interacted in group chats set up by fans because we've appreciated you guys supporting the show, and wanted to talk with you guys. But those same people are manipulating things and making it seem like I am something I'm not.

The hypocrisy on this platform is downright disgusting. With that being said. I'm getting off Twitter. I can't continue to interact with people on here, and then see in the group chats that they're being horrific towards me, as well as others.

Hopefully at some point you guys understand just as I have that words no matter how large your platform are hurtful, and the spite, negativity, and manipulation that has been going on around here is something I'll no longer take place in.
Stokes has not used his Twitter account since.