'Outer Banks': Chase Stokes and Madelyn Cline Talk Marriage — 'When You Know, You Know'
Outer Banks season 2 saw 16-year-old characters Sarah and John B get married. The popular on-screen duo in the Netflix series is portrayed by real-life couple Madelyn Cline and Chase Stokes. Despite their characters' ages, both Cline and Stokes support the union.
While talking about marriage in a recent interview, the actors said that age doesn't matter when it comes to true love.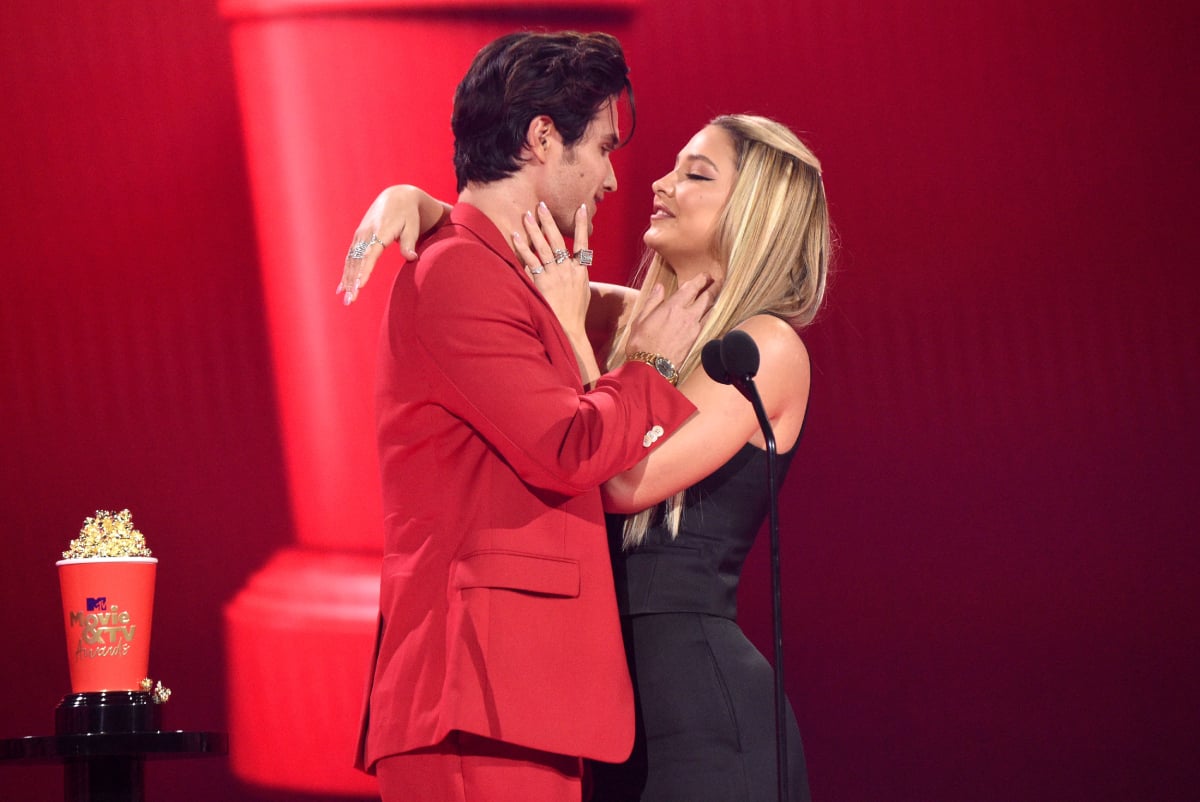 Madelyn Cline and Chase Stokes began their relationship ahead of 'Outer Banks' season 2
Cline and Stokes first met on the set of Outer Banks when production started for season 1. They were officially a couple by the time they started shooting season 2. The actors went public with their relationship in June 2020.
Cline says that going into season 2 as girlfriend and boyfriend, she and Stokes had to set some boundaries to make sure they wouldn't bring their personal relationship issues to work.
"In the first season, we all started out as friends, and we established this from a working relationship. And then in season 2, we came back to it as a couple," she told Elle. "Prior to stepping foot on set the first day, we said, 'Hey, let's talk about this and establish boundaries before we go back, because there are so many people that it can affect.' And I hate that. I wouldn't want that at all."
Madelyn Cline and Chase Stokes don't want work distractions
Cline explained that there's "definitely got to be a healthy balance and a healthy boundary" when it comes to her work and her and her relationship. She says her work headspace is really important and sacred to her. And the same can be said for Stokes.
"We do our best to protect that. So whenever there's any sort of personal issue, especially between the two of us, we don't bring it to work. Because it's distracting," Cline explained.
Stokes agreed, "For Maddie and I as young actors trying to march our way through the industry, it was important for us to establish a difference in character versus personal relationship."
The 'Outer Banks' talk marriage, explaining that 'when you know,  you know'
John B and Sarah's marriage in season 2 — paralleled with Cline and Stokes' real-life relationship — has definitely been a hot topic in recent interviews. While speaking about it with Entertainment Tonight, Cline said that the young age of her and Stokes' characters isn't really much of a factor when it comes to getting married.
Even when you're 16, Cline says that "love is love" and "when you know, you know." Stokes agreed, saying that everyone has their own experience. And, young love can work for some people.
"We've seen couples who got married at 16 who are now in their 80s and early 90s who are still together and wildly in love," Stokes said. "So I don't think that the age should specifically define it. I think love is something that should move that needle."
John B and Sarah still have a lot to learn about each other on 'Outer Banks'
Cline says that if there is an Outer Banks season 3, it would be "really fun" to see John B. and Sarah "truly get to know each other in a very real sense" after their wedding.
"They're married, but they actually kind of don't know a whole lot about each other," she said. "I feel like that would be really fun. They've obviously been through a lot together."
Stokes added that he would like another season because he wants to see how Sarah and John B's marriage decision would affect the Outer Banks storyline going forward.
"I think with John B and Sarah, they're going through it, right? This is just a crazy experience for them. They've gotten married," Stokes said. "They've had everything that's happened in the Bahamas, and then everything after that. I think it'll be an interesting thing to move forward from, and I'm excited to see it."
Madelyn Cline and Chase Stokes real-life relationship makes their on-screen relationship stronger
Despite the boundaries they've put in place between their own romance and their characters' relationship, Cline believes that dating Stokes has had a positive effect on their performance. She told Cosmopolitan that her real-life chemistry with Stokes helped the dynamic between their characters in season 2.
"I think being in a relationship only makes the relationship moments stronger onscreen," she said.
Seasons 1 and 2 of Outer Banks are available on Netflix.
RELATED: 'Outer Banks': What the Cast Has to Say About Season 3