'Outer Banks': Is Chase Stokes Dating Anyone?
Fans of the Netflix series Outer Banks know there's undeniable chemistry between John B and Sarah Cameron. The chemistry between the actors is so strong that many fans have started to think Chase Stokes and Madelyn Cline are together in real life.
Whether he's dating his co-star or someone else, fans of Outer Banks want to know — is Stokes in a relationship with anyone?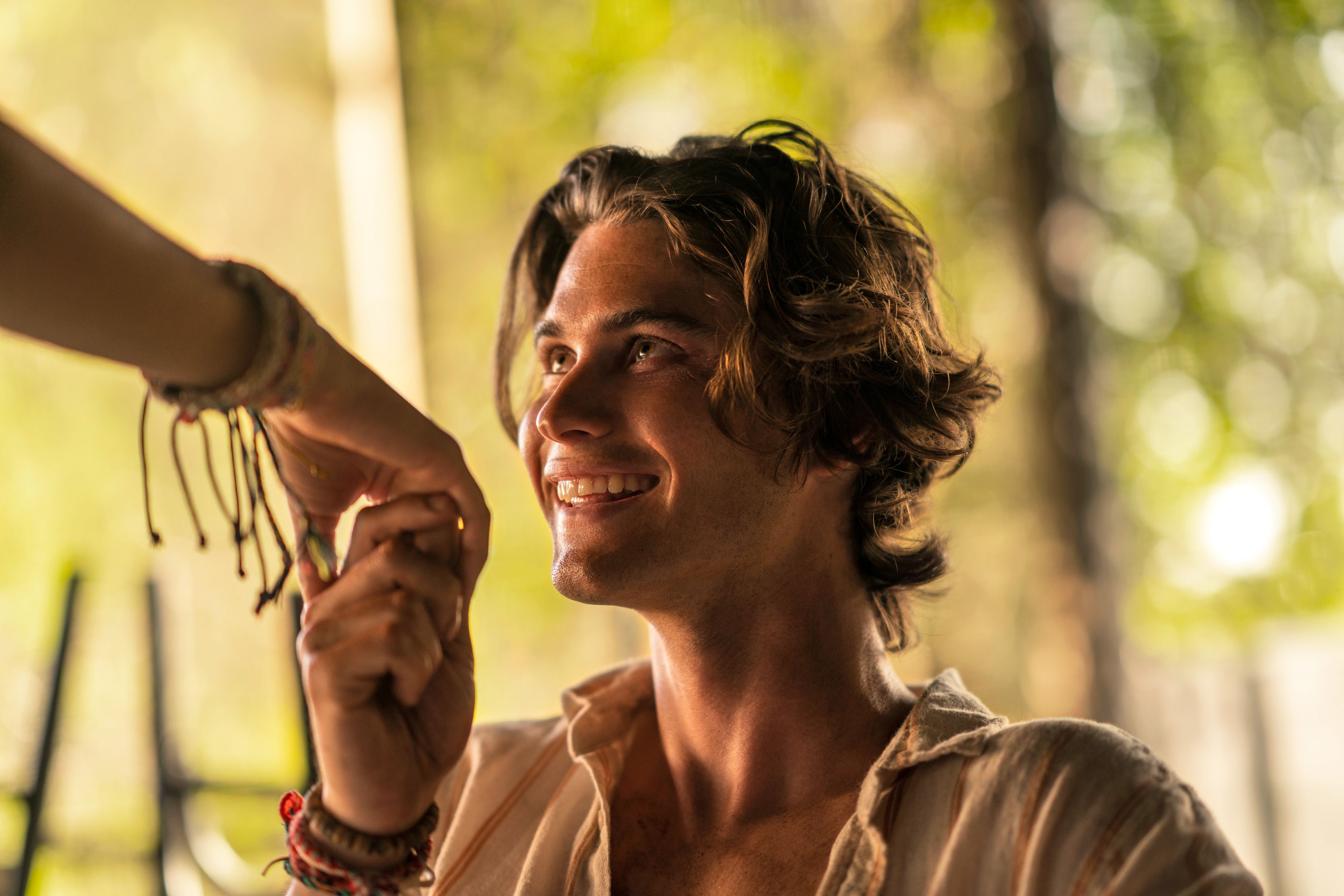 The dating rumors around Chase Stokes and Madelyn Cline
In Outer Banks Season 1, Stokes and Cline do an excellent job of portraying the fast-falling John B and Sarah Cameron. The series tells the tale of John B, a young Pogue on the hunt for $400 million in gold that sank with the Royal Merchant ship. 
Throughout his journey, John B falls in love with Sarah Cameron, a Kook from the wealthy side of the island. Season 1 concluded with the two sailing directly into a tropical storm in pursuit of the gold. The chemistry Stokes and Cline portray on-screen left many fans wishing they were a real-life couple. 
Chase Stokes is vocal on Madelyn Cline's Instagram 
Stokes isn't afraid to spread the love on Cline's Instagram — no matter what kind of rumors they may create. He is incredibly proud of each of his co-stars, but one comment on a recent post of Cline's sent fans reeling. Stokes commented Cline's posts from her shoot for 1883 Magazine, writing: "Heart rate…decreasing…help." Fans instantly assumed the two were together until Stokes replied: "Man, I really stirred the pot here, didn't I?"
Though his comment was innocent enough, fans viewed it as something more. In reality, Stokes is an immensely supportive friend, celebrating Cline's success in her creative endeavors outside of the Netflix series they work on together. 
Chase Stokes is crashing with Madelyn Cline 
The coronavirus (COVID-19) pandemic has everyone following stay-at-home orders — including the cast of Outer Banks. Stokes is currently living with Cline in her apartment, along with fellow castmate Drew Starkey, who plays Sarah's older brother, Rafe. 
Speaking to E-News, Cline and Stokes justified their choice to live together. Being quarantined with each other is better than being alone, according to the Outer Banks stars. Their cohabitation situation had many fans speculating their relationship status, but Stokes nor Cline mentioned dating each other during the interview. 
Is Chase Stokes in a relationship? 
Despite the rumors surrounding Stokes and Cline dating, he is currently single, according to PopBuzz. In the past, Stokes was in a relationship with his high school sweetheart, Xiomara Montalvo, per Elite Daily. 
While Stokes and Cline would make a cute couple, either actor has yet to confirm that they share a romantic relationship. For now, Stokes and Cline are two supportive co-stars who have enjoyed sharing in each other's success. 
Fans can potentially look forward to more of the fictional couple in another season of Outer Banks. Netflix has yet to confirm season 2, but showrunner Jonas Pate has already started writing another season. He and collaborators Josh Pate and Shannon Burke imagined the show to be a "four season-novel," which means more John B and Sarah Cameron for all.