'Outer Banks': How J.J.'s Relationship With His Dad Might Change in Season 2
Outer Banks is a series about a group of friends who go on a treasure hunt for $400 million in gold. But at its core, the Netflix show is about so much more. From the interpersonal relationships to the fictional society's differences in social class, the series touches on a few deep issues.
One of the most captivating relationships in Outer Banks is the relationship between J.J. (Rudy Pankow) and his abusive father, Luke (Gary Weeks). Fans are curious whether or not J.J. will stay in contact with his father if and when a second season of the show is released.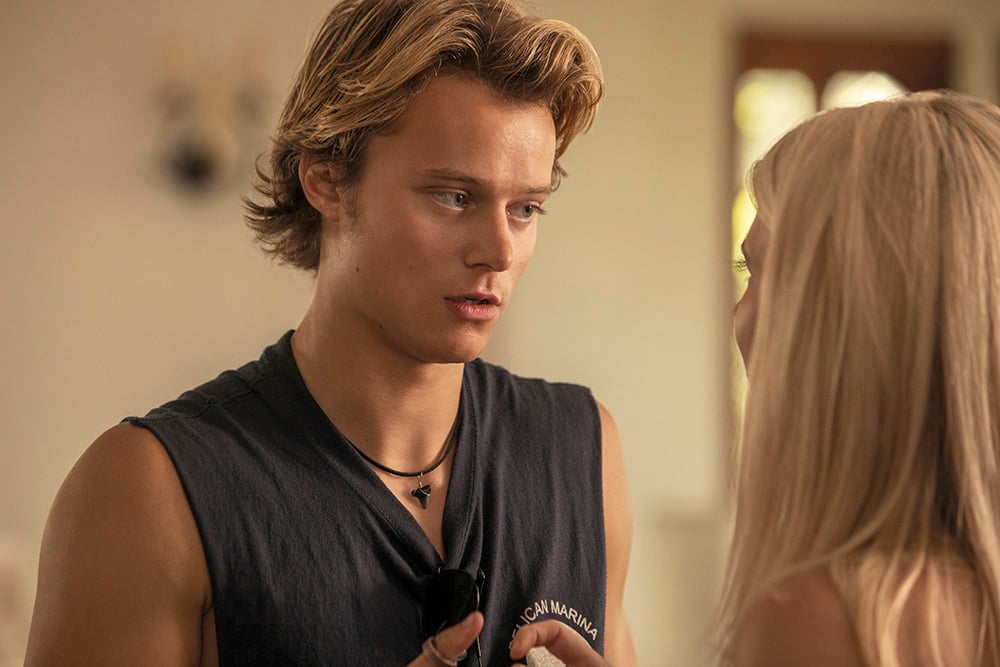 RELATED: 'Outer Banks': Why Madison Bailey Thinks Kiara Will Be the Glue in Season 2
J.J. is an emotional character
On the surface, J.J. comes off as a happy-go-lucky Pogue, but deep down, he's dealing with some demons. Like John B (Chase Stokes), J.J. is often left to fend for himself without parental guidance. "He's a master at portraying his emotions differently," Pankow told HollywoodLife.
"That's a character arc throughout the entire season that continues," Pankow added, continuing: "He knows how to manipulate people and how they view him. I think that's also a fault to himself. When he's feeling one thing, he's really feeling another, and that throughout the season breaks down." That breakdown comes in the form of J.J. coming into an excessive amount of money and spending it on an elaborate hot-tub set up.
RELATED: 'Outer Banks': Fans Have Some Questions About the Season 1 Plot
'Outer Banks' will likely get a second season
Since binge-watching season 1, Outer Banks fans have been eagerly awaiting confirmation of another season. "Before [season 1] even came out, Netflix had green-lit us to write some [season 2] scripts, so we've been working on that for a few months now," showrunner Jonas Pate shared with Entertainment Weekly. 
"Ever since we started, we always viewed it as something that was probably like a four-season, maybe five-season show, but definitely four seasons," he continued. "We've sort of long-arced it out pretty far. I'm just hoping that we get a chance to actually tell those stories." Fans are just as hopeful!
Rudy Pankow approaches his character carefully
Playing the role of J.J. comes with a unique set of challenges. "[The role] was heavy," Pankow told Entertainment Weekly. "Heavy story lines, heavy time trying to get in that headspace. I talked to different people about being abused by your father, and I'm going to keep those people private for obvious reasons. But that was really scary for me because I'm lucky enough to have a father that never really did abuse me aggressively." Despite how hard it was for Pankow to hear others' tales of abuse, they helped him dive deeper into his role and portray J.J. as authentically as he did. 
Will J.J. have a relationship with his father in season 2? 
In season 1 of Outer Banks, it is evident J.J.'s father cares very little about his son — unless he can benefit him for personal gain. Initially, J.J. fears his father, but throughout the season, he morphs into someone who dares to tell him, "I'm not afraid of you anymore." 
RELATED: The Cast of 'Outer Banks' Realized a Major Plot Hole in the Final Episode
Hopefully, J.J.'s newfound confidence follows him into season 2 of the series. "I think what J.J. will do [in season 2] is he'll go rogue and kind of do his own thing and live by himself," Pankow shared with HollywoodLife. "Because at this point, J.J. has proven to himself — not to his dad, not to John B, not to the Pogues — that he can survive by himself in a way. If he's not going to have a father that looks out for him, the only person that's going to look out for J.J. is J.J."
Fans are excited to see where another season of Outer Banks takes J.J.