'Outer Banks': Madelyn Cline on Sarah and John B.'s 'Marriage' and Season 3
Outer Banks has been dominating the Netflix charts all over the world ever since season 2 premiered in late July. Even though the streamer has yet to renew the teen mystery drama for season 3, it seems pretty inevitable. The showrunners and stars have been talking about what's next for the Pogues.
Real-life couple Madelyn Cline (Sarah Cameron) and Chase Stokes (John B. Routledge) say they can't wait to see what's in store for their characters after they got married in season 2.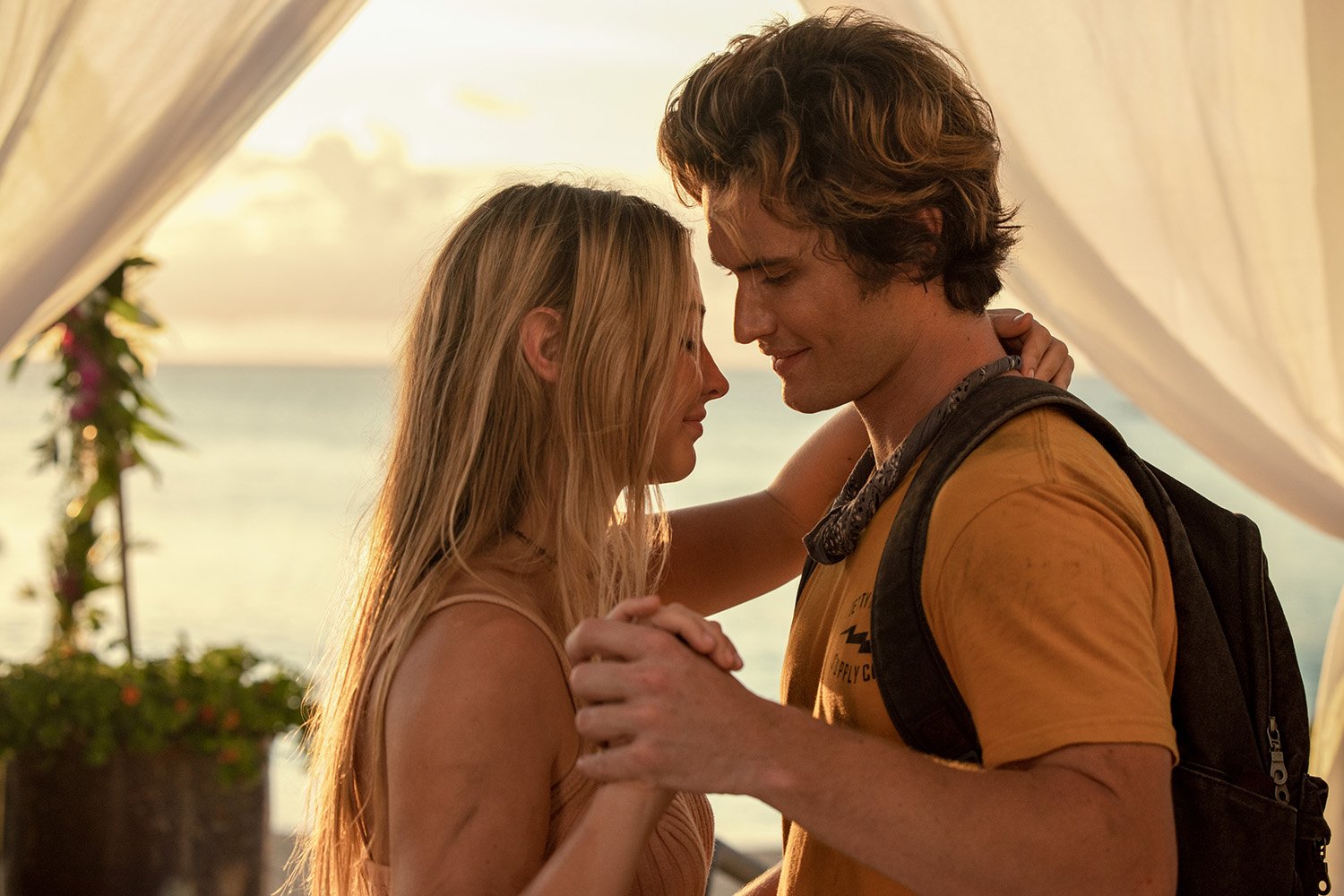 The 'Outer Banks' star says John B. has found stability with Sarah
As John B. and Sarah talked about marriage throughout season 2, Stokes believes that it meant a lot more to his character because he's been on his own for so long. As opposed to Sarah, who comes from a stable family. With his dad being gone, Stokes says that John B. tends to cling to a lot of people around him.
"He's definitely a little more co-dependent than he likes to give himself credit for. And now Sarah's a lifeline in his life," Stokes told TV Line. "And just like any great partner, you want to keep that person around."
Stokes says that when you're young and in love — and you are caught up in the moment — it makes perfect sense that you would want to solidify that feeling. For John B., he hasn't had much consistency in his life. But he does finally have some stability with Sarah.
Are John B. and Sarah too young to get married?
While speaking about John B. and Sarah's marriage with Entertainment Tonight, Cline said that the young age of her and Stokes' characters isn't really much of a factor. Even when you're 16, Cline says that "love is love" and "when you know, you know."
Stokes agreed, saying that everyone has their own experience. And, young love can work for some people.
"We've seen couples who got married at 16 who are now in their 80s and early 90s who are still together and wildly in love," Stokes said. "So I don't think that the age should specifically define it. I think love is something that should move that needle."
'Outer Banks' star Madelyn Cline says John B and Sarah are married, but they don't really know each other yet
Cline says that if there is an Outer Banks season 3, it would be really fun to see John B. and Sarah truly get to know each other "in a very real sense" after their "wedding."
"They're married, but they actually kind of don't know a whole lot about each other," she said. "I feel like that would be really fun. They've obviously been through a lot together."
Stokes is also looking forward to another season because he's excited to see how John B. and Sarah handle everything that's happened to them and how they manage to move forward from it.
Madelyn Cline and Chase Stokes had to lay some ground rules before filming season 2
Cline and Stokes met on the set of Outer Banks, and they became an official couple in June 2020. Cline says that going into season 2 as girlfriend and boyfriend, she and Stokes had to lay the groundwork to make sure they wouldn't bring their personal relationship issues to work.
"I was like, 'This is a big priority to me, and you know, from what I know based on how you work, it is for you too," Cline said on The Talk. "But I want to make sure that we hold each other accountable and that we don't bring anything personal that could potentially distract each other or our fellow castmates on the day.' So, it wasn't hard at all, and I really respect that about him and our relationship."
The 'Outer Banks' stars love working together
According to Stokes, both he and Cline are "absolutely obsessed" with their jobs, and getting the opportunity to work together is just an added bonus. However, it's important to be professional.
"To go to work with your partner and to go work on a project that you kind of have always dreamed of doing … is super exciting," Stokes told Life & Style. "Whether you're an accountant, whether you work in marketing or you're an engineer, if you work with your partner, you kinda gotta put it all aside and just go to work and do your job."
Seasons 1 and 2 of Outer Banks are streaming on Netflix.
RELATED: 'Outer Banks': What the Cast Has to Say About Season 3