'Outer Banks': How Old Is John B. Compared to Chase Stokes?
Netflix's Outer Banks tells the story of John B., a teenager searching for his missing father and subsequently, $400 million in gold. Played by Chase Stokes, many fans wonder how old the actor is compared to his role in the Netflix series. Find out the age of the actor who plays John B. in Outer Banks.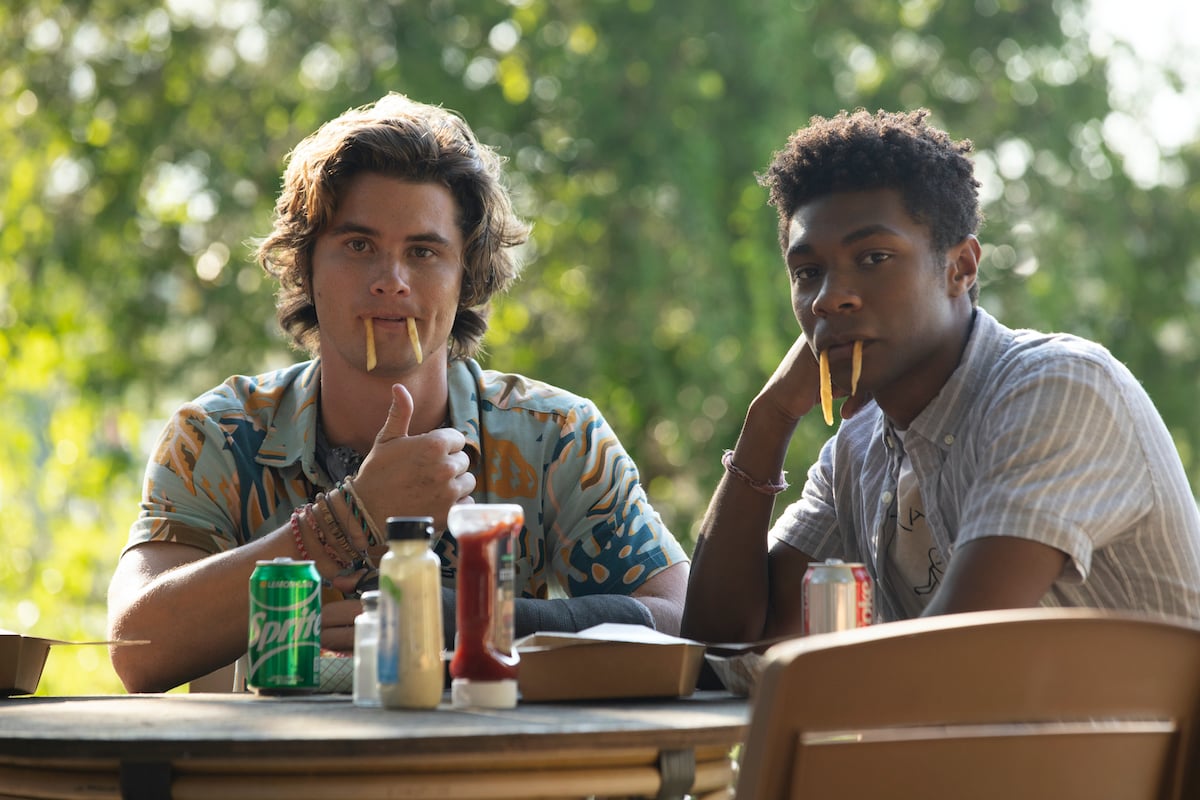 How old is Chase Stokes?
Stokes was born on Sept. 16, 1992. The actor is currently 28-years-old and will celebrate his 29th birthday later in 2021. 
Stokes' role in Outer Banks is supposed to be 16-years-old. That makes him almost 10 years John B.'s senior! 
Stokes' age also makes him the oldest Outer Banks cast member. Ironically, most of the Outer Banks cast are in their 20s. That's because casting teen actors requires more legal loopholes to jump through. Regardless, Stokes plays the role well despite his age, even if some fans aren't convinced he's a teenager. 
Chase Stokes and Maddie Cline are 5 years apart in age 
John B. and Sarah Cameron's on-screen chemistry is actually quite authentic! Stokes and Madelyn Cline, who plays Sarah, announced they were in a relationship a few months after season 1 of Outer Banks came out.
"Cat's outta the bag," he captioned a series of photos on Instagram. In another interview, Stokes told Life & Style how he and Cline officially met on the set of Outer Banks, despite both of them working on different episodes of Stranger Things in the past. "[We met] a week and a half or two weeks [before shooting began]," Stokes said of his co-star. 
Since Stokes and Cline are together, many fans wonder how old Cline is. She was born on Dec. 21, 1997, making her 23-years-old at the time of publication. 
How tall is Chase Stokes? 
According to multiple sources, Stokes measures in at 6-foot-1. His tall stature makes him the perfect actor the play a surfing Pogue like John B. 
Meanwhile, Stokes' co-star and girlfriend Cline measures in at 5-foot-6. This makes her boyfriend seven inches taller. Regardless of their age and height difference, Stokes and Cline are happy together in their current relationship. 
The Outer Banks couple celebrated their 1-year anniversary on Apr. 4, 2021. "365 w/ u," Stokes shared on Instagram. Cline commented: "And I'd do it again."
Based on their social media posts, Cline and Stokes are completely smitten with each other. What's more, the two seem to have had a blast filming season 2 of Outer Banks together, and they can't wait for fans to see the new episodes. 
'Outer Banks' Netflix season 2 release date
We wish we had better news, but Netflix has yet to announce an official release date for Outer Banks Season 2. So far, all we know is that the cast is done filming the new season, which means it's likely still in the post-production phase. 
Since the first season of Outer Banks premiered in April 2020 and April 2021 has come and gone, that can only mean it's a matter of time before season 2 comes out. Stay tuned to Showbiz Cheat Sheet for updates on the release of Outer Banks Season 2.