'Outer Banks' Season 2, Episode 7 Recap: 'The Bonfire'
Outer Banks Season 2 has been intense so far, which is ironic considering Chase Stokes called this his "favorite of the two seasons" (via HollywoodLife). As the season draws closer to episode 10, it's easy to wonder how the characters in Outer Banks' lives will change, given all of the life-altering events that happened in episode 6. After a local tragedy, the Kooks and Pogues appear divided once again. Now, it's John B. (Chase Stokes), J.J. (Rudy Pankow, Kiara (Madison Bailey), and Pope (Jonathan Daviss) versus Kildare County in "The Bonfire."
[SPOILER ALERT: Major spoilers ahead for Outer Banks Season 2, Episode 7 "The Bonfire."]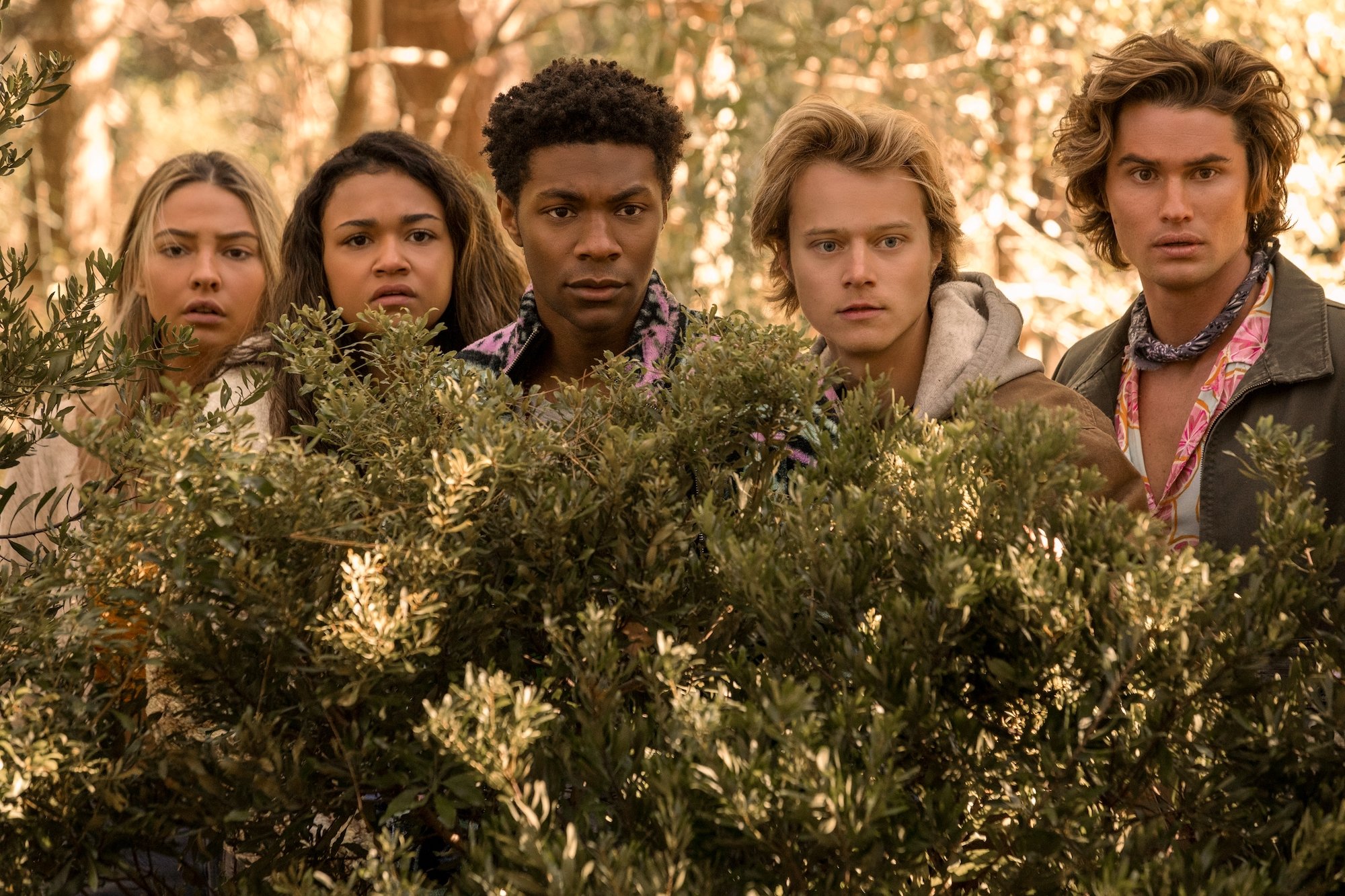 Ward Cameron's final will in 'Outer Banks' Season 2 
After the FBI closes in on Ward (Charles Esten) and Rafe Cameron (Drew Starkey), Ward takes matters into his own hands in "My Druthers." Ward goes down with his ship, which he rigged with explosives, as Sarah (Madelyn Cline), the Pogues, and Kildare County police watch. 
In "The Bonfire," Rafe, Sarah, Rose (Caroline Arapoglou), and Wheezie (Julia Antonelli) watch Ward's video will. He mentions losing sight of who he is and who he wanted to become.
"I killed Big John Rutledge," Ward confesses in the video. "I murdered Sheriff Peterkin [and] I shot Gavin Barnstead." Really, Ward is only responsible for two deaths — Rafe killed Peterkin (Adina Porter) in Outer Banks Season 1. 
John B. and Sarah Cameron's relationship is on the rocks in 'The Bonfire' episode of 'Outer Banks' Season 2
At the beginning of Outer Banks Season 2, it seems like nothing can stop John B. and Sarah Cameron. But after Ward dies by suicide, John B. looks a little too happy about his death. The tension that creates in his and Sarah's relationship reaches a new level in "The Bonfire." 
When Sarah wants to take a break, John B. gives her space. "I just think it's too complicated," she tells him as she removes the piece of his bandana meant to symbolize their marriage in "Prayers." 
"Sometimes things just aren't meant to be," Sarah admits. She leaves John B. to confide in her season 1 boyfriend, Topper (Austin North). 
'Outer Banks' Royal Merchant was carrying more than $400 million in gold
Pope gets his hands on an ancient diary in "The Bonfire," thanks to his history teacher. It happens to be Denmark Tanney's — a distant relative of Pope Heyward's family.  
In the diary, Pope finds an entry detailing how the captain of the Royal Merchant ship — Carla Limbrey's (Elizabeth Mitchell) relative — stole the gold and the "bedazzled" Cross of Santo Domingo, as J.J. so eloquently puts it, from a sinking Spanish ship.  
Once Limbrey's crew moved the treasure to the Royal Merchant, he ordered his men to raise their bayonets. "He robbed them and left them to die," Pope explains to the Pogues. Carla Limbrey desperately wants Denmark Tanney's key because she feels it's her birthright. 
'The Bonfire' brawl between the Kooks and Pogues in 'Outer Banks'
No season of Outer Banks is complete without an all-out brawl between the Kooks and Pogues. After their breakup, Sarah and John B. spot each other with new prospects at the annual bonfire. 
"I don't think they feel things in the same way we do," Topper tells Sarah after she sees John B. talking to another girl. Later, Sarah, who has a lot to drink, confronts John B., lighting a fuse and starting the annual Kook vs. Pogue fight on the beach. 
Denmark Tanney's key points to the 'Island Room,' which is in the Cameron house 
"The path to the tomb begins in the Island Room," Pope learns in "The Darkest Hour." The meaning of those words becomes clear in "The Bonfire" when Carla Limbrey finally gets her hands on Denmark Tanney's key. 
The night of the bonfire, Carla arrives at the Cameron house in search of this Island Room. When Sarah comes home the next day, she finds the room in disarray. After noticing her family is missing, Sarah sees the wallpaper in the room is removed, revealing what a map to the Cross of Santo Domingo.