'Outer Banks' Season 2 Is Happening; Chase Stokes and Jonas Pate Share What Fans Can Expect
Woogity woogity — Netflix's Outer Banks has been confirmed for another season! Here's what fans can expect to see from the Kooks and Pogues in season 2 of Outer Banks.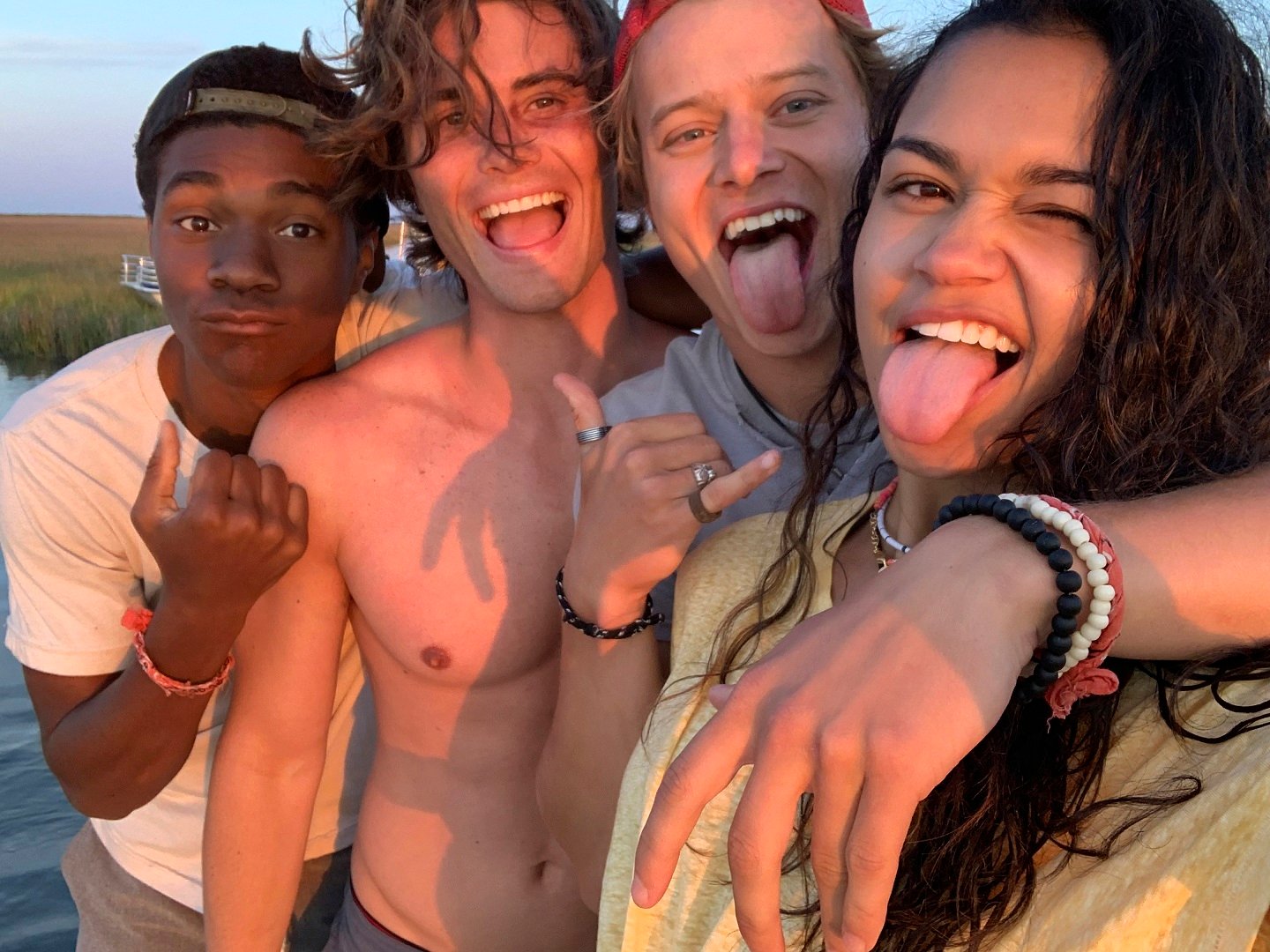 Wait — what happened in season 1 of 'Outer Banks'? 
Outer Banks debuted on Netflix in April 2020.
Viewers were introduced to John B. (Chase Stokes), leader of the Pogues on a mission to find his missing father. Joined by his friends J.J. (Rudy Pankow), Pope (Jonathan Daviss), and Kiara (Madison Bailey), John B. spends much of season 1 on the hunt for his dad and the $400 million in gold he was after.
Along the way, John B. gets mixed up with other plot lines. He exhibits the forbidden behavior of "Pogue-on-Pogue macking," falls in love with a Kook named Sarah Cameron (Madelyn Cline), and struggles to lessen the strain between the social classes in the Outer Banks. 
At the end of season 1, John B. is pit against Sarah Cameron's father, Ward (Charles Esten), who manipulates John B to find the gold only to steal it from him. After learning Ward is to blame for his father's death, John B. whisks Sarah Cameron away to the Bahamas. 
Fans had a feeling season 2 was coming 
Outer Banks season 1 was wildly popular. The series earned 356 points in Netflix's point-tracking system. According to Forbes, Outer Banks spent 51 consecutive days on the daily Top 10 list — something only Ozark and Avatar: The Last Airbender have been able to achieve. 
Given this success, many fans felt it was only a matter of time before season 2 was announced. Plus, showrunner Jonas Pate has long been talking about how the show could be at least four seasons long. 
"Ever since we started, we always viewed [Outer Banks] as something that was probably like a four-season, maybe five-season show, but definitely four seasons," Pate explained to Entertainment Weekly in April 2020. "We've sort of long-arced it out pretty far. I'm just hoping that we get a chance to actually tell those stories."
Finally, fans got the news they had been hoping for. 
Season 2 of 'Outer Banks' is set in the Bahamas
Many fans had a feeling some of season 2 would take place in the Bahamas. When the official Outer Banks account shared the news, the caption confirmed that belief, reading: "See you in the Bahamas." 
Additionally, Pate confirmed that some of the season 2 plot will take place in the tropics. "We'll definitely have at least a part of Season 2 that'll take place in the Bahamas," Pate told Entertainment Weekly.
Not all of season 2 will take place in the Bahamas, though. 
"The Pogues think that John B. and Sarah are dead," Pate explained. "So we realized that that gave us some dramatic possibilities that we could explore before we get them all reunited." 
Eventually, John B. and Sarah will make their way back to the Outer Banks because, according to Pate, the Pogue's friendship is one of the best parts of the show. 
'Outer Banks' Season 2 will have plenty of new mysteries 
Season 2 of Outer Banks will be rife with new mysteries for the Pogues to solve. "It all comes off the same spine of the same story but it branches out in ways that hopefully the audience won't see coming," Pate said. 
Personally, Stokes can't wait to get back to work Playing John B. has been a dream for him, considering all of the mysteries his character gets wrapped up in.
"It's one of those really fun projects where not only is it a fun character, and not only is everyone great [to work with], but the story [is] so interesting," he told Showbiz Cheat Sheet. "To have that opportunity to go back into John B.'s world and tie up all the loose ends is going to be fun." 
When will 'Outer Banks' Season 2 be released?
It's unclear when fans can expect to see season 2 on Netflix. At this time, it's essential to operate as safely as possible and take every precaution to keep the cast and crew safe from the coronavirus (COVID-19) pandemic. 
"We're trying to be respectful and responsible," Stokes said to Showbiz Cheat Sheet. "If I get sick, then it puts the entire possibility of us going back to work — and that's hundreds of people on the Outer Banks cast — that I could put at risk." 
Regardless of when filming resumes, fans are glad to know Outer Banks will be back with a second season — eventually.