'Outer Banks' Season 3: Everything We Know So Far
Netflix has officially renewed 'Outer Banks' for a third season! Here is everything we know so far about 'Outer Banks' Season 3.
Calling all the Pogues! The cast of Outer Banks announced the show got renewed for a third season. The season 2 finale ended on massive cliffhangers, leaving fans with many lingering questions. Now that the Netflix teen drama is officially getting a second season, fans want to know if the new season will answer all their burning questions. Here is everything we know so far about Outer Banks Season 3.
The 'Outer Banks' cast announced the show's renewal on social media
On Dec. 7, the Outer Banks cast members announced that the show would return for a third season. The 48-second teaser starts with Chase Stokes sending a message from Poguelandia. "I've got an announcement," Stokes says in the clip. "We've got incoming news. Drum roll, please." 
Then, Madelyn Cline, Austin North (Topper), Drew Starkey (Rafe Cameron), Madison Bailey (Kiara), Rudy Pankow (JJ), and Carlacia Grant (Cleo) proceed to do a drum roll. While overcome with excitement, Stokes says gleefully, "Season 3, baby!!! Let's go!! We're coming back, Season 3." The rest of the cast proceeds to celebrate the show's renewal. Even Rudy Pankow and Jonathan Daviss (Pope) recreated The Pogues' handshake and said, "Woogity, Woogity, Woogity."
Who is returning for the new season?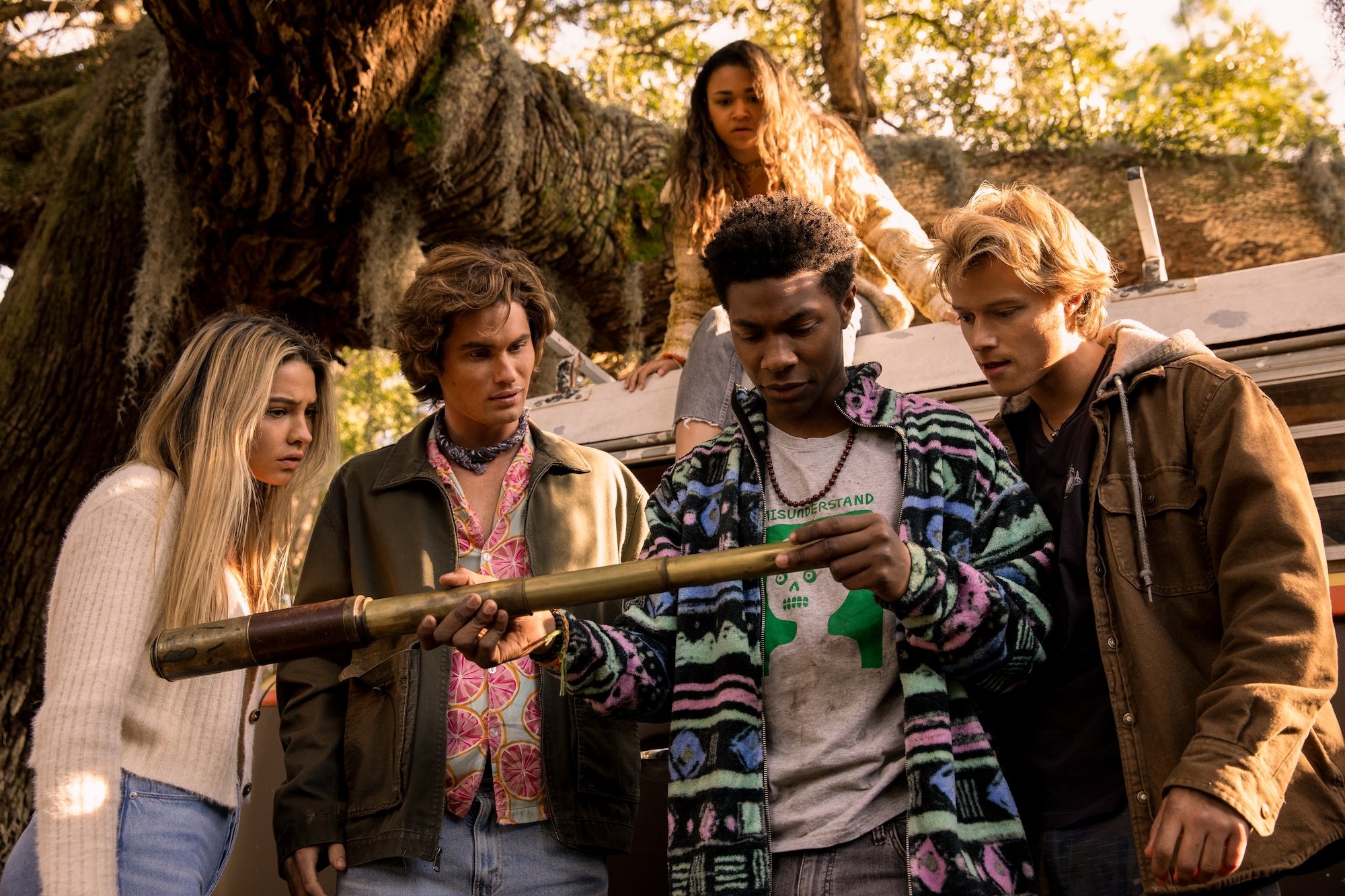 Per Deadline, the series regulars are expected to return for Outer Banks Season 3. The ensemble cast includes Chase Stokes, Madelyn Cline, Madison Bailey, Jonathan Daviss, Rudy Pankow, Austin North, Drew Starkey, and Charles Esten. In addition, fans will see Carlacia Grant return as Cleo. The actor has been promoted to a series regular as well.
What is 'Outer Banks' Season 3 about?
While the plotline for Outer Banks Season 3 remains under wraps, it is safe to assume that the next installment will pick up where the last chapter left off. For instance, the Pogues found themselves on an unknown island after their plan to retrieve the $400 million in gold failed. Ward Cameron (Charles Esten), now severely injured, tells his son Rafe to find the crew using any means necessary. 
Meanwhile, it's revealed that John B's father is alive! After Ward purposely killed him and threw his body into the ocean, it was shown that Big John survived the altercation. Although he is alive, he definitely knows something about the Cross of Santo Domingo that Limbrey wants to cure her unknown disease. So, will Big John come out of hiding to find his son John B? For now, fans will have to wait and see in the new season.
When will 'Outer Banks' Season 3 premiere on Netflix?
The first season of Outer Banks premiered in April 2020, right before American entered lockdown. Due to coronavirus (COVID-19) pandemic, filming for Outer Banks Season 2 was halted because of safety concerns. Eventually, the second season premiere in July 2021, topping the Netflix Top 10 List. Based on the timeline, it's likely that the third season will premiere sometime in 2022. If film production runs smoothly, the next installment may debut in the early summer. However, an official premiere date has not been confirmed yet.
The first two seasons of Outer Banks are streaming now on Netflix.