'Outer Banks' Stars Madelyn Cline and Chase Stokes Didn't Mean for This to Happen at the MTV Movie & TV Awards
'Outer Banks' stars Madelyn Cline and Chase Stokes didn't mean for this to happen at the MTV Movie & TV Awards.
Outer Banks fans got their daily dose of the Netflix cast at the 2021 MTV Movie & TV Awards. The Outer Banks cast walked the red-carpeted event celebrating the best in movies and television that 2020 had to offer. Many fans were happy to see stars like Jonathan Daviss, Rudy Pankow, Madison Bailey, Madelyn Cline, and Chase Stokes, but they were even more delighted when Outer Banks won an award.
Find out what the Netflix series took home a Golden Popcorn for. Plus — the one thing Cline and Stokes didn't mean to do at the MTV Movie & TV Awards.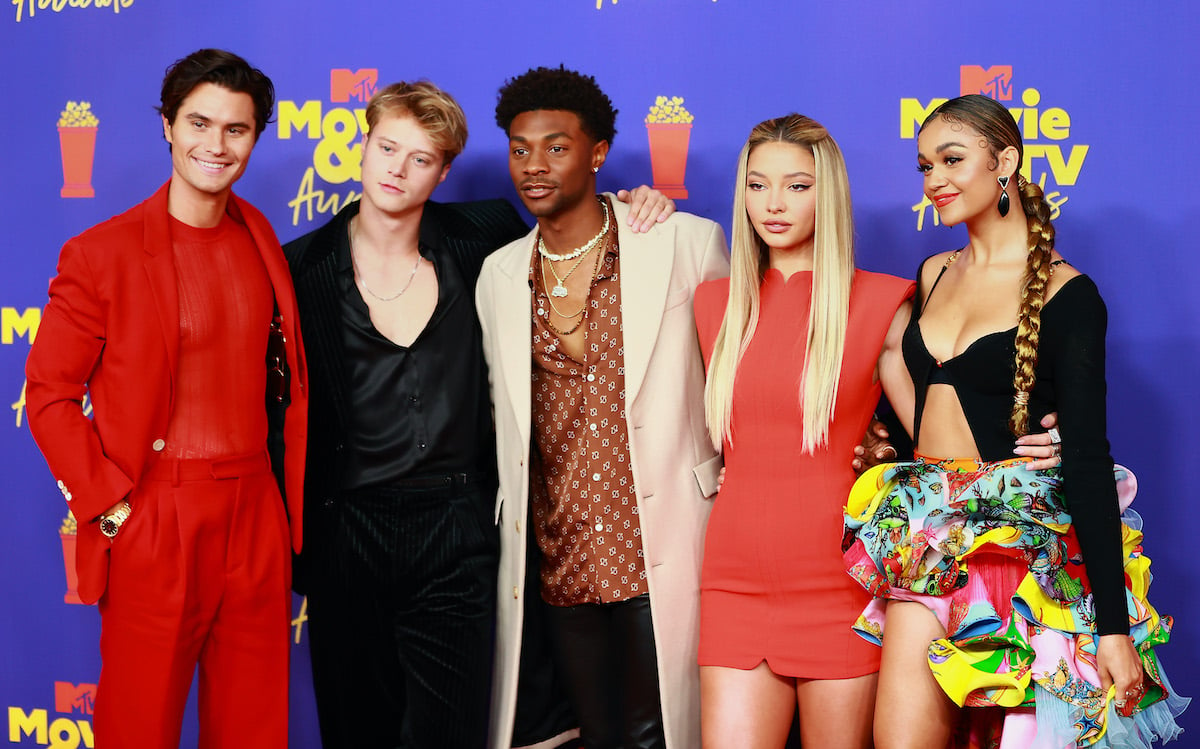 Chase Stokes and Maddie Cline won 'Best Kiss' at the 2021 MTV Movie & TV Awards 
Stokes and Cline found the $400 million worth of gold in the first season of Outer Banks. But now the duo has even more gold to rave about. 
Stokes and Cline took home the Golden Popcorn for their kiss in the rain from the Netflix series. "Oh my gosh. Thank you, MTV," Stokes began. "Thank you to the fans for supporting the show." Mid-acceptance speech Cline delivered a line from the iconic scene in Outer Banks.
"Shut up," she told Stokes as she pulled him in for a kiss, mimicking the scene for which they won the award. Many fans were grinning from ear to ear for the Outer Banks cast members, who are also a couple in real life.  
Madelyn Cline and Chase Stokes in a relationship
Life imitates art, as they say. Stokes and Cline play a fictional couple on-screen, but off-screen, the two have been dating for just over a year. "365 w/ u," Stokes shared on Instagram Apr. 4. 
"And I'd do it again," Cline replied. Their chemistry on-screen is as authentic as it gets, which the Outer Banks writers have allowed to influence the show. 
"I think it's just made [Outer Banks] more real — which one can only hope," Cline told Entertainment Tonight. "We pull from our own chemistry as a group all the time in the show, in a scene, so I feel like it can only be better." 
Regardless of how well it works for the show, Stokes says he and Cline work to separate their relationship from John B. and Sarah Cameron's. "We've had a lot of time with being in quarantine, being locked down and in isolation to really talk about the nuances between John and Sarah and then what we have personally and how we can bring that to the screen," the actor said.
'Outer Banks' cast and real-life couple didn't mean to coordinate their looks at the MTV Movie & TV Awards 
Cline accepted the award for Best Kiss in a black two-piece ensemble. But when the Outer Banks cast arrived on the red carpet, Cline happened to be wearing the same shade of red as Stokes.
RELATED: 'Outer Banks' Star Chase Stokes Gives an Update on Season 2
Related post url: 
"When we found out we were both wearing basically the same color, we were like, 'Wait…'" Cline explained to ET. According to Stokes, his and Cline's outfit coordination was kismet.
"We didn't [coordinate]," Stokes confirmed to the outlet. "Like, I walked upstairs … and I was like. 'Oh my gosh!' We kept [our outfits] a secret."