'Outer Banks': 3 Things You Didn't Know About Season 2
Outer Banks follows three best friends that embark on a journey to find lost treasure. When the second season premiered on Netflix, the teen drama was a massive hit – ranking No. 1 on the platform's Top 10 List. Fans of the show fell in love with the storyline and its characters. Here are some behind-the-scenes details fans might not know about the making of Outer Banks Season 2.
[Spoiler Alert: This article contains spoilers from Outer Banks Season 2]
The church scene took over a week to film
RELATED: 'Outer Banks' Star Madelyn Cline Shares How the Iconic Kiss Scene from Season 1 Came To Be
Ahead of the Outer Banks Season 2 premiere, Chase Stokes (John B), Madison Bailey (Kiara), and Jonathan Daviss (Pope) sat down with Cosmopolitan UK and talked about some behind the scenes secrets.
In the second season, "The Pogues" are looking for a new treasure – The Cross of Santo Domingo, onboard the Royal Merchant. The group finds the gold cross in an abandoned church, hidden in a wooden case on the ceiling.
Although the scene was a pivotal plotline, it was the longest to shoot. "It took about a week or so, or maybe more, to get that done," Daviss said. "The church was a built set, and it's also an actual location in South Carolina. So, we had to bounce back and forth. It was really involved, but it was fun."
'Outer Banks' cast took different souvenirs from set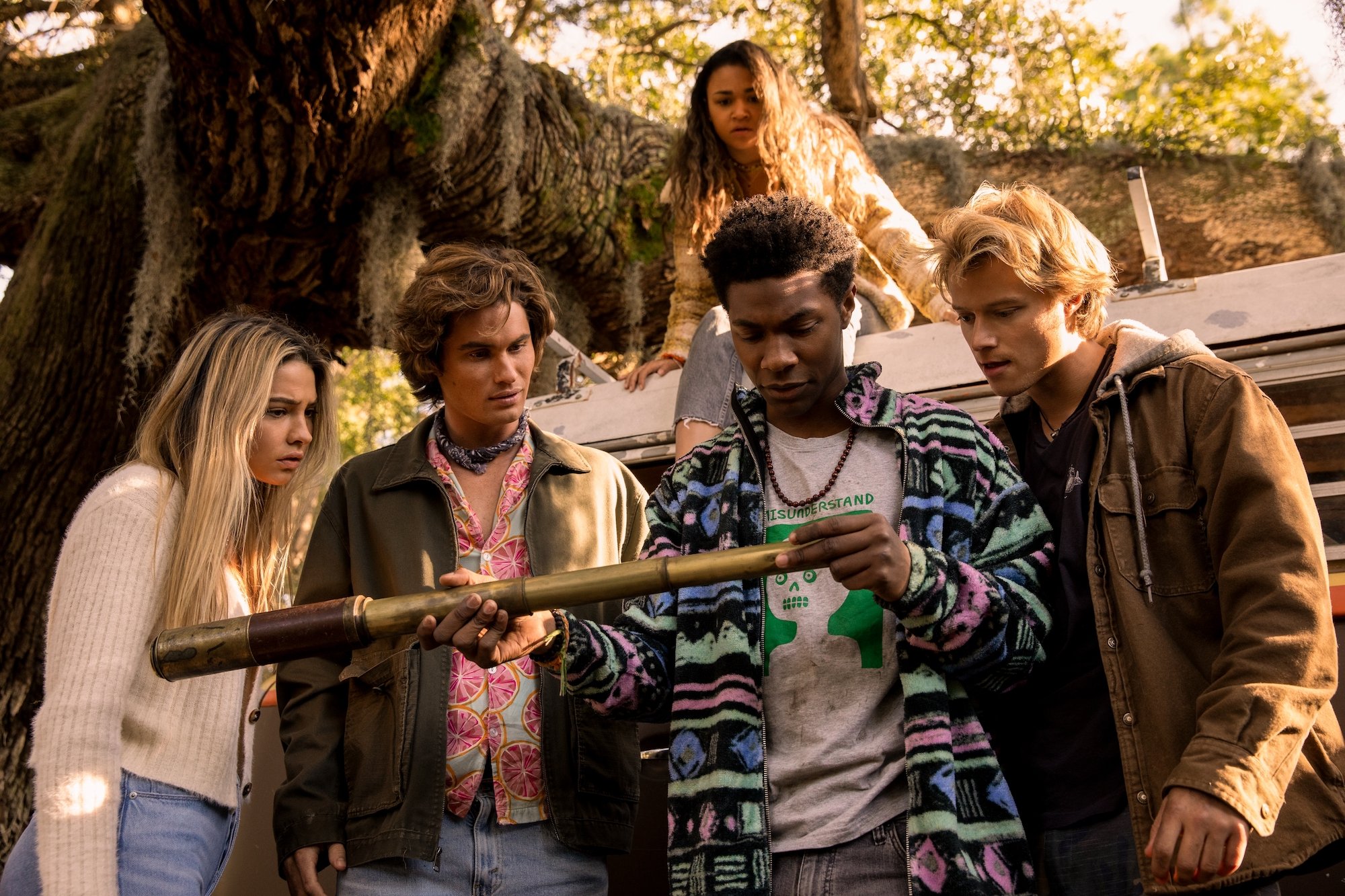 RELATED: 'Outer Banks' Star Chase Stokes Talks Season 3 Updates: 'As Soon As We Know, You're Gonna Know'
Each cast member shared that they all have a souvenir from the set of Outer Banks. For Daviss, he took home Pope's bedroom wall posters – pictures of the British American rapper, MF Boom, were displayed throughout the room. The actor revealed he kept the souvenir to remember his favorite rapper, who died in October 2020.  
"I got a bunch of posters, a couple of albums, and I gotta keep it all after we finished filming," he shared. "That was a big thing for me to be able to have something from one of my favorite artists of all time."
Bailey admitted that she took a pair of socks worn by her character. "Kiara wears a lot of cute socks this season, and I have at least one pair of each," she explained. She also shared that she has a few pieces of jewelry, including necklaces and earrings.
Stokes jokingly shared that he took a pair of John B's underwear. In addition to that, he took home vintage Reggae Hall posters from the 1970s and 80s. "I snagged a couple of those, and I'm going to hang it up in my house."
The 'Outer Banks' cast want to film a third season
Although the Netflix series has not been renewed for a third season yet, the cast of Outer Banks wants to continue the show's narrative.
Stokes shared that he's interested to see what happens next in the drama series. "All of these characters have something super interesting to offer," he said. "I think it's fun to be a part of a show that has such nuanced characters, and [the writers] did a great job in making each of them have something, in particular, that you want to know more about. We'd love to keep this story going as long as we possibly can."
Outer Banks Season 2 is streaming now on Netflix.