'Outlander': Are Sophie Skelton and Richard Rankin a Couple in Real Life?
Fans can't get enough of the romance on Outlander. Love is at the core of this series, whether it's Claire and Jamie's epic time-traveling romance or the equally dramatic relationship between Claire and Jamie's daughter Brianna and Roger, who is willing to follow her into the past so they can be together. So it's not surprising that viewers have wondered if some of that onscreen chemistry is recreated offscreen.
While we know that Caitriona Balfe, who plays Claire, and Sam Heughan, who plays Jamie, aren't together in real life, what about Sophie Skelton and Richard Rankin, who portray Brianna and Roger? 
There's no evidence Sophie Skelton and Richard Rankin are a couple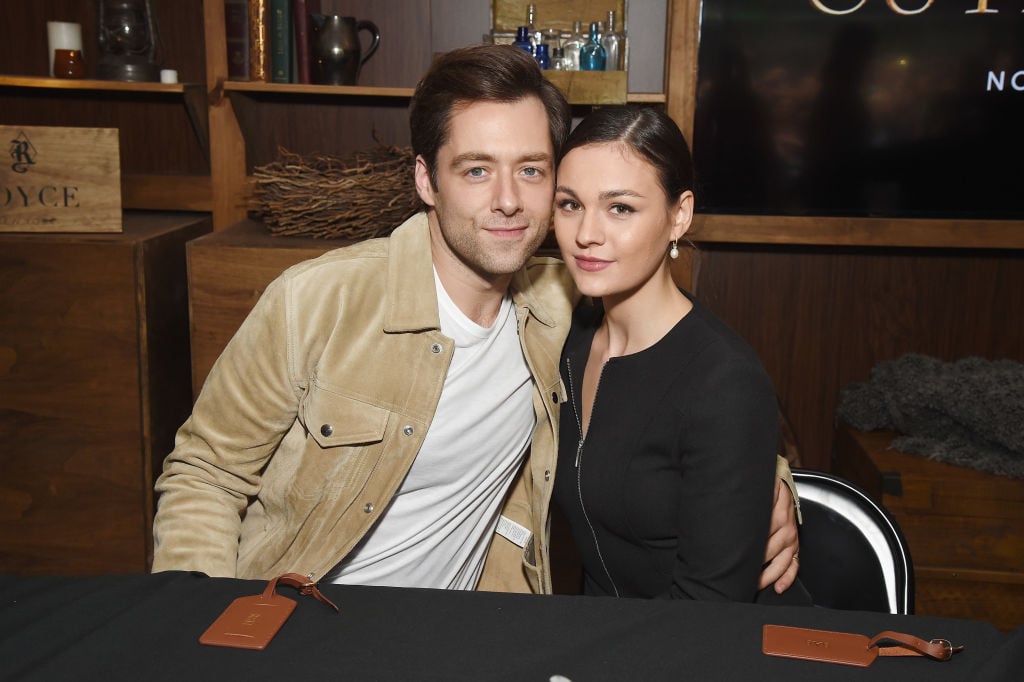 While some fans might want to see Skelton, 25, and Rankin, 37, get together in real life, there's no evidence that these two are anything but friendly colleagues.
Neither actor has revealed much about their personal life in interviews, so we don't know if they are dating other people or currently single. However, Skelton has been spotted at events like Elton John's 2019 Academy Awards viewing party with actor Jeff Gum.
Both actors joined the Outlander cast in season 2. Their characters' love story quickly captivated fans, but on set, things weren't always so romantic. Rankin, it turns out, is something of a comedian, and he doesn't hesitate to crack jokes while working. 
"Richard Rankin between takes is always trying to get the comedy in," Skelton told VF.com in 2017. "Sometimes you're trying to do a particularly emotional scene where Claire is leaving Brianna possible for the rest of her life and Brianna is breaking down in tears and Richard Rankin is prodding your back and whispering jokes in your ear. One moment of seriousness, please?"
Rankin has a unique approach to kissing scenes
Rankin also has a unique approach to kissing scenes, Skelton revealed. Before locking lips with his co-star, he chows down on tuna and lobster. 
"I find that endlessly hilarious," Rankin confirmed. "The best thing to do before a kissing scene is to eat lobster or as much fish as you can cram in your face. That's more interesting than a straight down the line kiss. Everyone's doing normal kisses. The normal kiss is done, it's so uninspiring. But if you've got a lobster tail hanging out the side of your mouth it's much better." 
"Any women trying to kiss Richard Rankin, there's your warning right there," Skelton said. 
They work together closely to bring Roger and Brianna to life 
Bringing Roger and Brianna to life on screen is a team effort, the pair said in a 2018 interview with Collider. 
"[W]e really do like to get our heads together and talk about where Roger and Brianna are at," Skelton said. "Our characters aren't particularly good at voicing what's going on in their minds, so if we're on the same page and we both have a similar idea, in terms of how we want to place it, then it really helps."
"I love the relationship of Roger and Brianna," Rankin added. "I suppose it's just about bringing that honesty to it, which is our job, as the actors, in bringing these characters to life and bringing a truth to the relationship. It's not an easy thing because relationships are not simple things. They are very complex beasts … How do you honestly portray that on screen? How do you give these little hints and these little details of what actually makes a relationship believable?"