'Outlander' Author Diana Gabaldon's First Reaction to Sam Heughan Being Cast as Jamie Fraser — 'Are You Sure?'
ARTICLE HIGHLIGHTS
Before Outlander, Sam Heughan was an unknown actor.
Author Diana Gabaldon had to be convinced he was the right actor to play Jamie Fraser.
Heughan's chemistry with Caitriona Balfe sealed the deal on her role as Claire Fraser.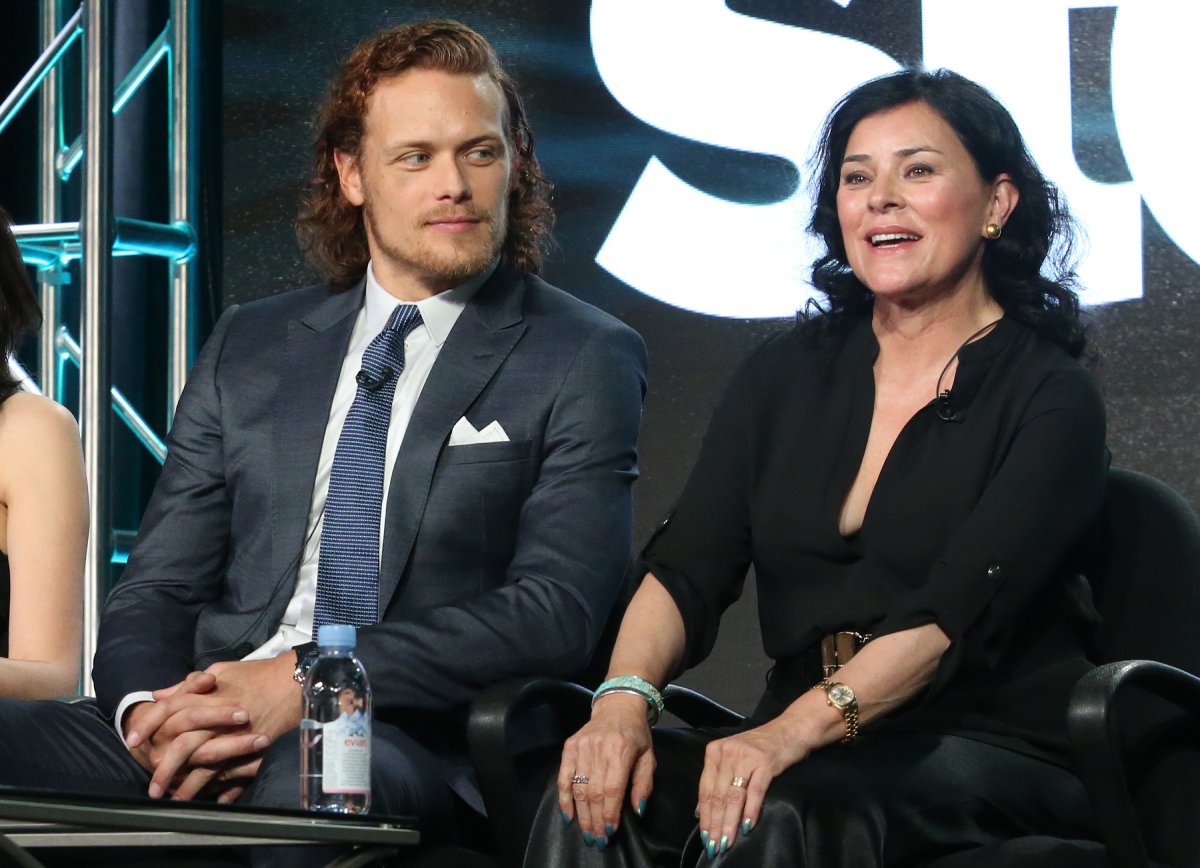 Outlander author Diana Gabaldon has become good friends with star Sam Heughan since he was cast to play Jamie Fraser. But if Gabaldon would have been in charge of casting the Starz series, chances are that friendship would have never formed.
Nearly a decade ago, Heughan landed the role of the handsome 18th-century Scottish Highlander thanks to executive producers Maril Davis and Ronald D. Moore. But Gabaldon's first reaction to the casting choice was "are you sure?"
Sam Heughan was an unknown actor before 'Outlander'
During an appearance on Outcasts — the unofficial Outlander podcast — Gabaldon recalled the process of casting Jamie Fraser. She explained that Davis and Moore found Heughan pretty quickly, and he was the first person cast for the Starz time-traveling drama.
But because he was an unknown actor with "almost no films" on his resume, Gabaldon had no idea who Heughan was. When she Googled his name, only a handful of pics showed up. And the images she saw of the six-foot-three blonde actor didn't give her Jamie vibes.
Diana Gabaldon was very specific in her description of Jamie Fraser
When Gabaldon's first Outlander novel was published back in 1991, her description of the story's hero was very specific. She described Jamie as a proud and brave Scot, who is strikingly handsome and unusually tall.
His noticeable features included his wild red hair, piercing blue eyes, and fair skin. Gabaldon based Jamie's appearance on that of her husband of 50 years, Doug Watkins.  But a tall, strikingly handsome redhead isn't what Gabaldon saw when looking at Heughan for the first time.
The 'Outlander' author's reaction to Sam Heughan as Jamie Fraser was 'are you sure?'
When Gabaldon first saw Heughan, he looked and sounded nothing like she'd described Jamie Fraser in her books. She just couldn't picture Heughan as Jamie, so the author had her doubts about the casting choice.
"Well, you know what he's like, he's a total chameleon. He changes with each show for each character. I was thinking, 'Well, he doesn't look like Jamie Fraser except for a little bit around the edges,'" Gabaldon explained.
"On the other hand, [I thought] he looks really different, so maybe he'll be fine and of course, he was. But that was my first reaction. I was like, 'Are you sure?'"
Diana Gabaldon changed her mind when she saw Sam Heughan's audition tape
It wasn't until Gabaldon saw Heughan in his audition that she understood why Moore and Davis had chosen Heughan to play Jamie. When Davis showed Gabaldon Heughan's tape, the author quickly changed her mind about the actor.
Gabaldon says that Heughan "didn't look anything like his pictures, he looked fine." As she watched the audition tape, she realized that "five seconds later he was gone, and it was Jamie Fraser there. I was astonished."
"Maril and I were both clutching our chests when we were watching Sam's audition thinking, 'Oh my God, this is actually him,'" Gabaldon revealed.
Caitriona Balfe's screen test with her 'Outlander' co-star 'sealed the deal'
As for Heughan's co-star Caitriona Balfe, she wasn't cast as Claire Fraser until about three months after Heughan landed the role of Jamie. The Outlander season 3 DVD box set includes Balfe's screen test with Heughan. In the commentary, Moore said the test was important because they needed to see the actors' on-screen chemistry.
"We really felt that Cat was probably going to be the one but this [screen test] was the final moment where she literally sealed the deal and got the show," Moore explained. "And you see, they've already got the shorthand of their characters and there is definitely on-screen camera chemistry between the two."
Season 6 of Outlander premieres Sunday, March 6 on Starz.