'Outlander' Cast Real-Life Partners Revealed
For five seasons (so far), Outlander fans have followed the epic love story of Jamie and Claire Fraser. They can't get enough of the time-traveling storylines, the steamy sex scenes, and the actors who portray their favorite characters.
But what about the real-life romances? Here's a look at the real-life partners of the Outlander cast.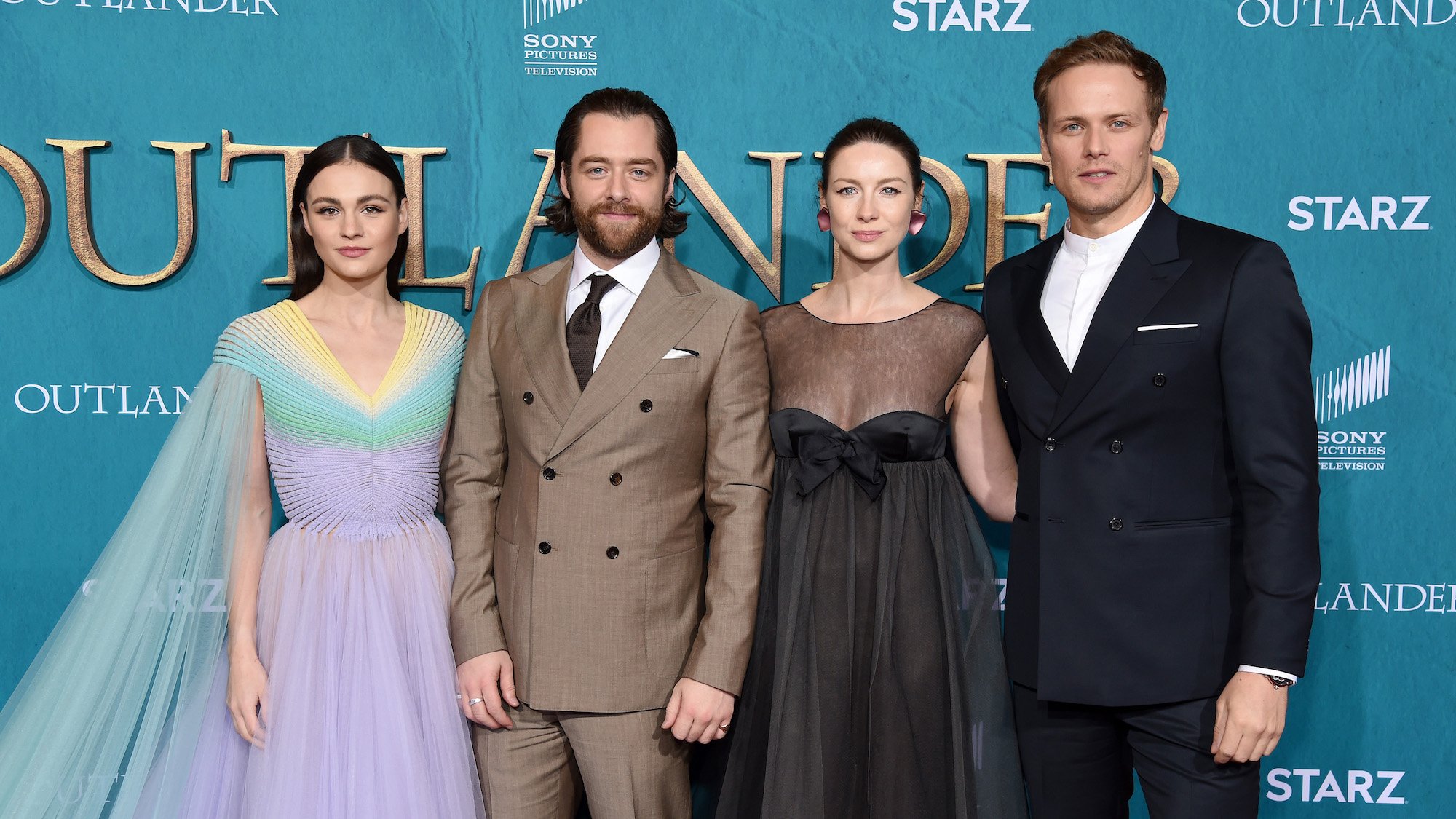 This 'Outlander' star is extremely secretive about his private life
For the first four seasons of Outlander, Tobias Menzies played two very different characters. In the 20th century, he was Frank Randall, Claire's loyal husband. In the 18th century, Menzies was one of Claire and Jamie's worst enemies – Black Jack Randall.
When it comes to Menzies' real-life partner, it's nearly impossible to find any information. The actor is extremely secretive about his private life. According to AmoMama, he was rumored to have had a brief relationship around 2005 with Kristen Scott Thomas. 
Graham McTavish is happily married
Graham McTavish portrayed tough, rugged highlander Dougal McKenzie for the first two seasons. He also traveled through Scotland with Heughan for their new STARZ series Men In Kilts. But McTavish is actually from New Zealand, and has a thick English accent.
The actor lives in Central Ortega in New Zealand with his wife Gwen and their two children. It's unknown how long they've been married because like Menzies, McTavish prefers to keep his personal life private.
Another Outlander star who keeps things private is Lotte Verbeek, who portrayed Geillis Duncan. She did recently post pics on Valentine's Day, but she didn't give fans any hint about who she was dating.
David Berry became a dad during his run on 'Outlander'
David Berry plays the extremely popular Lord John Grey on Outlander, one of Jamie's closest friends and confidantes. He hasn't found romance on-screen, but in real life Berry is married to Kristina Tesic. They welcomed a son named Alexander, who was born in 2016 on the same day Berry returned home to Australia after wrapping season 3 of Outlander.
"I remember when [my son] Alexander was born. I started calling him Little Lord Berry. He wears that name a little bit now," he told Entertainment Weekly.
Another happily married Outlander star is Steven Cree, who played Ian Murray. Cree is married to casting director Kathleen Crawford. It's not clear how long they've been married, or if they have any kids.
Are Sophie Skelton and Richard Rankin dating off-screen?
Sophie Skelton and Richard Rankin play on-screen husband and wife Brianna Fraser and Roger MacKenzie. Both are single in real life, but rumors have swirled that they could be dating in real life. Neither Rankin nor Skelton has confirmed this, though.
Another on-screen couple that fans have shipped hard in real life is Jamie and Claire Fraser, or Sam Heughan and Caitriona Balfe. However, that's not going to happen. Balfe is married to Tony McGill. Like her co-stars, she keeps her personal life very private. She did, however, address fans' desire for her and Heughan to hook up off-screen.
"We're not together. I'm sorry to break people's hearts. They like to try to maybe replicate the Claire and Jamie story. But I think it would be difficult for us to work together and be together," Caitriona told E! News.
This 'Outlander' star appears to be single
As for Heughan, he would like to find his real-life Claire. But he hasn't had any luck just yet. In 2018, the 40-year-old actor was rumored to be dating actress Amy Shiels. He's also been linked to a woman named MacKenzie Mauzy. Currently, Heughan appears to be single.
"Certainly, relationships are hard when you're working in Scotland 10 months a year. I travel a lot and any downtime I have, I'm trying to do other projects, so very much, my career comes first. Maybe I will find someone eventually," Heughan told The Inquirer in 2020.
"My whole career, not just Outlander but as an actor, I have always put that first. It's hard when you travel a lot. My priority has been my career, so that's where I am at the moment. But I am sure at some point, I will get knocked off my feet, then I'm screwed."
Outlander season 6 is expected to premiere on STARZ in late 2021. Seasons 1 through 5 are available on the STARZ app and Amazon Prime Video.