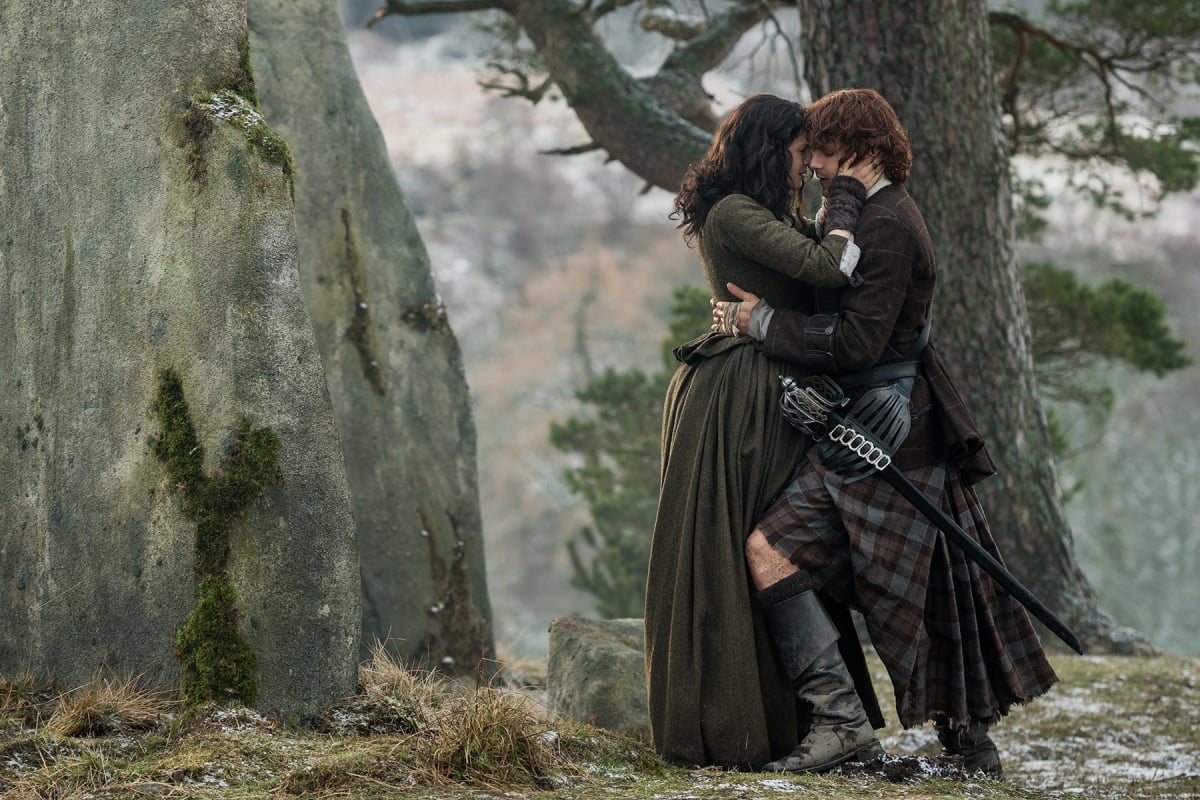 'Outlander' Costume Designer Reveals the Real Reason Jamie Fraser's Kilt Is the Wrong Colors
Eagle-eyed 'Outlander' fans have noticed a small mistake when it comes to Jamie Fraser's (Sam Heughan) kilt.
Outlander has featured some amazing costumes during the first six seasons thanks to Emmy-winning costume designer Terry Dresbach. The show has paid close attention to detail when it comes to Scottish traditions and heritage. But eagle-eyed fans have noticed a small mistake when it comes to Jamie Fraser's (Sam Heughan) kilt — it features the wrong colors.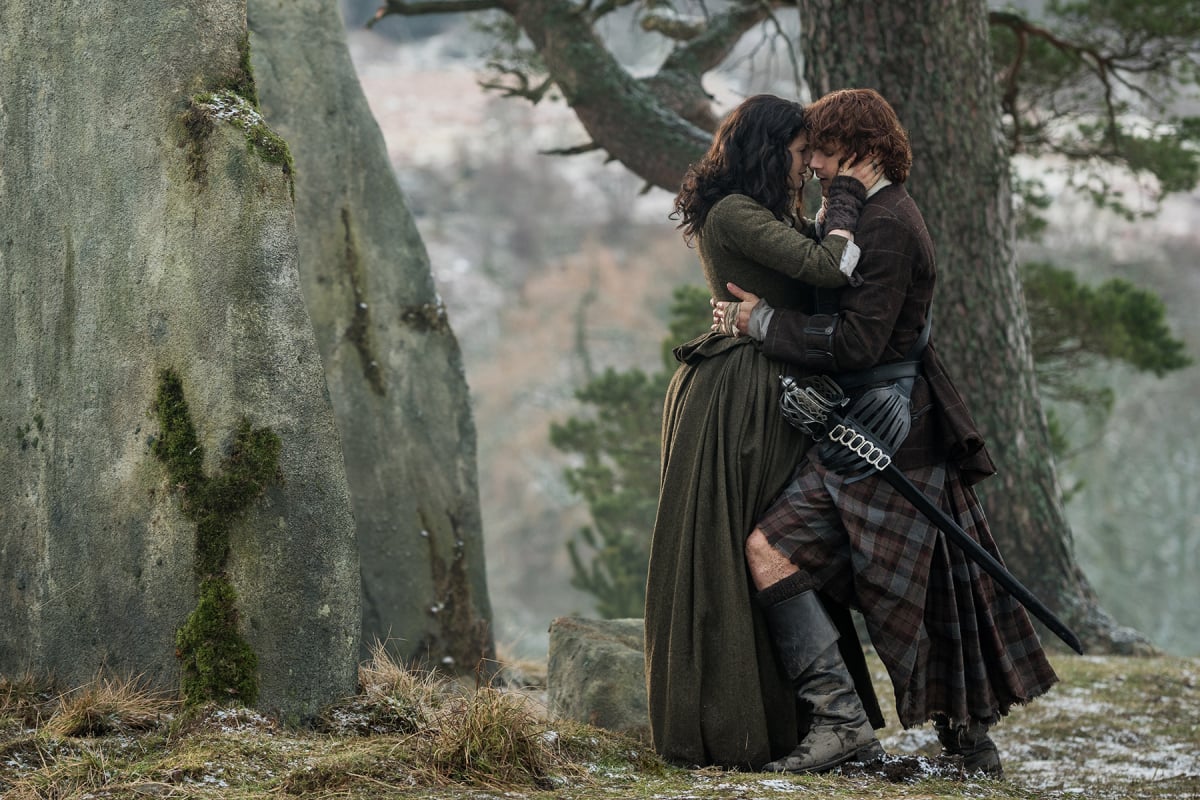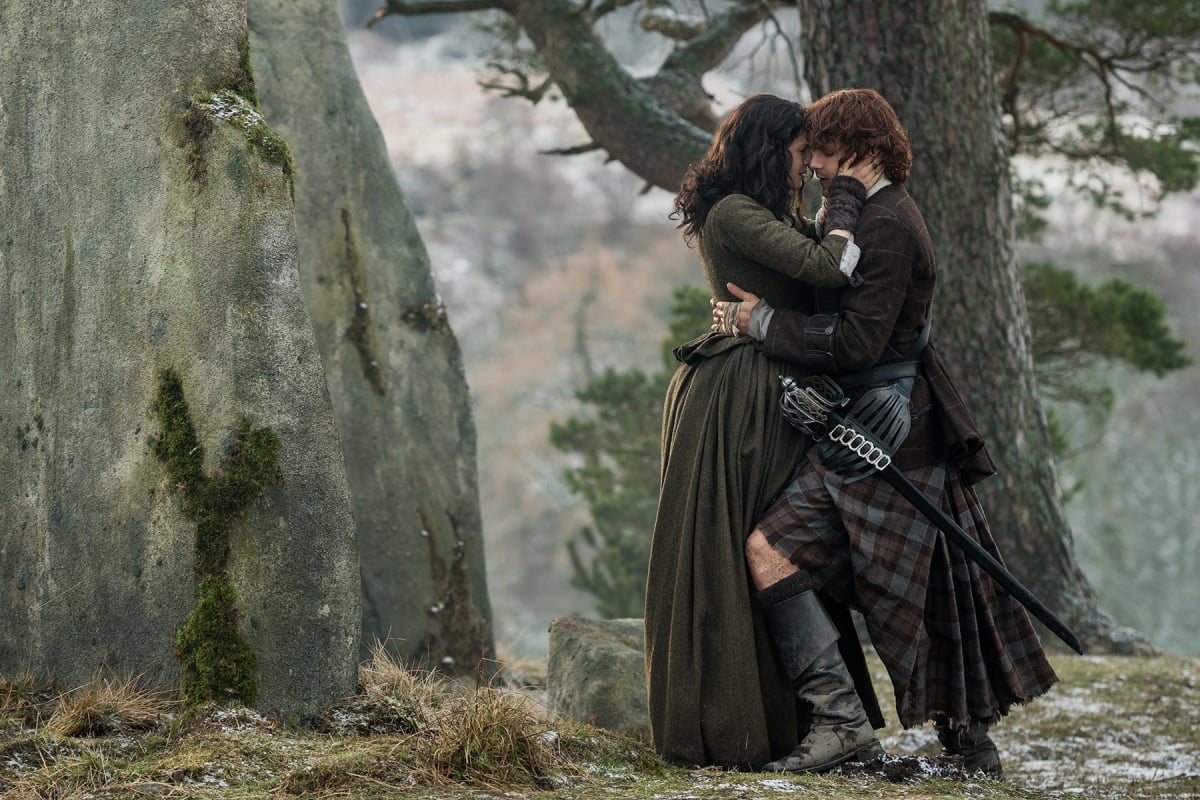 Jamie Fraser wears a blue and gray tartan kilt in the Starz version of 'Outlander'
Jamie Fraser's tartan kilt is a staple of his wardrobe, no matter which country he is in. But the kilt's blue and gray colors in the TV version don't match the colors of the real-life Fraser Clan. As a rule, the Fraser tartans usually feature bright reds and greens.
According to ScotlandShop, there are actually fourteen different variations of the Fraser tartan. And most of them feature a red background with thick navy blue and green stripes and thin white stripes.
However, the Fraser Hunting Weathered and the Fraser Hunting Ancient tartans do feature earthy colors that evoke being battered by wind and rain. These Fraser tartans are much closer to the muted colors that Heughan wears as Jamie on Outlander.
Terry Dresback is aware the tartan colors don't match the Fraser Clan
Outlander costume designer Terry Dresbach told Elle Magazine that they were aware the colors of Jamie's kilt didn't match up. However, they had to make some compromises because "red dye is quite expensive."
Dresbach explained that the tartans are "a very, very difficult issue" because without an explanation of Scottish history, the audience will have misconceptions.
"Unless you have subtitles going across the bottom of the screen that explains the history, you're really having to deal with audience misconceptions that go back for decades," Dresbach explained. 
"There's a lot of scholarly debate about tartans, and I try to ride the line very, very carefully. I won't say which group I believe, because then I'll get 9 million angry letters."
The research 'doesn't support' the assumptions of many 'Outlander' fans
Dresbach explained that there is a school of thought that suggests tartans were invented by the Victorians as "sort of a romanticism of Scotland." And that the clan tartans —  with all of those "crazy colors" — aren't really accurate to the 18th century.
"But we do have a romantic association with, 'Oh, I'm clan MacKenzie' or 'I'm clan Fraser.' And certainly, our book fans have that, but the research doesn't support it," Dresbach said.
"So my job is to figure out: How do I handle with care people's love of a piece of the story and be accurate? Because either way I'm getting angry letters. I still get letters from people going, 'Why isn't he wearing the Fraser tartan that I bought when I went to visit Edinburgh and went to that gift shop?'"
To handle the situation, Dresbach says she tried to put herself in the head of somebody in the 18th century. What would a weaver or fabric maker/dyer do to get exact shades during that time?
"Dyes were incredibly, incredibly expensive!" Dresbach noted, "But it just seemed to me like, historically, fabrics are created from the environment people live in."
Outlander Season 7 will premiere on Starz in late 2022 or early 2023.