'Outlander' Drops a New Look at the Family Bringing Trouble For Jamie and Claire in Season 6
Season 6 of 'Outlander' will bring the Christie Family to Fraser's Ridge. Tom, Allan, and Malva are not just bringing trouble to The Ridge, but also to Jamie and Claire.
ARTICLE HIGHLIGHTS
Outlander will introduce the Christie Family in season 6.
Tom Christie met Jamie Fraser at Ardsmuir prison.
The newcomers are bringing major trouble for Jamie and Claire.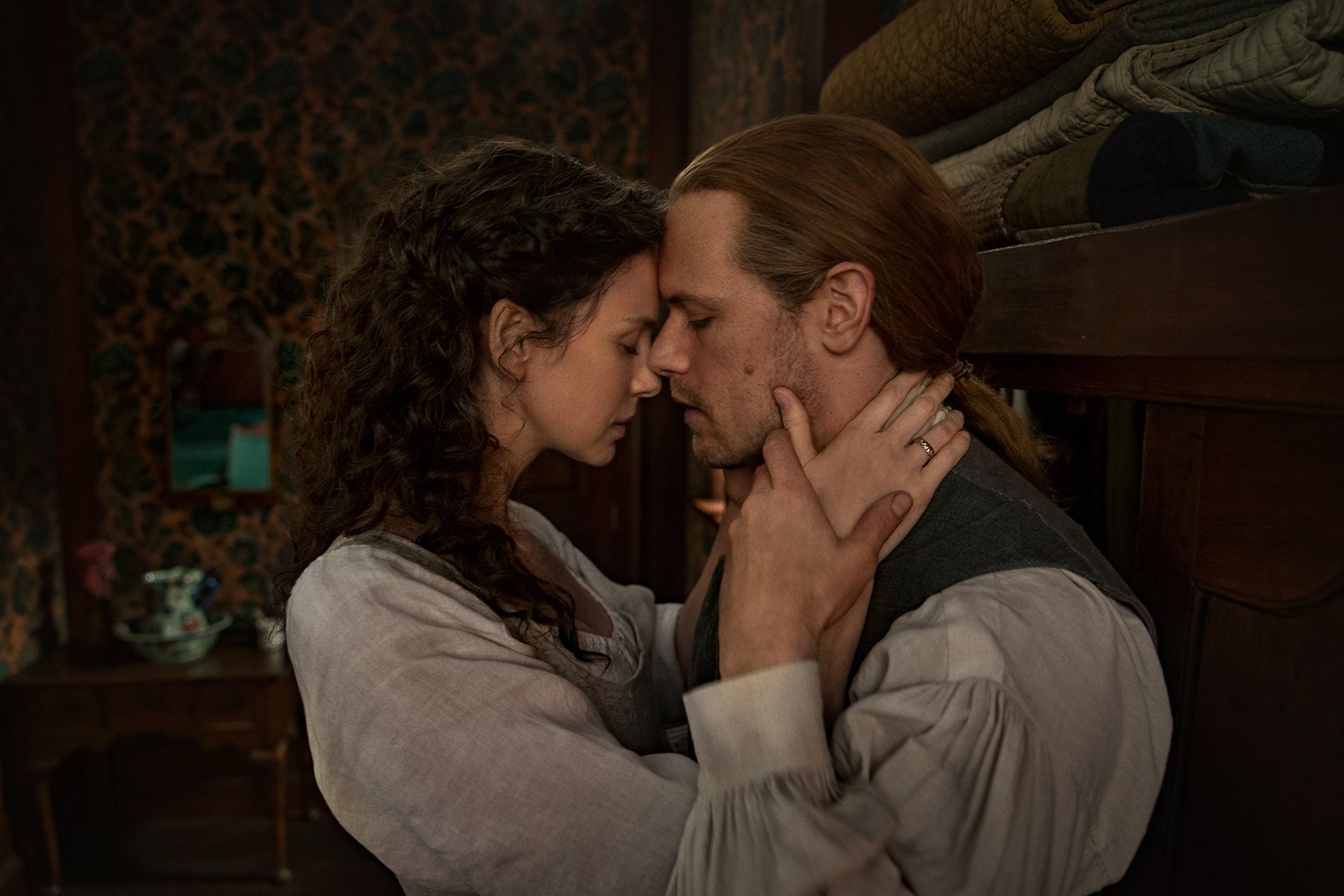 Outlander season 6 will see a new family arrive at Fraser's Ridge, and they are bringing trouble with them. As fans of Diana Gabaldon's book series know, the Christie family will make their presence felt and be a very important part of the upcoming season. The question is — will Jamie (Sam Heughan) and Claire's (Caitriona Balfe) relationship survive?
Warning: Season 6 spoilers ahead
The Christie Family arrived earlier in the 'Outlander' novels
In Gabaldon's Outlander novels, the Christie Family actually arrives during book five The Fiery Cross. But in the Starz series, fans will meet them in season 6. Which is mostly based on book six, A Breath of Snow and Ashes.
The Christie family features dad Tom (Mark Lewis Jones), son Allan (Alexander Vlahos), and daughter Malva (Jessica Reynolds). As the story unfolds, it's revealed that Malva is actually Tom's niece but she's been raised as his daughter.
Tom Christie met Jamie Fraser at Ardsmuir
The Christies arrive at Fraser's Ridge thanks to Jamie's standing offer to help the former prisoners of Ardsmuir. Tom is a loyal Scot who joined the Stuarts during the Jacobite Rising of 1745, and he met Jamie when they were both imprisoned.
Despite their shared history, the latest look at the Christie family dropped by the Starz network makes it clear that Tom and Jamie were hardly best friends. Fans should get ready for the Christie Family's presence in upcoming episodes to put a severe strain on Jamie and Claire's relationship.
'Outlander' drops new look at the Christie Family
Just weeks ahead of the Outlander season 6 premiere, Starz has shared a new look at the Christie family on social media. The image is of Tom, Malva, and Allan posing on the front porch of their new North Carolina home. But, it's the caption that teases what's to come.
"Tom Christie didn't exactly see eye to eye with Jamie in Ardsmuir. Now his family is settling on the Ridge. #Outlander," the caption reads.
Tom is sent to America as an indentured servant when Ardsmuir is shut down. After serving his term, he organizes a group of Protestant settlers and moves them to Fraser's Ridge. He then serves as the leader of the Protestant faction and works as a school teacher.
Does Jamie cheat on Claire with Malva?
Malva becomes Claire's surgical apprentice, and she becomes fascinated with the time traveler. The duo quickly develop a mother/daughter type of relationship, but that changes when Malva becomes pregnant and she claims Jamie is the father.
"We kind of start off with a very innocent, kind of eager to learn, you know she's got the world in front of her," Reynolds explained about her character. "She thinks this is her kind of chance to blossom and become a woman potentially like Claire, and then lots of stuff gets in the way…so it's gonna be fun."
Malva won't make it out of 'Outlander' season 6 alive — according to the books
After Malva claims that her baby belongs to Jamie, she is found murdered and Claire is accused of committing the crime. Tom steps in and confesses to killing Malva to protect Claire because he's in love with her. The truth about Malva's pregnancy and murder is eventually revealed, and it's quite a shocker. But, we won't spoil how Malva's story ends.
The arrival of the Christie family at Fraser's Ridge is a huge storyline that will play out over eight episodes in the pandemic-shortened season. Sam Heughan says he is "really pleased" with how it turned out, and he promises it will be a "small, but mighty season."
Outlander returns for season 6 on Sunday, March 6 on Starz.