'Outlander': Every Spoiler Uncovered in the Official Season 6 Trailer
'Outlander' fans got a gift in the midst of the longest Droughtlander in history – the official season 6 trailer. Here's everything that the first glimpse revealed.
ARTICLE HIGHLIGHTS
Outlander finally released the official season 6 trailer ahead of the March premiere.
The release came in the midst of the longest Droughtlander in history.
Here's everything we uncovered watched the Outlander season 6 trailer.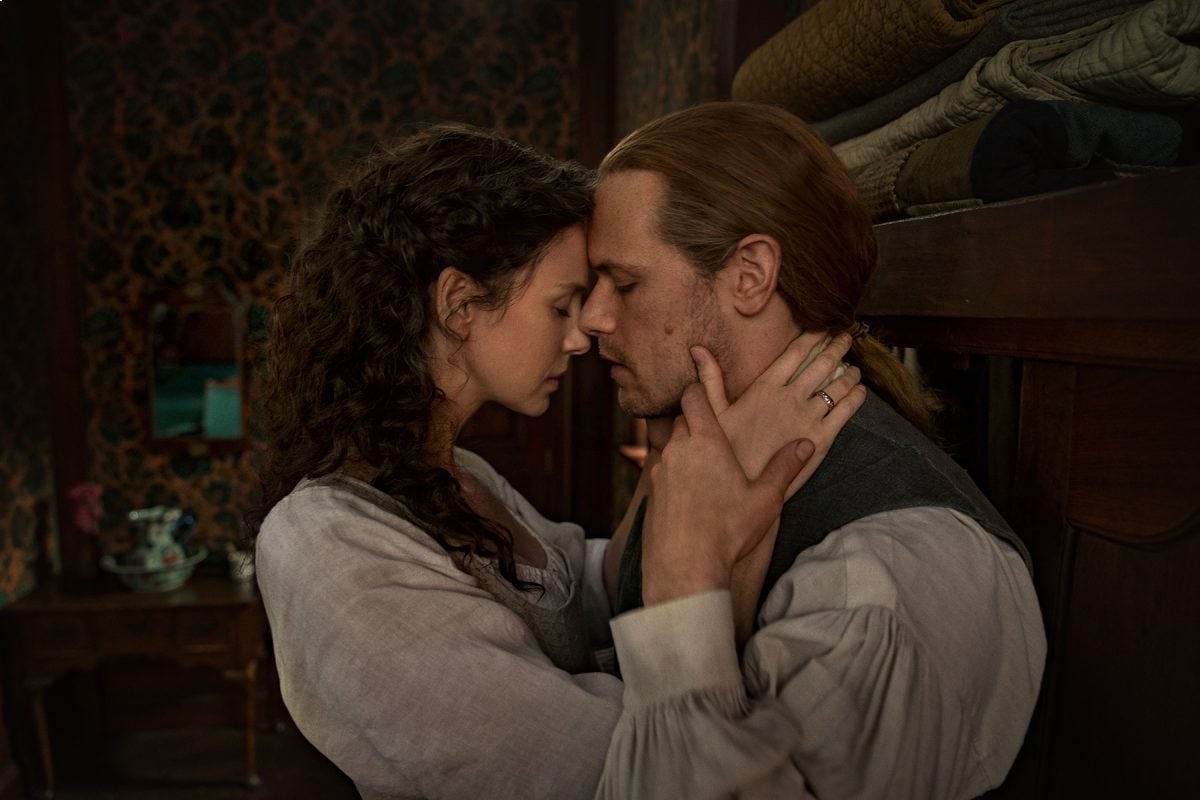 Outlander has officially released the first full-length trailer for season 6. And it's clear that Jamie (Sam Heughan) and Claire Fraser (Caitriona Balfe) will be confronting threats from both inside and outside of the community they've built at Fraser's Ridge. What can fans expect from the highly anticipated upcoming season? Here is every spoiler we uncovered from the official season 6 trailer.
Warning: Major spoilers ahead!
The Revolutionary War looms in 'Outlander' season 6
Based on Diana Gabaldon's sixth book A Breath of Snow and Ashes, season 6 of Outlander takes place in 1775 — the year leading up to the American Revolutionary War. As redcoats make their way onto Fraser's Ridge during the trailer, Claire warns "it's starting…if only they knew what was coming."
With war looming, Jamie will have some big decisions to make. He knows the outcome of the war thanks to his time-traveling wife. But he has the land at Fraser's Ridge due to his loyalty to the crown. He will have to choose sides during season 6. Which one will he choose?
"I canna be two things at once, Claire," Jamie says. "A rebel, a loyalist. An agent for the crown and an enemy of the king."
The Christie Family arrives at Fraser's Ridge
In the new trailer, fans got their first look at the Christie family — dad Tom (Mark Lewis Jones), son Allan (Alexander Vlahos), and daughter Malva (Jessica Reynolds).  They arrive at Fraser's Ridge thanks to Jamie's standing offer to help the former prisoners of Ardsmuir.  Despite their shared history, Tom and Jamie were hardly best friends.
"You've certainly come a long way from Ardsmuir," Tom tells Jamie. To which he replies, "If you're to stay, my word at Fraser's Ridge is law."
Malva Christie will cause serious problems during 'Outlander' season 6
In the Outlander books, Malva Christie is Claire's apprentice rather than Marsali (Lauren Lyle). And she becomes quite enamored with the time-traveling World War II nurse/surgeon and her 20th-century sex advice.
The trailer shows that Malva catches the eye of Young Ian (John Bell). And in the books, Malva becomes quite popular with the fellas. When she becomes pregnant, she claims Jamie is the father. While Young Ian tells Claire that he could be the baby's daddy.
'Brianna, Roger they don't belong here'
Toward the end of the trailer, Claire can be heard saying "Brianna, Roger they don't belong here." Fans will recall that at the end of season 5, Brianna (Sophie Skelton) and Roger (Richard Rankin) attempted to travel back to the 20th century with their son Jemmy. But, something went wrong. In season 6, fans should expect a successful trip back to the future.
In book six, Roger and Bree return to the future with Jemmy and their newborn daughter Amanda. Despite their family anchoring them to the 18th century, Roger and Bree go back to their own time with their kids to get their daughter the medical help she needs after Claire discovers a heart murmur that can't be fixed in the past.
Fergus and Marsali welcome another baby in 'Outlander' season 6
The trailer also reveals that Fergus (César Domboy) and Marsali will welcome their fourth child during season 6. However, that doesn't mean happiness and joy for Fergus.
In Gabaldon's book, Fergus and Marsali's son Henri-Christian is born with dwarfism. This causes a stir among the community at Fraser's Ridge, and leaves Fergus in despair over the life his child will have. Things get so dark for the beloved character that he actually attempts suicide.
Will they stay true to that storyline on the Starz drama? Fans will find out when Outlander season 6 premieres Sunday, March 6.