'Outlander' Hired an Intimacy Coordinator Just In Time for the Most 'Unusual' Sex Scenes in the Show's History
TL;DR:
Outlander hired intimacy coordinator Vanessa Coffey before season 6.
Coffey recently opened up about THAT scene from Season 6, Episode 2.
The new crewmember admits she did her research because it was "quite an unusual scene given its content."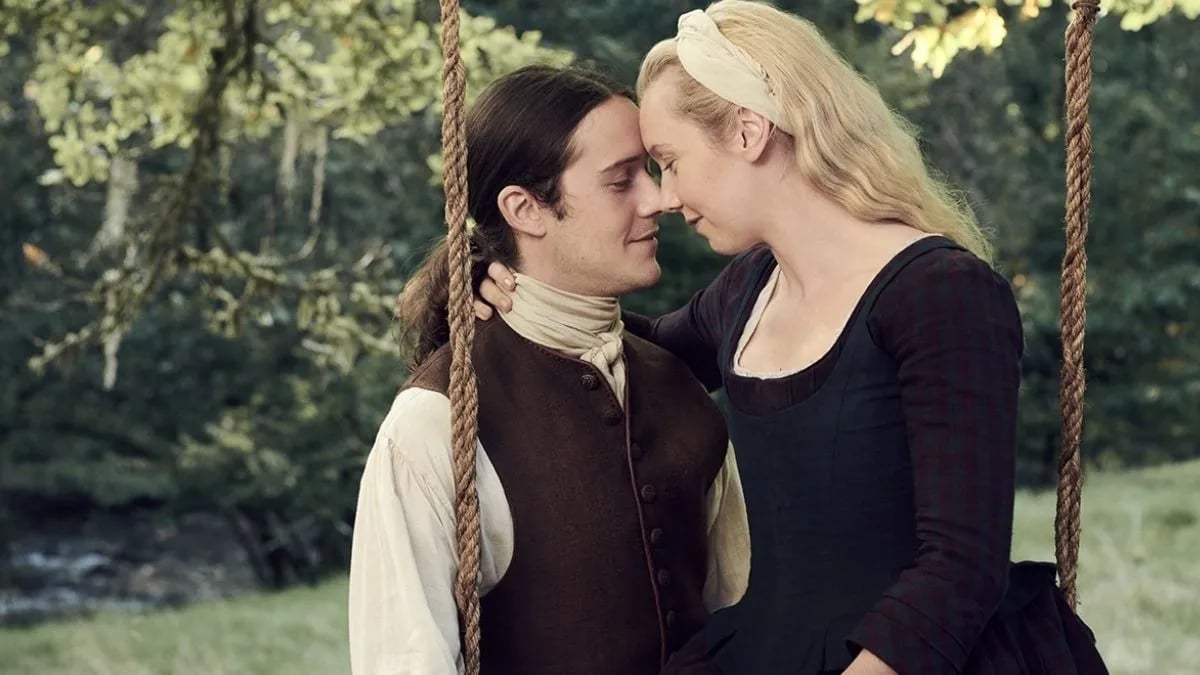 Outlander is known for its steamy sexy scenes, which mostly happen between Jamie (Sam Heughan) and Claire Fraser (Caitriona Balfe). But for the first five seasons, the actors were left on their own to perform these scenes — which are often uncomfortable and difficult to shoot.
That all changed in season 6 when Heughan hired intimacy coordinator Vanessa Coffey to help the actors "explore these scenes and actually maybe get something more out of them." Luckily, Coffey was hired just in time for the most "unusual" sex scene in the show's history.
Fergus and Marsali get intimate in 'Outlander' Season 6, Episode 2
Jamie and Claire took a back seat in the steamy scenes department during Season 6, Episode 2 "Allegiance," and allowed Fergus (César Domboy) and Marsali (Lauren Lyle) to grab the spotlight.
The scene — taken directly from Diana Gabaldon's sixth book A Breath of Snow and Ashes — was the first time Outlander fans had witnessed the two get intimate. Despite the fact they have a number of kids running around. What really grabbed viewers' attention is that it all took place while Marsali was in labor!
When Fergus arrives, he starts fondling and sucking on his wife's breasts in such a sensual way that midwife Claire knows it's time to excuse herself into another room. But before she leaves, Fergus tells her that he's helping Marsali because the stimulation can help move the labor long and reduce the pain.
Intimacy coordinator Vanessa Coffey helped with the most 'unusual' sex scene in the show's history
The majority of the sex in the scene was implied via the reaction of family members in the next room. But the moments that viewers did see were extremely intimate, and the actors needed Coffey's help.
"It is quite an unusual scene given its content, but really at the end of the day it is about having those conversations with the actors about 'what is this moment of storytelling, what are we trying to say here,' and how do we physically go about telling that story being really true to the physicality of those characters," Coffey told Digital Spy.
The newest 'Outlander' crew member did her research
Coffey worked on all of the intimate scenes in Outlander season 6. But she admits that Fergus and Marsali's interaction was the most memorable. The intimacy coordinator explained that the particular scene was "a little bit different" since they weren't talking about "thrusting" or "whether or not the character goes through to orgasm."
"So what do we need to do physically?" Coffey asked of the actors. "Then let's research what we need to do to be really true to what we are trying to say, and for the time period as well."
Heughan says that one of the reasons he hired Coffey was because he feels "a great responsibility to the younger actors."
"I know [when Outlander started] we were in a different time, our show was a lot more explicit in some ways than it would be now. But for young actors or people who haven't done it, it can be very challenging so I think we wanted to support them," Heughan said.
New episodes of Outlander air Sunday nights on Starz.
RELATED: 'Outlander' Star Sam Heughan Teases These 2 Season 6 Episodes Are the 'Big' Ones