'Outlander': Jamie and Claire's Age Difference Explained
The Starz drama Outlander is a time-traveling, historical romance that has covered a substantial period of time. It began in 1940s Scotland before jumping back centuries, which is how a WWII  nurse was able to fall in love with an 18th century Highlander.
With all of the time travel in the series, many fans have wondered about the ages of the two main characters. What exactly is the age difference between Jamie (Sam Heughan) and Claire (Caitriona Balfe)?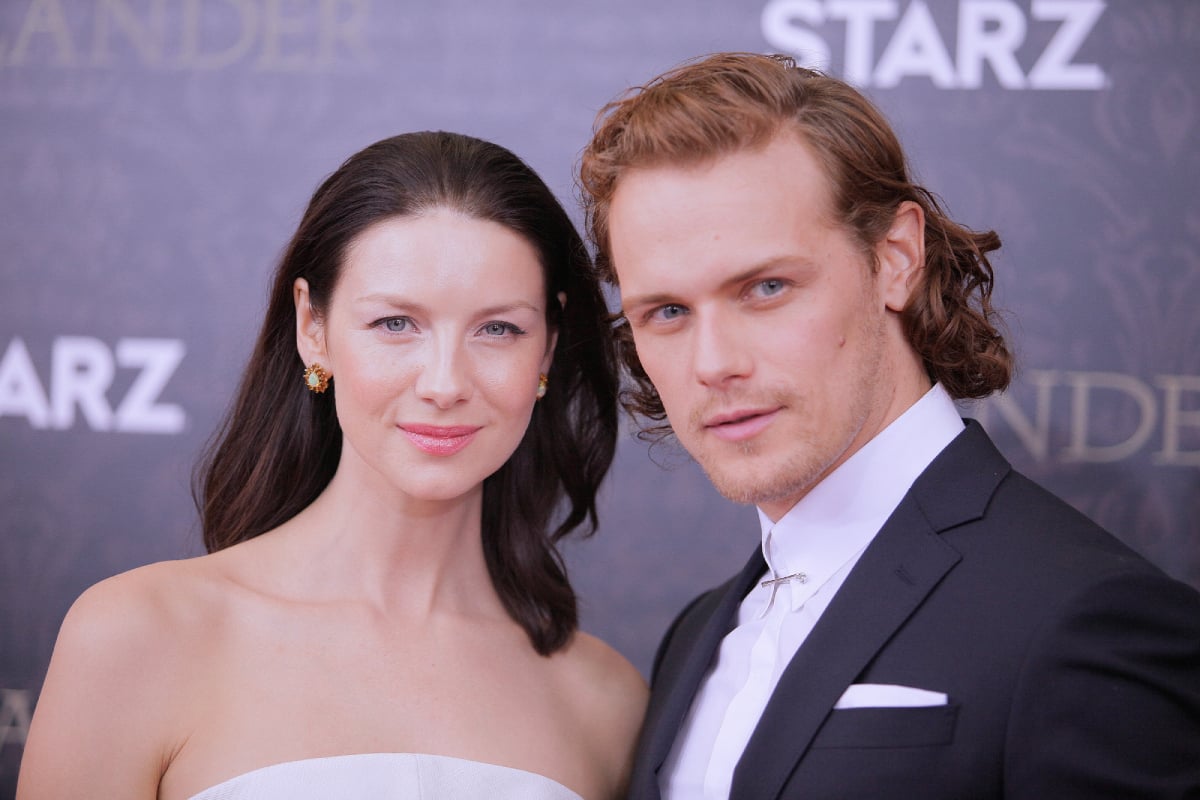 How old are the main characters in 'Outlander'?
According to Express, in season 1 of Outlander, Claire is 26-years-old with a birthdate of October 20, 1918. At that time, Jamie is 23-years-old, with a birthdate of May 1, 1721. Despite the small age gap, Claire is revealed to be the much more experienced one out of the pair.
By season 3 — and the third book in Diana Gabaldon's series, Voyager —Jamie and Claire are separated for 20 years. By the time they are reunited when Claire goes back through the stones, she is 50 and Jamie is in his late 40s.
In season 5, both Jamie and Claire were in their mid-50s. And if they stay true to the books moving forward, the couple will continue to age. In the eighth book of Gabaldon's series, Written In My Heart's Own Blood, Claire is 62 and Jamie is in his late fifties.
Gabaldon is currently finishing up the ninth book, Go Tell The Bees That I'm Gone. And, she has promised that the series will end with book ten. However, the author hasn't revealed just how much older Jamie and Claire will get in the story. But, fans do know that both Jamie and Claire will die in the past.
The timeline differences between the 'Outlander' TV show and book series
As fans know, there are some differences between the Outlander TV series and the books. This includes a few discrepancies in dates. As O Magazine points out, Gabaldon's timeline on her website shows that in the books, Claire falls through the stones on May 2, 1946, and jumps back 203 years to May 2, 1743. This date is just after the Gaelic festival of Beltane, which is an actual ancient event celebrated on April 30/May1.
Gabaldon's math shows that Jamie is only 22 when he meets Claire for the first time, not 23. Her math also shows that the date switch makes Claire 27, so there is a five-year age group between the couple in the book.
The TV series did some tweaking. On TV, Claire falls through the stones on October 31/November 1. And, it happened in 1945 instead of 1946, six months after V-E Day. The pilot begins on V-E Day, which is May 8, 1945. Why did they change all of these dates? Apparently, it was a copy-editing error.
"The discrepancy in dates is a mistake–it's a copy-editing error caused by differences between the British edition of the books (which begin in 1946) and the American ones (which begin in 1945). The reason being that the American book was already in galleys when we sold Outlander in the UK," Gabaldon said.
She added that a Scot proofread the first book before it was published in the UK and told her that 1946 was a more accurate date of the conditions she described. So, she changed the date. But, "the Americans wouldn't let me change it" because it would mean re-copyediting the whole thing.
Caitriona Balfe loves playing an aging character
Back when Outlander began in 2014, Balfe was 35-years-old. As Claire Fraser, Balfe has had the chance to play a younger version and an older version of the character. And she absolutely loves it.
While speaking at a Starz panel ahead of season 5, Balfe talked about portraying an aging character in different stages of their life.
"That's the great thing about playing this character. [In season one] She's in her late 20s, who was in some ways — her husband was the person she deferred to and Claire has grown so much throughout this," Balfe said. "Claire is now in her mid-50s. But it's been incredible to walk that life with this character and watch her grow and watch her."
Balfe noted that Claire used to be a "very hot-headed and quick-tempered person." But, one thing that hasn't changed is her need for justice and to be able to save something. Balfe has found it interesting to watch Claire become wiser and not as tempestuous.
The Irish beauty says that she and Heughan love having the opportunity to "take these characters on such a journey."
Production for season 6 of Outlander is currently underway. It's expected to premiere in late 2021.