'Outlander': Looking Back at Some of the Best Moments From Season 5
Caitriona Balfe and Sam Heughan are currently working on Season 6 of Outlander, but it will be a while before the series returns. To make this Droughtlander less dreary, here's a look back at some of the best moments from Season 5.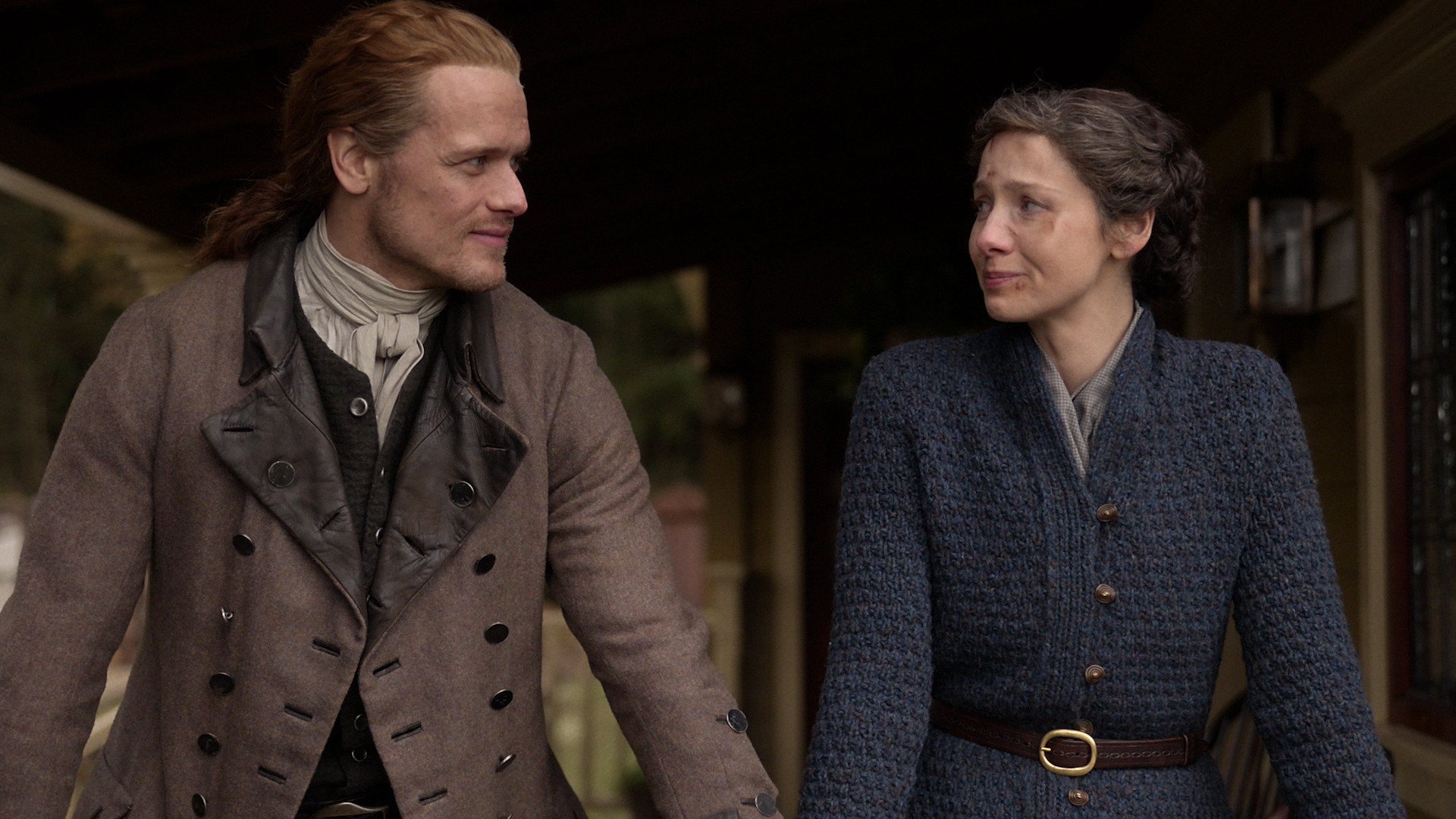 In the 'Outlander' season 5 premiere episode, 'The Fiery Cross,' Roger serenades Brianna
In the season 5 premiere of Outlander, Roger (Richard Rankin) and Brianna (Sophie Skelton) get married on Fraser's Ridge with their friends and family in attendance. On their wedding night, Roger serenades Brianna on the guitar with a sweet rendition of Nat King Cole's 1965 hit song, "L.O.V.E."
Claire brings Marsali on board as her apprentice
In "Between Two Fires," the second episode of Outlander season 5, Claire finds herself needing help in her surgery. When one of the town's residents dies, she asks Marsali (Lauren Lyle) to become her apprentice and perform an autopsy on the corpse.
Jaime wants to "raise a bairn" with Claire
In episode 4, "The Company We Keep," Claire and Jamie come to Brownsville with Fanny's newborn. While Claire suggests leaving the baby with a young couple in town, Jamie believes it's the last chance they have to "raise a bairn" together.
In 'Outlander,' season 5, episode 7, Jamie calls on Dougal's spirit for strength before the war
In episode 7, "The Ballad of Roger Mac," Jamie heads down to the river to perform a ritual before the war. He says a prayer and calls on his late uncle, Dougal McKenzie's spirit, to give him the strength to fight against Murtagh.
Jamie refuses to give up on Murtagh
In "The Ballad of Roger Mac," Jamie and Murtagh face-off in a battle between the redcoats and the revolutionaries. When Murtagh is shot, Jamie carries him to Claire's tent and demands she revive him. This is a pivotal moment for Jamie, as he has to deal with his best friend and father figure's death.
Jamie tells Brianna about her brother
In episode 10, "Mercy Shall Follow Me," Jamie sits down with Brianna to tell her about his son, William. She finally learns that she has a brother. And she also discovers how far Lord John Grey (David Berry) has gone to help Jamie.
In 'Outlander,' season 5, episode 11, Young Ian learns the truth about Claire
In episode 11, "Journeycake," after Young Ian (John Bell) returns to Fraser Ridge, he doubles down on his questions about Claire. He's always known she was different, but he never knew exactly why. After he pushes his aunt and uncle for the truth, they finally reveal that Claire, Brianna, and Roger are really from the future.
Marsali kills Lionel Brown
In the season 5 finale of Outlander, "Never My Love," Marsali is charged with caring for Claire's brutal captor and rapist, Lionel Brown (Ned Dennehy). But while Lionel expects Marsali to treat his wounds, she is infuriated with him for hurting Claire. So instead of tending to his injuries, Marsali kills Lionel by injecting him with hemlock root.