'Outlander' Offers Fans an Update on Season 6 and They Are Not Happy — 'This Is Gonna Be the Longest Droughtlander EVER!'
The pandemic shut down production on season 6 of Outlander before they even got started.  The original plan was to start shooting before the season 5 finale aired in May, reducing the break between seasons. But the coronavirus had other plans. The cast and crew still haven't gone back to work. And the latest Outlander update implied that fans could be in the middle of the longest Droughtlander ever.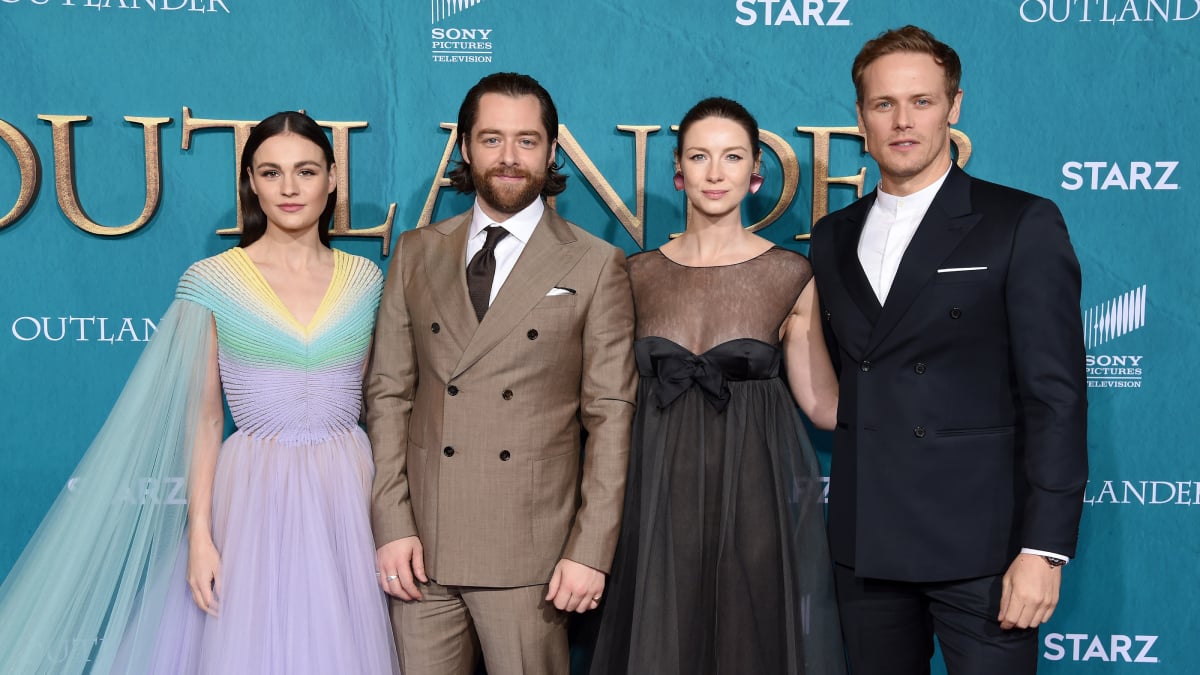 What will happen in season 6 of 'Outlander'?
Ever since fans witnessed the emotional Season 5 finale, they've been wondering what will happen next. According to Digital Spy, STARZ president and CEO Chris Albrecht assured fans that Claire (Caitriona Balfe) and Jamie (Sam Heughan) would be facing "new challenges, adversaries,and adventures."
Season 6 will feature 12 episodes. It is based on the sixth book in Diana Gabaldon's series, A Breath of Snow and Ashes.
As Heughan notes, season 5 left the Frasier family "fractured." And he says that Claire "has some healing to do as well."
"I think one of the things I'm looking forward to is seeing how she copes with all of that and the repercussions of it," Balfe added. "And how the family as a whole unit heal together or help her to heal and I think that's going to be a really lovely part of the story."
Heughan also referenced the season 5 surprise that Jamie's family are not the only time travelers. He says it feels like the Outlander universe is opening up a bit. And he's looking forward to drawing up on that and getting back to work.
'Outlander' season 6 will begin shooting in January 2021
In recent weeks, numerous TV shows and movies have returned to set and resumed production. But, according to Express, the cast and crew of Outlander is still months away from starting production on Season 6.
UK Casting News has reported that Outlander will begin filming the new season in January 2021.
"The season VI of the popular TV series OUTLANDER is finally #filming in Scotland in January 2021," read their tweet.
This bombshell outraged fans who immediately started complaining about the extra-long Droughtlander. One fan tweeted that it would be "the longest Droughtlander ever." They also asked how much filming they could actually do in Scotland in January.
Other fans expressed their disappointment, with one noting that the new shooting schedule could push the premiere back to October 2021. Another skeptic tweeted that Droughtlander could last two years, with a premiere in 2022.
Many fans ultimately decided that they would have to occupy their time with Heughan and Balfe's social media activity. Fans also have the option of taking Heughan's advice. He said, "there will be a Droughtlander," but fans can still watch his movies.
Sam Heughan and Caitriona Balfe are ready to get back to work
Neither Heughan nor Balfe have confirmed that production will resume in January. However, they've both made it clear they are ready to get back to work. Speaking at PaleyFest in July, Balfe said that she was excited to see her crew.
"I think we miss them all dearly. It is sad that everyone is not able to get up and go to work, and maybe I will get a haircut this season. I will let Sam do it," Balfe said.
Heughan added that he is looking forward to "no more Zoom calls." He noted that the actors on Outlander have a lot of experience together. They know how each other works and they enjoy working together.
Richard Rankin (Roger MacKenzie) said that he can't wait to get out of the house. He says he is "desperate" to get back on set.
Seasons 1 – 5 of Outlander are available on Starz On Demand and Amazon Prime.