'Outlander' Producer Matthew B. Roberts Says 'Each Character Will Be Dealing With Something From Their Past' in Season 6
Season 6 of Outlander has officially been in production for almost two months. Based on Diana Gabaldon's sixth book A Breath of Snow and Ashes, the new season will see the continuation of Jamie (Sam Heughan) and Claire Fraser's (Caitriona Balfe) story.
They are building their life at Fraser's Ridge while the American Revolutionary War looms on the horizon. According to producer Matthew B. Roberts, each character will also be dealing with "something from their past."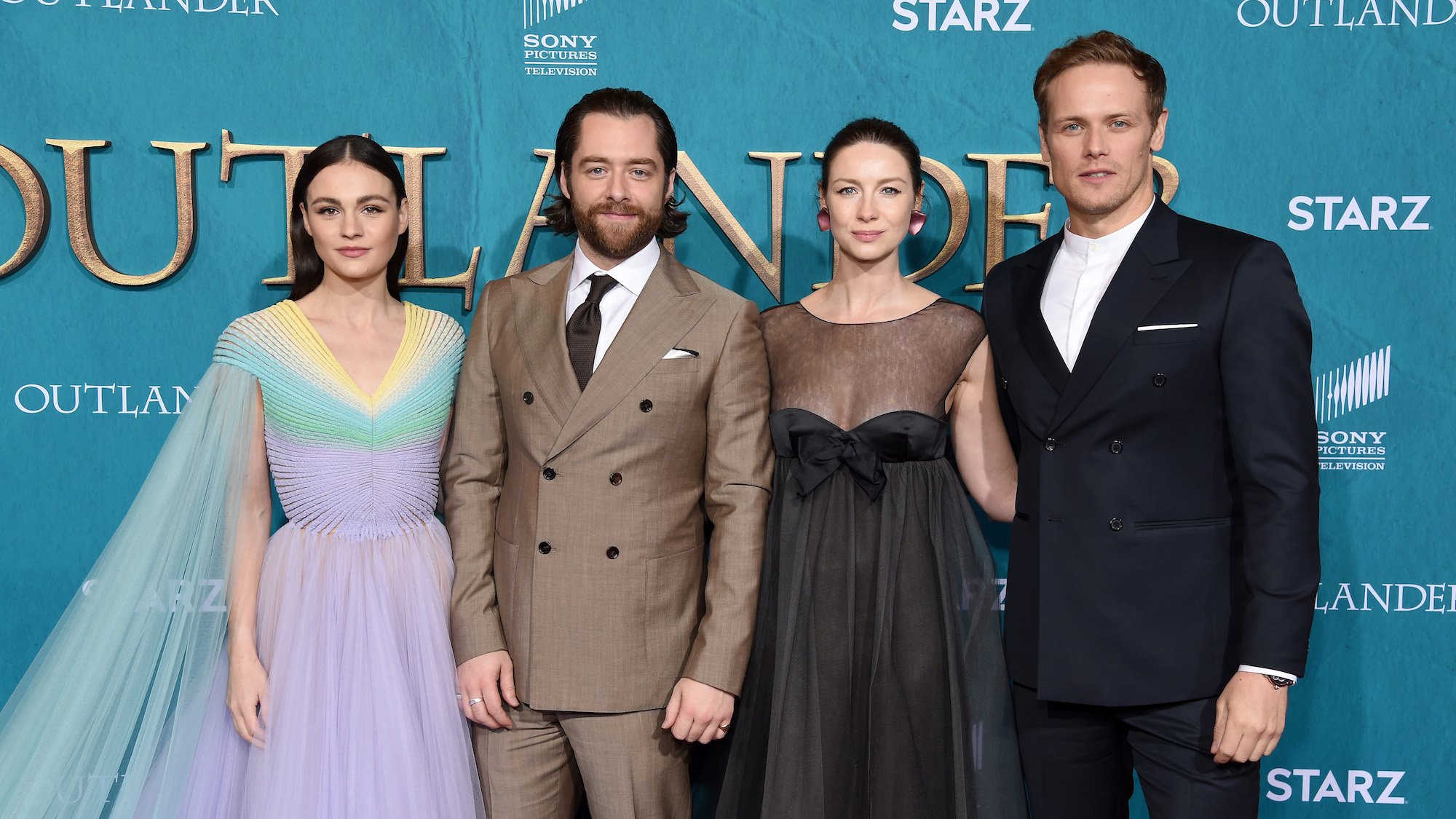 The 'Outlander' producer says it was 'heartbreaking' to put season 6 on hold
Production for season 6 of Outlander was originally scheduled to begin in May 2020. But when the pandemic hit, they were forced to put everything on hold until early 2021. Roberts told Elle Magazine that they wanted to keep their momentum from season 5, since it was one of their most-watched seasons so far.
"The cast and the crew, and I think even the fans, were very excited to get right into season 6. And then we decided to hit the brakes," Roberts explained. "It was really heartbreaking in a lot of ways. Understandably, the health of the world was way more important than a television show. We knew that too."
The pandemic-forced delay won't affect the season 6 content
Despite the long delay and new safety guidelines, Roberts says that he didn't want anyone changing the season 6 story because of COVID. He says that Outlander has a lot of intimate scenes, and that's where they "live and breathe." Their solution was "testing, testing, testing, testing."
Roberts explained that they had to figure out how to make sure they tested everyone "a million times" before they walked onto set. The top priority was keeping the production bubble as safe as possible. But because Robert didn't know how to write "COVID-friendly scenes," they had to also find a way "to keep Outlander, Outlander."
The 'Outlander' producer says there will be a 'revolution' with Jamie and Claire
When he thinks about season 6, Roberts says he envisions what's going on in the world at the time – 1775. Just one year before the start of the Revolutionary War, the producer says that what was happening politically in Colonial America is "really similar to what's going on with Jamie and Claire."
"There's going to be a revolution with them as well, and I think that's what's going on throughout the season," Roberts noted. "You have a foundation and when that foundation is shaken and there is a revolution, you have to deal with it. That's kind of the theme of the season."
Each character will be dealing with their past
When season 6 premieres, the first episode will be titled "Echoes." Roberts insists that the title isn't a nod to the title of book seven, An Echo in the Bone. He says that when fans see the first episode, the title will speak for itself.
"Each character will be dealing with something from their past and it will help us tell stories going forward," Roberts revealed. "There was a different title on my very first drop. Sometimes that happens. You read it again and you go, wait a minute, hold on a second, there's something better here."
There will not be a huge time jump between season 5 and season 6 of 'Outlander'
Because they have a lot of story to connect, Roberts says there won't be a significant time jump between seasons 5 and 6. There were a lot of things left in the season 5 finale that they still have to tell. If they left that out, it wouldn't make sense to a new viewer.
"We know we had one of our most successful, most-viewed seasons ever in season 5, so we know we're getting new viewers and a lot of them have not read the book," Roberts explained. "Those viewers have to be told the same story and get something from it as well as the book readers who know everything that happened—or think they know everything that's going to happen."
Outlander seasons 1 through 5 are available on Amazon Prime Video and the Starz app. Season 6 is expected to premiere in late 2021.