'Outlander' Officially Renewed for Season 7 —Which Book Will It Be Based On?
STARZ has finally announced the news that Outlander fans have been waiting to hear — season 7 is officially happening. Now the question is: which book will it be based on?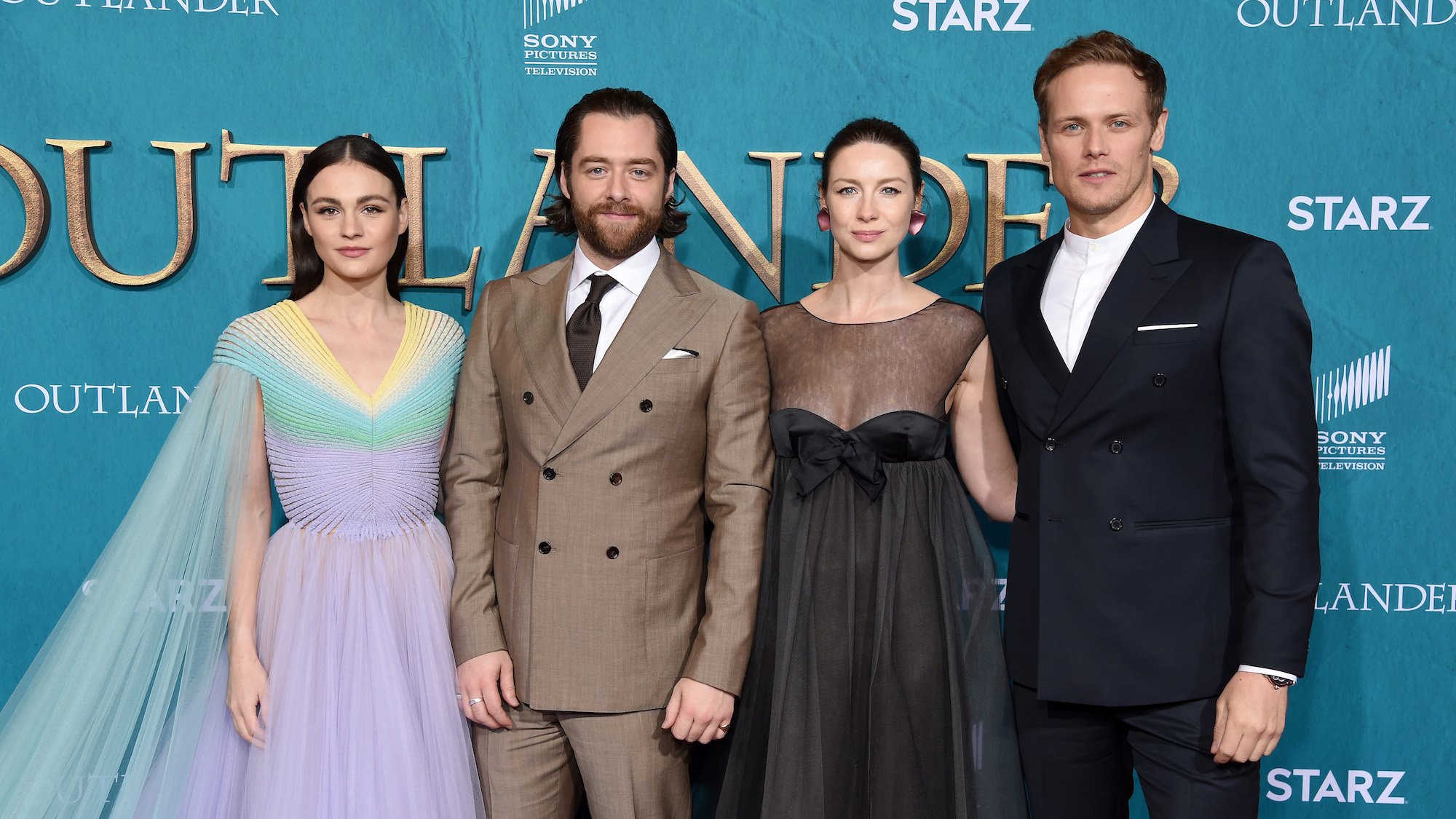 The four main 'Outlander' stars announced the big news on social media
Outlander fans have been asking for a long time about season 7, and STARZ finally gave an answer. In a video that featured stars Sam Heughan (Jamie Fraser), Caitriona Balfe (Claire Fraser), Richard Rankin (Roger MacKenzie), and Sophie Skelton (Brianna Fraser), it was revealed that season 7 is officially a go.
The 75-second clip featured each star reading fan questions from Twitter about season 7, to which Rankin saw "a theme emerging." There was also a question from Balfe, which Heughan read aloud.
"@caitroniabalfe: am I coming back to work next year and can I have a bigger trailer?" Heughan reads before answering the question. "I'm afraid Caitriona no you can't have a bigger trailer. However, you are coming back for season 7, yes!"
Fans reveal what they would like to see during season 7
The big Outlander news pretty much broke the internet, with fans sharing their excitement about the series lasting at least another two seasons. Many fans also revealed some things they would like to see in the upcoming seasons.
One fan wrote that they would like to see Balfe direct an episode, which is something she's said she's interested in.
"Excited to watch you all & really excited to hopefully see you make your directorial mark. Thank you for your excellent work!"  fan @mushka_mushk tweeted Balfe.
Another shared their hope that Laura Donnelly would be returning as Jenny during season 7. Unfortunately, it looks like season 6 is probably off the table since she is starring in a new HBO series.
STARZ is committed to investing in 'Outlander'
In the official network statement, it appears that STARZ will be behind Outlander all the way to the end. As fans know, Diana Gabaldon's book series will feature 10 books in total, with book 9 coming soon. Unless something absolutely unexpected happens, it looks like fans will most likely get 10 seasons of Outlander before the series is over.
"Starz is committed to investing in unapologetic, bold premium storytelling that amplifies diverse voices and shines a spotlight on women in front of and behind the camera through our #TakeTheLead initiative," Christina Davis, President of Original Programming for Starz, told TVWeb. "The hit series Outlander embodies everything about our initiative including a powerful female lead character and an amazing team of storytellers."
Which book will season 7 be based on?
In response to STARZ 12-episode order for season 7, executive producer Matthew B. Roberts said they are excited for the opportunity.  He also revealed which book the season will be based on.
"We are so excited Starz has given us the opportunity to continue the epic Outlander journey," said Roberts. "We can't wait to get into the writer's room and start breaking Echo in the Bone and look forward to giving the fans another season of this exhilarating story."
'Outlander' season 7 could pull storylines from more than one book
Roberts referred to Gabaldon's seventh book Echo in the Bone when talking about season 7. But, there's also the possibility that they will pull storylines from book 8 titled Written In My Own Heart's Blood.
However, that speculation is for another day since the cast and crew of Outlander are currently shooting season 6. There's a lot of Jamie and Claire's story left to tell, and fans will just have to wait and see where the TV series takes them as the episodes air.
Season 6 of Outlander is expected to premiere on STARZ in late 2021 or early 2022. Seasons 1 through 5 are available on Amazon Prime Video.