'Outlander' EP Ronald D. Moore Is 'Very Optimistic' About Season 7 and a Spin-Off
As Outlander fans continue to endure the longest Droughtlander ever, some good news about the popular STARZ drama has surfaced. According to executive producer Ronald D. Moore, there's a strong possibility there will be a season 7. He also revealed that an Outlander spin-off could be coming soon.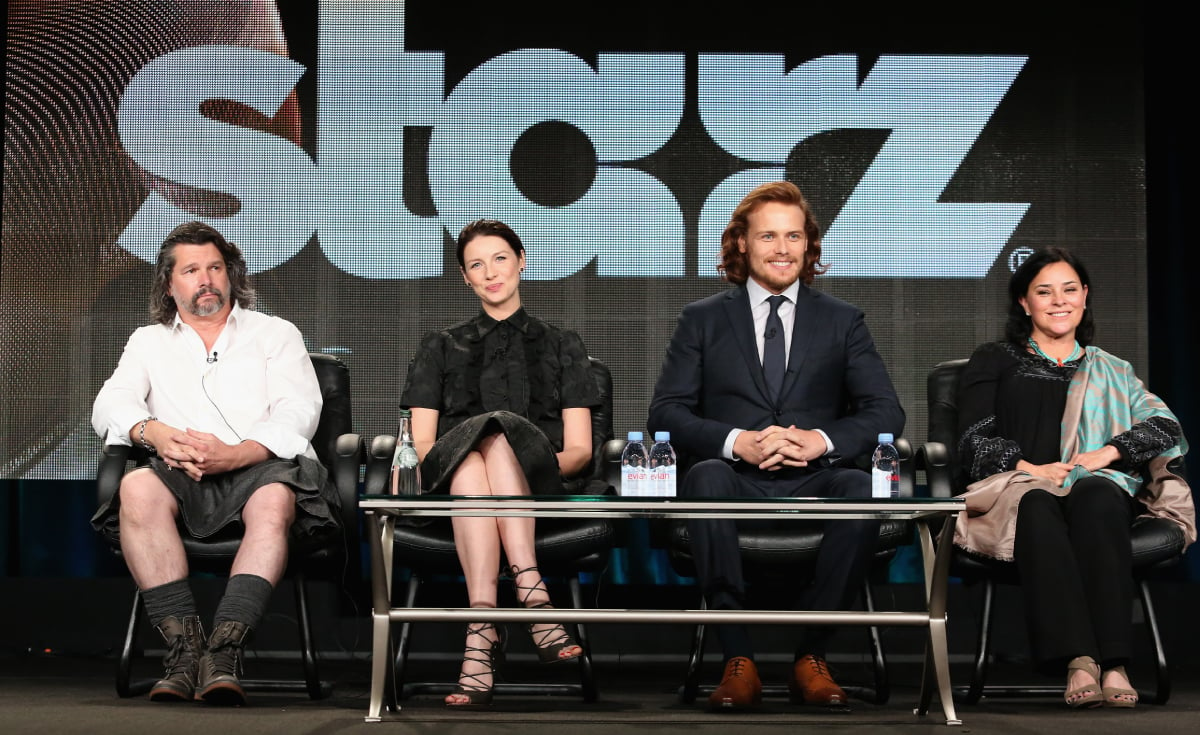 Filming for season 6 of 'Outlander' is officially underway
Of course, they shoot the series in Scotland despite the story moving to America in season 4. Bosses have created a production bubble to keep everyone safe. They also dropped some serious cash — more than $200K — to build a COVID testing facility at Wardpark Film Studios in Cumbernauld, Lanarkshire.
Season 6 will be the continuation of Diana Gabaldon's popular book series. It is expected that storylines will essentially follow Gabaldon's sixth book A Breath of Snow and Ashes. However, they've been known to change things up a bit. It's possible they could also bring in storylines from book seven Echo in the Bone.
STARZ has only renewed the time-traveling drama through season 6
Despite the fact that Outlander is a global hit, STARZ has yet to renew the series past season 6. They've also avoided spinoffs, even though Gabaldon has written plenty of source material to choose from.
Season 6 will follow Jamie (Sam Heughan) and Claire (Caitriona Balfe) Fraser in Colonial America ahead of the Revolutionary War. Along with their daughter Brianna (Sophie Skelton) and her husband Roger (Richard Rankin).
In a STARZ press release, they revealed that upcoming episodes will feature the family defending Fraser's Ridge from both "external forces" and "increasing strife and conflict" in their own home.
Season 6 will feature 12 episodes, and they could be the last of the series if STARZ doesn't renew the time-traveling drama. However, it would be a baffling move if they chose to cancel it now. Gabaldon still has book seven and eight –  Echo in the Bone and Written In My Own Heart's Blood – in her Outlander series that continues Jamie and Claire's story.
She is also close to finishing book nine Go Tell The Bees That I'm Gone. And, she has made it clear that book ten will complete the saga.
'Outlander' executive producer Ronald D. Moore is 'very optimistic' about the show lasting past season 6
During a recent interview with The Hollywood Reporter, Outlander executive producer Ronald D. Moore has revealed that he is "very optimistic" about both season 7 and a spinoff.
He admitted that he was surprised by the fact that STARZ has yet to renew past season 6. He's also shocked they've waited so long to expand their Outlander universe with a spinoff. Moore did reveal that conversations have finally begun.
"Conversations are underway on both season 7 and on a spinoff and I think we're going to have good news on both those fronts before too long so I feel very optimistic about it," Moore said. "I agree that I would've been happy to see it happen sooner than this but everything happens in its time."
He went on to say that both season 7 and a spinoff are "probably going to happen." Moore hopes they will be able to make an announcement very soon.
Seasons 1 through 5 of Outlander are available on the STARZ app and Amazon Prime Video. Season 6 is expected to premiere in late 2021.