'Outlander': Sam Heughan Confirms Season 6 Was 'One of the Hardest' to Shoot
Outlander season 6 is coming to Starz in early 2022. But in order to keep Droughtlander as short as possible, they decided to cut the season down to just eight episodes. That didn't make things easier for the cast and crew, though. According to star Sam Heughan (Jamie Fraser), season 6 was "one of the hardest" to shoot.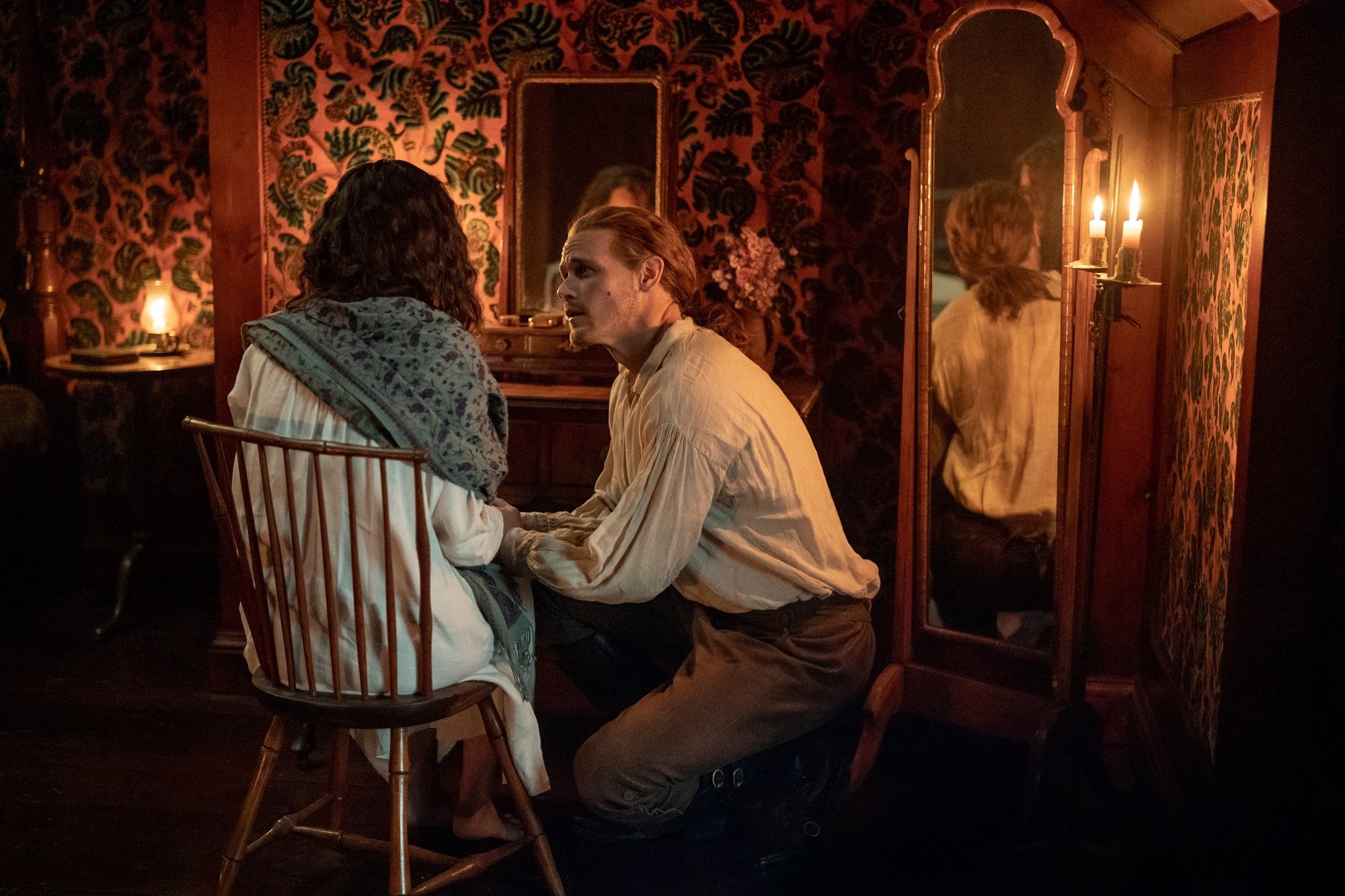 The pandemic delayed the filming of 'Outlander' season 6 for months
Production for season 6 was originally scheduled to begin in May 2020. But, of course, the pandemic had other plans. The lockdowns delayed everything for months, so the cast and crew weren't able to start filming until February 2021.
To keep everyone safe, the production company dropped more than $200K to build a testing facility at the Scottish studio where Outlander is filmed. And to allow for those steamy scenes between Heughan and Caitriona Balfe (Claire Fraser).
Showrunner Matthew B. Roberts explains the short season
Because of "an unprecedented set of challenges," Outlander showrunner Matthew B. Roberts revealed this past summer that season 6 will feature just eight episodes. And, it will premiere in early 2022.
This is much shorter than in seasons past. Season 5 featured 12 episodes, seasons 2 through 4 each had 13 episodes, and the first season featured 16 episodes.
"Filming in 2021 has presented an unprecedented set of challenges," Roberts said, according to Express. "[This] led us to the decision to truncate the season in order to bring the fans the most vibrant and dynamic season as soon as possible."
In other words, if they would have attempted a normal season with at least 12 episodes, Droughtlander would be much longer. Even with the shorter season, the hiatus between seasons 5 and 6 will be nearly two years.
'Outlander' star Sam Heughan confirms that season 6 was difficult to shoot
Even with extra time to prepare — and the fact that season 6 will be the shortest one yet — Heughan says that shooting the highly-anticipated season wasn't easy. In fact, it might have been the hardest one to film so far.
"It is, to be fair, the shortest season we've done. It's only eight episodes," Heughan said on the Just the Facts with Alex Zane podcast. "But it was potentially one of the hardest, because we were shooting during a pandemic. There were just a lot of factors involved that made it pretty difficult to shoot."
It's never easy playing an iconic character like Jamie Fraser
When he landed the role of Jamie Fraser back in 2013, Heughan admits he wasn't aware of the massive fan base that Diana Gabaldon's Outlander book series had. The Scot has definitely felt the pressure playing such an iconic character. And at times, he says it can be "overwhelming."
Heughan confessed that if he had known about the passionate, devoted Outlander fanbase, he would have thought twice about taking the job. The reason is because it's hard for some people to "separate the actor from the character."
"I think playing an iconic character — and I think Jamie Fraser's definitely one — people are…they're obsessed with these characters because they're so invested in them and they want them to be real and they want to get as close to them as possible," Heughan explained.
Season 7 of 'Outlander' will be super-sized
When Roberts announced that there would be only eight episodes in season 6, he revealed that the premiere would be an extended 90-minute episode. He also had good news for fans who were disappointed with the decision to make it a super short season.
"Dinna fash, we will then film an extended season 7 with 16 episodes next year as life returns to normalcy," Roberts said.
Roberts didn't give details about the premiere date of Outlander season 6, but the announcement had the vague "early 2022″ date. However, Heughan told fans on social media that Outlander season 6 will premiere on Starz in February 2022.
The first five seasons of Outlander are available on Amazon Prime Video and the Starz app.