'Outlander': Sam Heughan Says Jamie and Claire's 'Cracks are Really Starting to Show' in Season 6
ARTICLE HIGHLIGHTS
The cast and author of 'Outlander' made a recent appearance at New York Comic Con
Caitriona Balfe descibes season 6 in one word — 'unraveled'
'Outlander' season 6 will cause trouble for Jamie and Claire according to Sam Heughan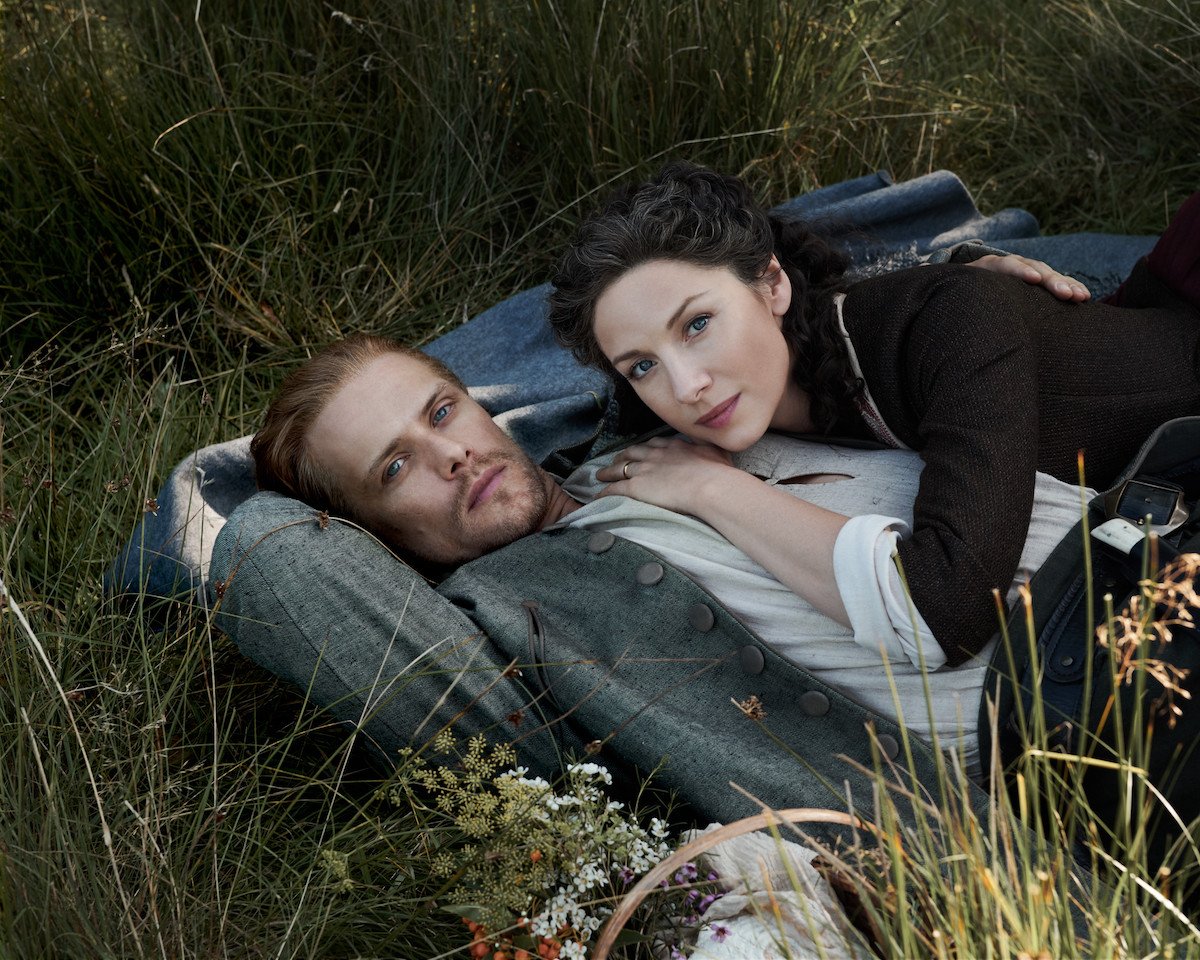 Outlander season 6 is coming soon, and it won't be an easy one at Fraser's Ridge. The official teaser for the highly anticipated season promises dark times are ahead, and star Sam Heughan (Jamie Fraser) has confirmed it. He says that in season 6, Jamie and Claire's "cracks are really starting to show."
The 'Outlander' cast describes season 6 in one word
The Outlander cast finally got to meet up with fans again in early October at New York Comic Con to discuss the upcoming season 6. Heughan was on stage alongside Outlander author Diana Gabaldon and executive producer Maril Davis. Joining virtually was Caitriona Balfe (Claire Fraser), Lauren Lyle (Marsali Fraser), John Bell (Young Ian), and César Domboy (Fergus Fraser).
When asked to describe season 6 in one word, Gabaldon said "fabulous." Davis described it as "traumatic," while Domboy said "healing." Lyle's description of the upcoming season was "intimate," Bell said "cathartic," Heughan said "extended," and Balfe described season 6 as "unraveled."
Gabaldon also noted that the upcoming season is officially her second favorite season of the Starz time-traveling drama, just after season one.
Claire Fraser is facing the aftermath of her assault
Fans will recall that the season 5 finale featured Lionel Brown and his men brutally assaulting Claire before Jamie was able to save her. Both Heughan and Balfe said that season 6 will see Claire facing the aftermath of that trauma. Jamie will be preparing for retaliation from the Brown family after Marsali killed Lionel.
Jamie and Claire will also have to deal with the looming Revolutionary War. They have Fraser's Ridge thanks to the British crown. But they know the winning side is the American colonists. What side of the conflict will they be on when the war begins?
'Outlander' star Sam Heughan says that 'cracks are really starting to show' for Jamie and Claire
Heughan told Outlander fans at the Jacob K. Javits Convention Center in New York City that Jamie and Claire have spent a lot of time building the community at Fraser's Ridge. But in season 6, he says that viewers will "really see that disintegrate."
"Yeah, Jamie went to save Claire, but I think, obviously, she hasn't gotten over that trauma, and I think Jamie is very aware of it. He's keeping an eye on her, and I think these cracks are really starting to show — not only for Jamie and Claire but for the rest of the inhabitants of Fraser's Ridge. The war is coming," Heughan said, according to Us Weekly.
Fergus and Marsali will have a dark season 6
The Outlander season 6 teaser suggests that Fergus and Marsali will face their own set of challenges. Despite being a happy couple in the past, Lyle promised fans at New York Comic Con that Fergus and Marsali "have more arguments" in the upcoming season. And Domboy indicated his character will be drinking the whisky instead of selling it.
Fans have voiced their disappointment with season 5 severely lacking Fergus screen time. But if his storyline sticks to the books in season 6, fans can expect a lot more Dombo. And he will be sharing a lot of scenes with Lyle.
'Outlander' season 6 will have new villains
New adversaries will be coming to Fraser's Ridge in season 6 in the form of the Christies, played by Jessica Reynolds, Alexander Vlahos, and Mark Lewis Jones. The new Outlander villains will be wreaking havoc. And Heughan promises that the history between Jamie and Tom Christie will start to "get under the skin of everyone."
"It starts to sort of disintegrate or decay what Claire and Jamie have built at Fraser's Ridge," Heughan revealed, before promising it will be entertaining to watch. "They're such a weird little family, on and off screen. You're going to love and you're going to hate them."
Outlander season 6 premieres on Starz in February 2022.