'Outlander': Caitriona Balfe Hilariously Face-Palms Sam Heughan In Their Makeup Trailer
'Outlander' stars Sam Heughan and Caitriona Balfe are having lots of fun on set, as seen in a silly photo Heughan shared on social media.
Outlander fans can take comfort in knowing that this Droughtlander is almost over. The cast and crew are busy working on the next exciting installment. And to give fans a fun little tease, Sam Heughan just shared a silly photo of his co-star Caitriona Balfe hanging out with him in their makeup trailer.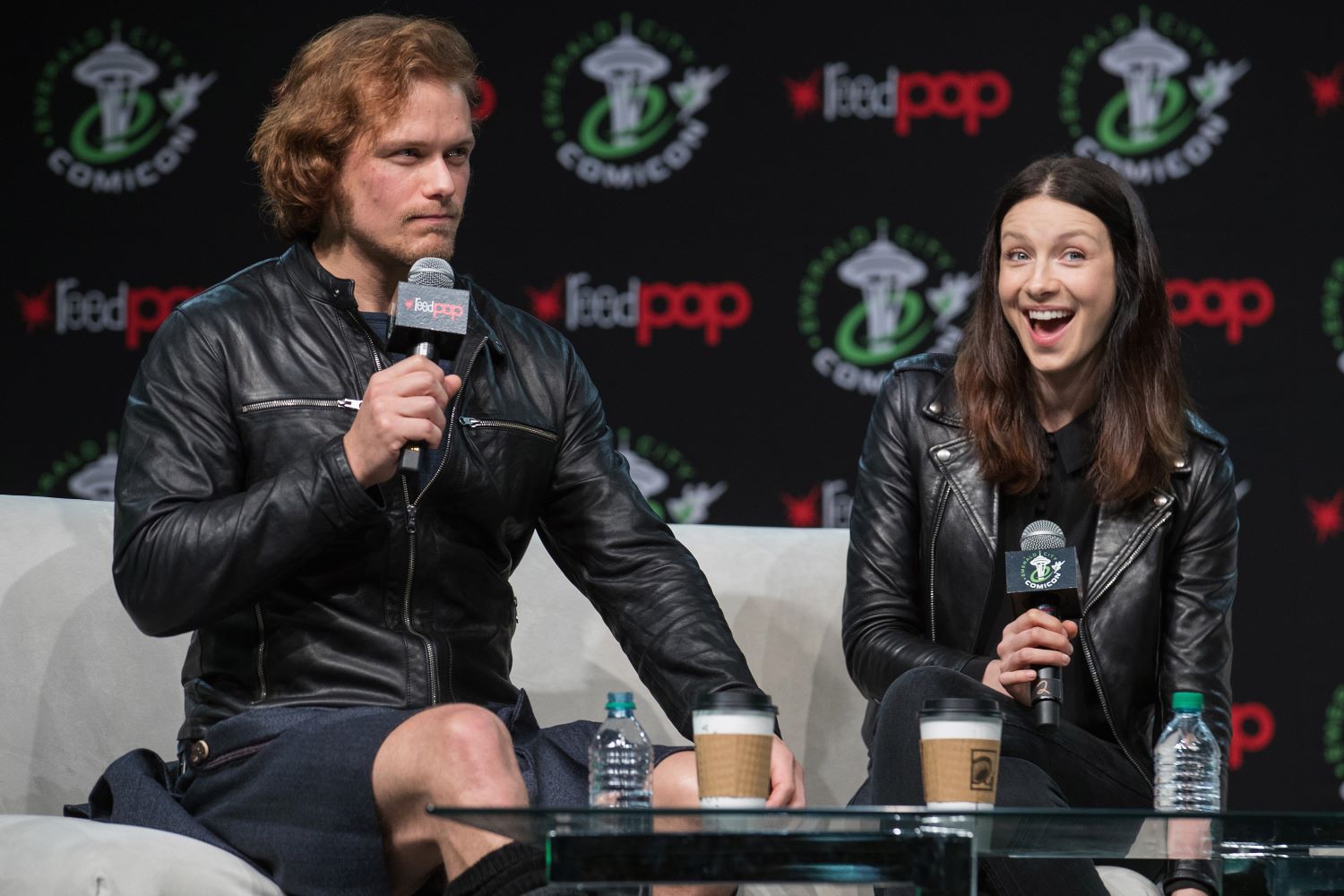 Are Sam Heughan and Caitriona Balfe friends in real life?
Heughan and Balfe have been working together since 2014. As Claire and Jamie Fraser, they are the heart of Outlander and have become a royal TV couple. 
The actors share immense chemistry on-screen. And that's likely because they are good friends in real life. 
Heughan was one of the few guests invited to Balfe's wedding to Tony McGill in 2019. He shared a photo from the wedding on Instagram, calling it a "Remarkable weekend."
Balfe and Heughan are almost always arm-in-arm at Outlander red carpets, and they often tag each other on Twitter and Instagram. The two also share cute messages for birthdays and professional successes, proving how close they are outside the show. 
Sam Heughan shares a silly photo of Caitriona Balfe from 'Outlander' set
Heughan and Balfe are currently filming Outlander season 6 in Scotland. Production was initially delayed to the COVID-19 pandemic. But the studio went back to filming earlier this year with extensive safety protocols in place, including a $200,000 testing facility for the cast and crew.
The Outlander cast may be facing some new challenges filming during the pandemic. But it looks like Heughan and Balfe are still managing to have some fun. 
In a recent social media post, Heughan shared a photo of Balfe — dressed in a robe and holding a cup of coffee — smothering his face with her hand. "Season 6 and @caitrionabalfe has decided to take over and apply everyone's makeup," Heughan captioned the post on Instagram. "So far, it's going well."
"No one asked for this either," he wrote on the Twitter post. "I certainly didn't @caitrionambalfe."
The Outlander cast and crew responded to Heughan with their own silly remarks on Instagram. "Blink twice if you need help," the show's STARZ account commented. 
"Keep her in that end of the truck then!" co-star Sophie Skelton added. "Love you weirdos xx."
What's the 'Outlander' season 6 premiere date?
Heughan and Balfe are working hard to bring fans new episodes. But unfortunately, STARZ has not yet released a premiere date for Outlander season 6. 
Considering filming started in January 2021, it's safe to assume the new season will be released at the end of the year or in early 2022. Either way, fans probably won't get a definitive date until after production wraps. 
Luckily, STARZ announced that Outlander has been renewed for season 7. So, after the next thrilling season, fans will have yet another one to look forward to.