'Outlander' Season 6: Does Jamie Do the Unthinkable and Cheat on Claire?
Outlander season 6 is currently in post-production and is scheduled to premiere on Starz in early 2022. Based on Diana Gabaldon's sixth book A Breath of Snow and Ashes, season 6 will see the arrival of a new family at Fraser's Ridge. And they will bring a lot of trouble.
Stars Sam Heughan (Jamie Fraser) and Caitriona Balfe (Claire Fraser) have confirmed that "turmoil" is ahead. Could it be caused by an affair?
Warning: Possible Outlander season 6 spoilers ahead!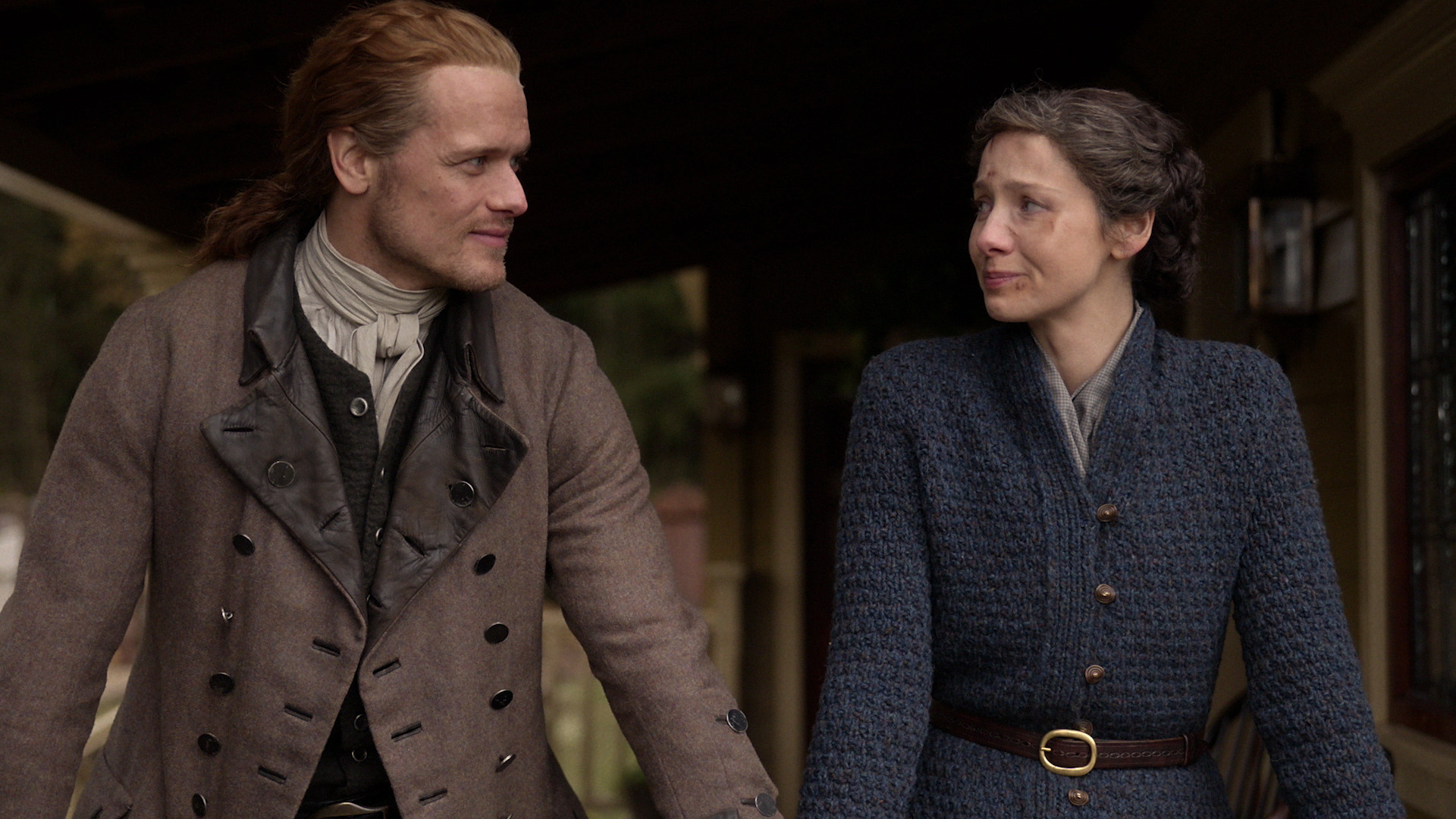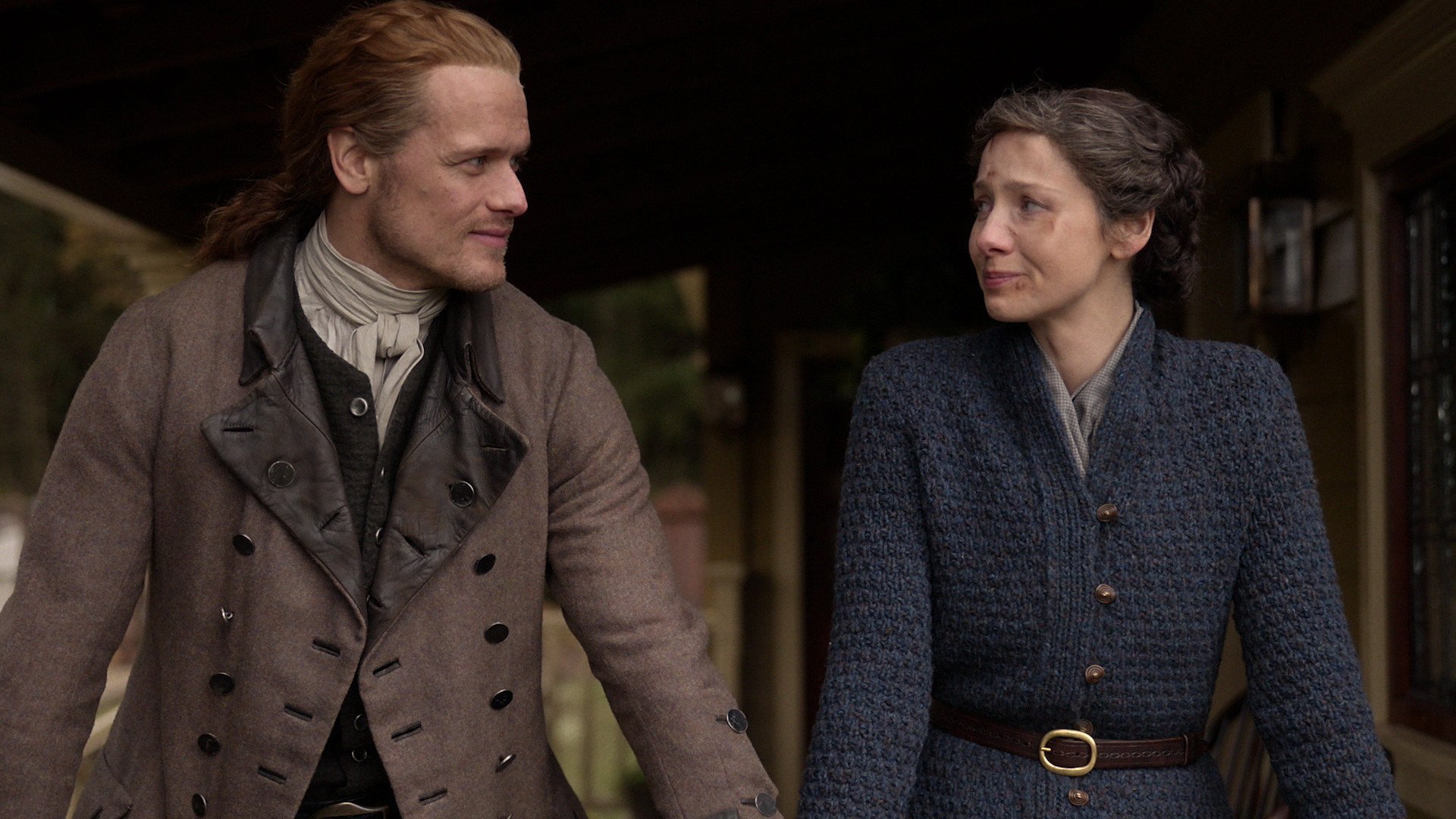 The Christie Family arrives in 'Outlander' season 6
The new season of Outlander will take place in the months leading up to the American Revolutionary War, and it will see new faces at Fraser's Ridge. The Christie family — dad Tom (Mark Lewis Jones), son Allan (Alexander Vlahos), and daughter Malva (Jessica Reynolds) — arrives in North Carolina because of Jamie's standing offer to help the former prisoners of Ardsmuir.
In the books, Malva becomes Claire's surgical apprentice, and she becomes fascinated with the time traveler. The duo quickly develop a mother/daughter type of relationship, with Claire offering personal advice to the young girl. Some of that advice is about sex, which comes from Claire's progressive 20th-century perspective.
Malva Christie isn't really Tom's daughter
Even though Malva has been raised as Tom's daughter, the truth is she is really his niece. This is because Tom's wife had an affair with his brother, Edgar. This family dynamic is important as the story unfolds.
Malva's relationship with Claire breaks down when Malva becomes pregnant. This is because she claims that the baby belongs to Jamie, which infuriates Claire. But it also makes her wonder if her husband actually cheated on her.
Is Jamie and Claire's 'turmoil' in 'Outlander' season 6 caused by an affair?
When Starz gave Outlander fans their first sneak peek at season 6 earlier this year, Heughan and Balfe promised a "very exciting season." The co-leads also confirmed that "turmoil" is ahead.
"Everyone's starting to find their feet, and some are still struggling," Balfe said, with Heughan adding, "The underlying theme of this season is definitely that there's a lot more turmoil here."
Is that turmoil caused by Jamie having an affair with Malva and getting her pregnant? If the Outlander writers stay faithful to Gabaldon's books, then the answer is no.
Things go from bad to worse at Fraser's Ridge
After Malva claims that her baby belongs to Jamie, she is found murdered. Claire attempts to save her and her baby, but fails. Then she gets charged with Malva's death, but Tom steps in and confesses to killing Malva to protect Claire. He also tells Claire that he's in love with her.
The truth about Malva's pregnancy is eventually revealed, and it's quite the shocker. It turns out that Malva's brother Allan is the one who got her pregnant, and he had been sexually abusing his sister since she was a child. To hide the true identity of the baby's father, Malva started sleeping with other men. It was Allan who convinced her to claim that Jamie got her pregnant.
Who is Malva's killer on 'Outlander'?
Allan eventually tells Claire that he was sexually assaulting his sister, and shares the truth that he was the father. He then confesses to killing his sister because she was going to reveal the truth to everyone.
That's a huge storyline for season 6, which will last just eight episodes. Heughan says he is "really pleased" with season 6, and it "feels almost like an early western vibe." Ultimately, Heughan feels like it will be a "small, but mighty season."
Outlander season 6 is expected to premiere on Starz in February 2022. Seasons 1 through 5 are available on Amazon Prime Video.