'Outlander' Season 6: Fans Spot 1 Clue That Could Mean Roger and Brianna Are Leaving Fraser's Ridge
Outlander season 6 is coming in early 2022, and fans have questions about Roger (Richard Rankin) and Brianna (Sophie Skelton). The couple attempted to return to the 20th century at the end of season 5 with their son Jemmy. But when they tried to travel through the stones in America, the portal didn't work and they stayed in the 1770s.
What's in store for Roger and Briana when Droughtlander finally ends? Fans think they've spotted a clue that indicates the couple will definitely leave Fraser's Ridge in season 6.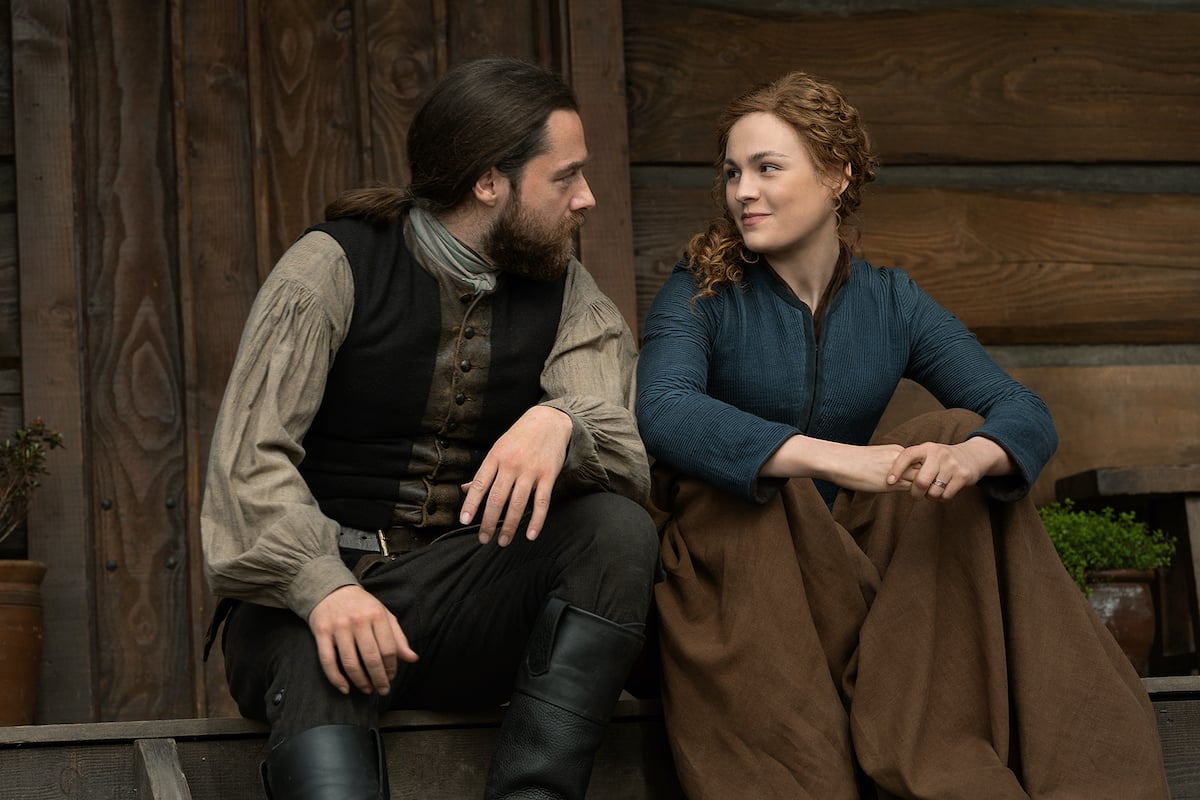 'Outlander' season 5 was a difficult one for Roger MacKenzie
Season 5 wasn't an easy one for Roger, as he was wrongfully hanged at the Battle of Alamance. Luckily, he was rescued in time. But he lost his voice for an extended period, which put some serious pressure on his marriage to Brianna. The story was told in the style of a black-and-white silent film, and Rankin described the situation as "heartbreaking."
"It's a really heartbreaking moment when he can't sing, but especially when he can't sing to Jemmy, because that's something he always did," Rankin told Express. "What starts to spiral into his depression is that he starts to question himself with 'Well, what good am I? What do I do if I don't have my voice and I can't sing?'"
Roger 'has come a really long way' after traveling back in time
Life hasn't been easy for the Oxford professor since he decided to follow Brianna back to the 18th century from his own time in the 1960s. The hanging incident got him questioning whether or not he belonged in the past.
"I think that makes him question whether he should ever have been there in the first place. That really throws his future into doubt," Rankin said during a recent behind-the-scenes interview. "He starts to doubt himself, and if that is all he was destined to be, was the hanged man?"
Rankin acknowledged that his character "has come a really long way" both physically and mentally since he traveled back in time.
"He's starting to adapt to this time and to what's required of him, and I think he really steps up in a big way," Rankin explained.
'Outlander' fans have spotted a clue that seemingly indicates Roger and Brianna are leaving Fraser's Ridge in season 6
Despite Roger and Brianna's failed attempt to travel back to the 20th century at the end of season 5, Outlander fans believe they've spotted a clue that could mean they will successfully leave Fraser's Ridge in season 6.
The latest intel from the Outlander set claims that Briana and Roger's cabin was deconstructed after filming wrapped.
RELATED: 'Outlander' Season 6: New Photos Tease Big Changes For Roger
"Took a trip to Doune and popped into see old Fraser's Ridge," read a fan tweet from the Outlander set. "Unfortunately it's now being dismantled. There was also a small cabin built which I was told is Bree's workshop but this has also been dismantled now."
There could be another explanation for the dismantled cabin
Fans on Reddit have been discussing exactly what the dismantled cabin could mean. User hiddkesbatchunited made it clear that the cabin had been dismantled for shooting on set. And not as part of an upcoming storyline. They pointed to this as proof that the MacKenzie's are going "back to the future."
Others insisted that the cabin removal was just a normal part of wrapping a season and breaking down sets. But one fan claimed that the cabin has remained standing in between previous seasons.
"I found some tweets from the locals saying the cabin isn't there anymore, while, I think, it still stood in its location in-between the other seasons," the fan shared.
Set images from season 6 of 'Outlander' indicate that fans will see 'Reverend Roger'
As fans wait to find out what will happen to Roger and Brianna in season 6, some of the more recent set photos seem to indicate that he will have a new role when the series returns.
One image shows Brianna, Jamie Fraser (Sam Heughan), and Claire Fraser (Caitriona Balfe) in a church. But Roger is nowhere to be found.
RELATED: 'Outlander': Every Question We Need Answered in Season 6
Fans of the Outlander books theorize that season 6 will see Roger follow in his father's footsteps and lead the church at Fraser's Ridge, just like in the novels. They believe this is the reason that Roger is not shown in the church's congregation.
Season 6 of Outlander will premiere on Starz in February 2022.