'Outlander' Season 6 Is Officially Underway — So When Will This Droughtlander Finally Be Over?
The cast of 'Outlander' officially confirmed that they are headed back to work, so when will season 6 finally premiere?
Outlander fans finally have some good news to celebrate. After a lengthy delay, the cast and crew are back on set and prepping for season 6. It's time to start counting the days until the end of Droughtlander — so when will it finally be over?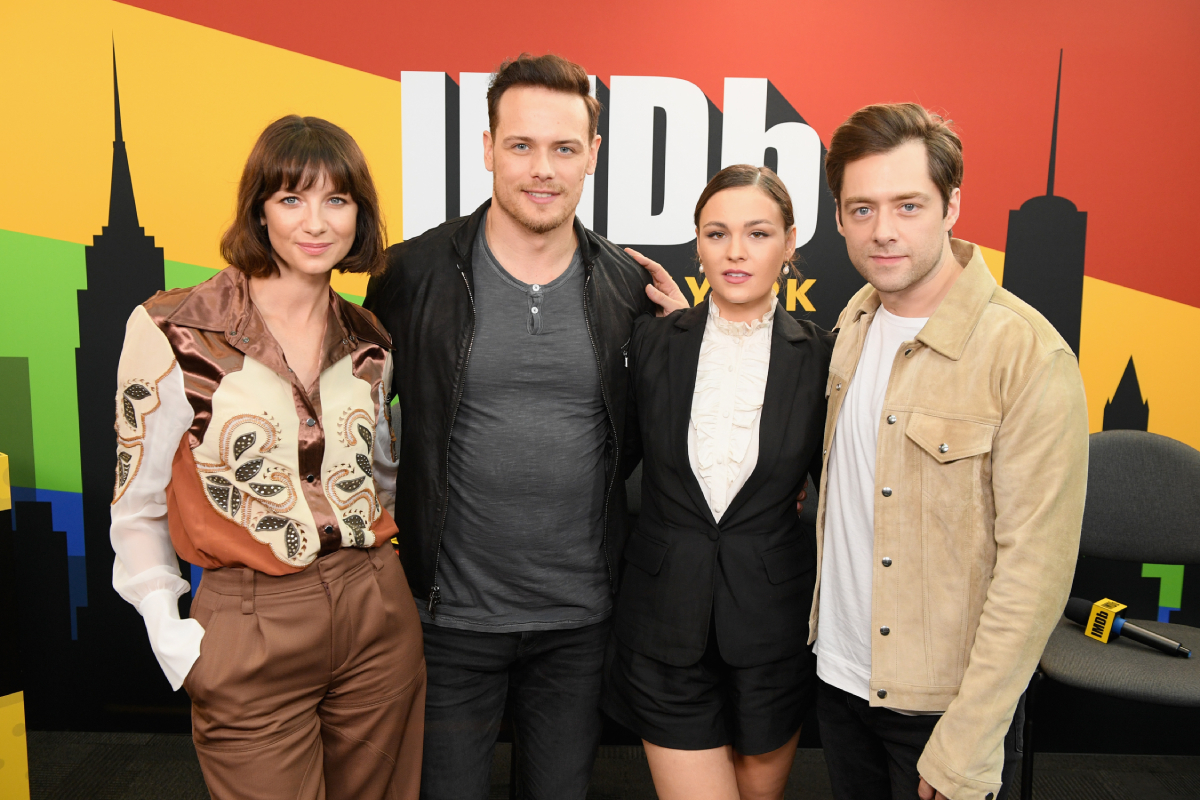 The 'Outlander' cast made a video teasing season 6
Originally, the Outlander cast and crew were scheduled to begin production of season 6 in May 2020. But, of course, the COVID-19 pandemic had other plans. In the fall, when other TV shows ramped back up, Outlander was still on hold.
They had to figure out a way to keep their hundreds of extras six feet apart. They also had to figure out a way to film those passionate love scenes between Jamie (Sam Heughan) and Claire (Caitriona Balfe) on a set with new COVID safety protocols. It took a few months, but it appears that they've found a way.
To celebrate their return to set for season 6, Heughan, Balfe, Sophie Skelton, and Richard Rankin participated in a behind-the-scenes video from the show's costume department. In the three-minute clip, the Outlander stars walk through the room filled with hundreds of costumes for the upcoming season. There's even a section dedicated to the new settlers at Fraser's Ridge.
Sam Heughan and Caitriona Balfe are 'excited' to get back to work
The Starz network posted the video on their official Instagram page on Christmas Day. In the caption, they wrote that it was a "gift" for fans. In the special sneak peek, Heughan tells the camera that he is excited to get back to work.
"We are so excited to say that we are finding a way to get Outlander back on the screen," Heughan said.
Balfe agreed and added that "prep is getting underway, so yeah. We're very excited to bring the show to you as soon as possible." The Irish beauty also noted that "lots of exciting stuff is going to happen" and "things are coming to the ridge that will even challenge Claire Fraser's medical knowledge."
Heughan revealed that there will be a new character in season 6, but he's not so new to Jamie.
"Actually, in Ardsmuir, Tom Christie is one of Jamie's ancient foes. He comes to Fraser's Ridge and tries to take a bit of power actually. So there's a bit of a power play. And his daughter becomes a very, very special part of this story," Heughan revealed.
Skelton told fans that they will see a lot more of the "modern Brianna" in season 6. She noted that "her inventor cap will be on." Rankin promised that whatever happens, "it's gonna be brilliant."
When will 'Outlander' season 6 premiere?
In a COVID-free world, fans might have seen Droughtlander end this month. But with the pandemic delaying production more than seven months, chances are it won't end until the fall of 2021.
According to Express, Starz has not yet announced a premiere date for season 6. However, we do know that a traditional season usually takes about ten months to film. As a rule, the network releases a trailer for a new Outlander season about four months before it airs. If the past is any indication, fans could see a trailer this summer and new episodes in the fall of 2021.
They have yet to release any plot details about season 6. However, the expectation is that they will follow Diana Gabaldon's book series. This means that the new episodes will be loosely based on book 6, A Breath of Snow and Ashes.
It's not clear how the time-traveling Starz drama will follow the trajectory of the books. Executive producer Ronald Moore says that every season they approach it "fresh."
"Should we keep it a book a season? Moore asked. "We've done that up until now. But we've talked about splitting books, and we've talked about combining them. We want to be free in the writers' room to pick and choose and do what feels most comfortable that year."
Moore promised that as the American Revolution gets closer, it will be "front and center" the further they get into season 6.
Outlander seasons 1 through 5 are available on the Starz app and Amazon Prime Video.