'Outlander' Season 6: Jamie and Claire's Relationship Will Be 'Shaken' Confirms EP Matthew B. Roberts
Season 6 of Outlander is in production, and there is trouble coming to Fraser's Ridge. New faces will arrive as the Revolutionary War looms. But it's not just the political climate in colonial America that's causing tension.
According to executive producer Matthew B. Roberts, Jamie (Sam Heughan) and Claire's (Caitriona Balfe) relationship will be "shaken."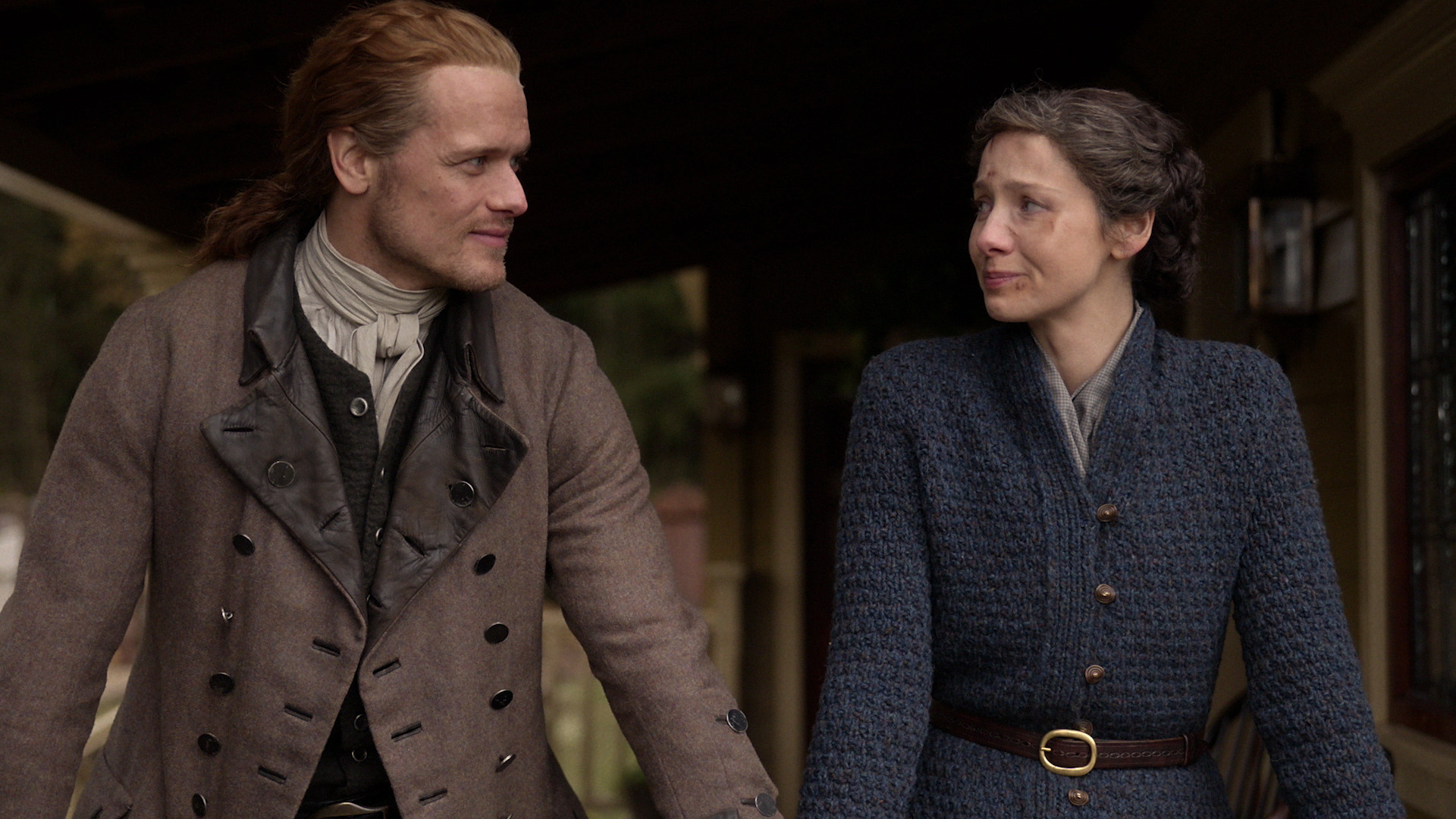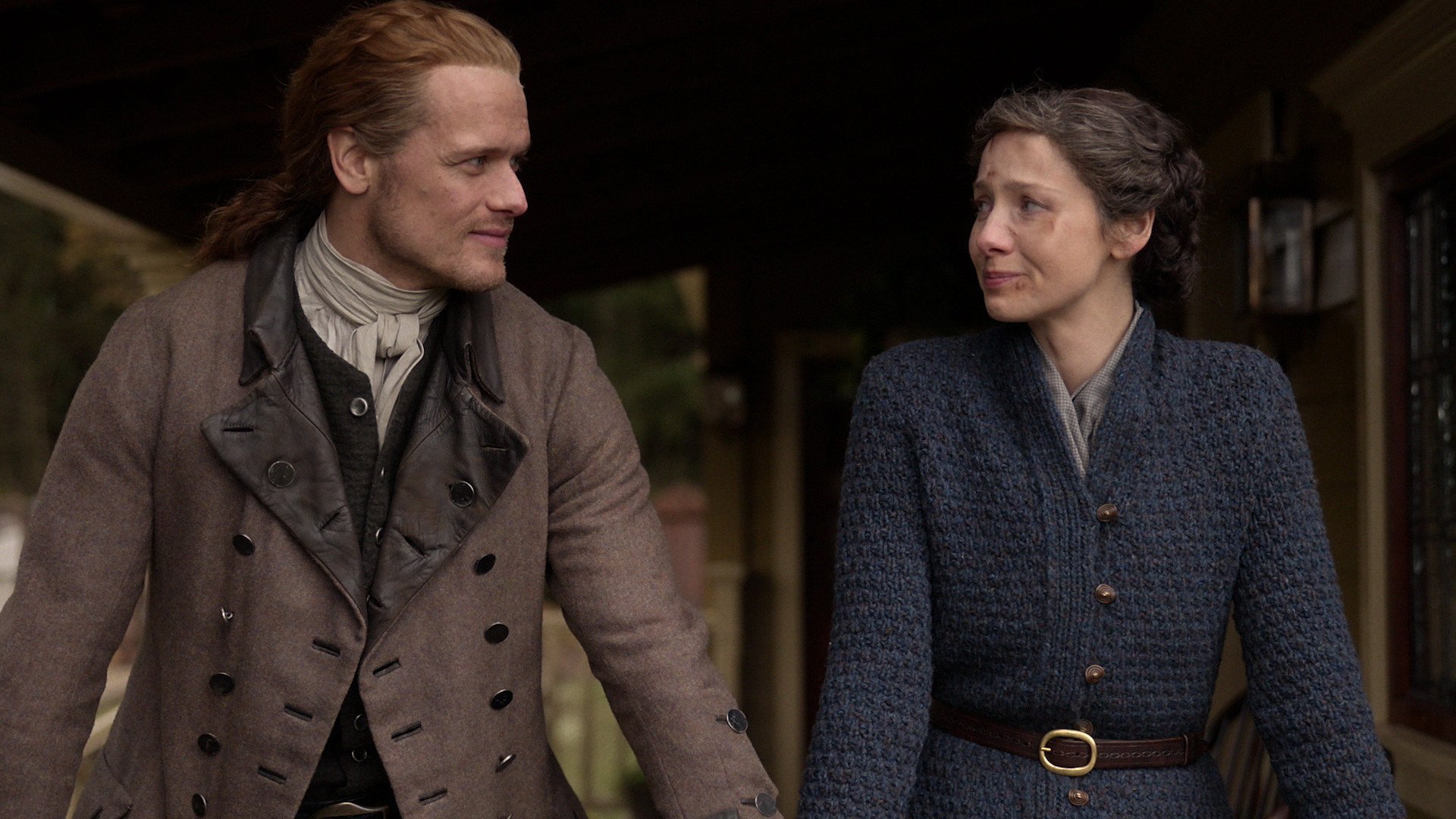 'Outlander' wanted to keep their season 5 momentum
With season 5 of Outlander being the most-watched ever, Roberts wanted to keep the show's momentum. The original plan was to start filming season 6 last May, to keep Droughtlander short and sweet. But, the pandemic pushed things back nine months.
"The cast and the crew, and I think even the fans, were very excited to get right into season 6. And then we decided to hit the brakes," Roberts told Elle Magazine.
The EP admits that the decision was "heartbreaking." But, he didn't want COVID changing the content of the new season. Roberts explained that the intimate scenes in Outlander are where they "live and breathe."
There will still be a 'big event' in season 6
To keep everyone safe while filming amid the pandemic, Roberts says their solution was "testing testing testing." He says that he doesn't know how to write "COVID-friendly scenes."
Instead of working around social distancing guidelines and keeping everyone in masks, they are working around these protocols with regular testing. This way, they can make the intimate scenes happen the way they want to.
For the big scenes, Roberts says that they've limited the amount of supporting artists on set and are utilizing visual effects.
"Every year, Outlander has a big event and we're still planning that event. We'll film [the background extras] at a separate time, [then] put it all together in post, and it's seamless. We have a really amazing visual effects team, and I have full faith in their abilities to do that," Roberts explained.
Jamie and Claire's relationship will be 'shaken' in season 6 of 'Outlander'
Season 6 production is not working out how Roberts originally planned. But one thing's for sure, the story isn't changing. The EP says when he thinks of season 6, he thinks about what was going on in the world at the time, 1775, and how it's similar to what's going on with Jamie and Claire.
"There's going to be a revolution with them as well, and I think that's what's going on throughout the season: You have a foundation and when that foundation is shaken and there is a revolution, you have to deal with it. That's kind of the theme of the season," Roberts revealed.
The scripts change during production
Despite the production delays, Roberts doesn't feel like he had more time to work on the scripts for season 6. He explained that the scripts don't "live and breathe until you get into production." While writing something, you can think it's "magical" and "the best thing" you've ever written. But, when you get to production it's not that easy.
Roberts says the scripts don't "get a pulse and take on a life" until they are in the hands of production. They are reworked, and things are constantly changing.
"That's why you see the different colored scripts, pinks and yellows and greens. They're living and breathing through production and changing," Roberts said. "Then, even when we get to post, the story isn't finished for me until the audience sees it."
The new season of 'Outlander' will see a blast from Jamie's past
In the Outlander season 6 preview clip recently posted on social media, Heughan and Balfe talk about what fans will see in the upcoming episodes. The co-stars mentioned that there will be new faces at Fraser's Ridge — the Christie family — and they are going to bring trouble.
Heughan says that the Christies are "kind of a blast from Jamie's past." He added, "the underlying theme of the season is definitely that there's a lot more turmoil here. It's a very exciting season."
Outlander seasons 1 through 5 are available on the Starz app. Season 6 is expected to premiere in late 2021 on Starz.