'Outlander' Season 6: How Showrunner Fought for Roger and Brianna Scene in 'Allegiance'
Outlander Season 6 tackles the Diana Gabaldon book A Breath of Snow and Ashes on the Starz drama. Even with 10 episodes in most seasons, and eight for this one, the show can never include absolutely everything from the books. That's just the nature of adaptation. But, one scene in the episode "Allegiance" between Roger (Richard Rankin) and Brianna (Sophie Skelton) was too important to take out, showrunner Matthew B. Roberts said.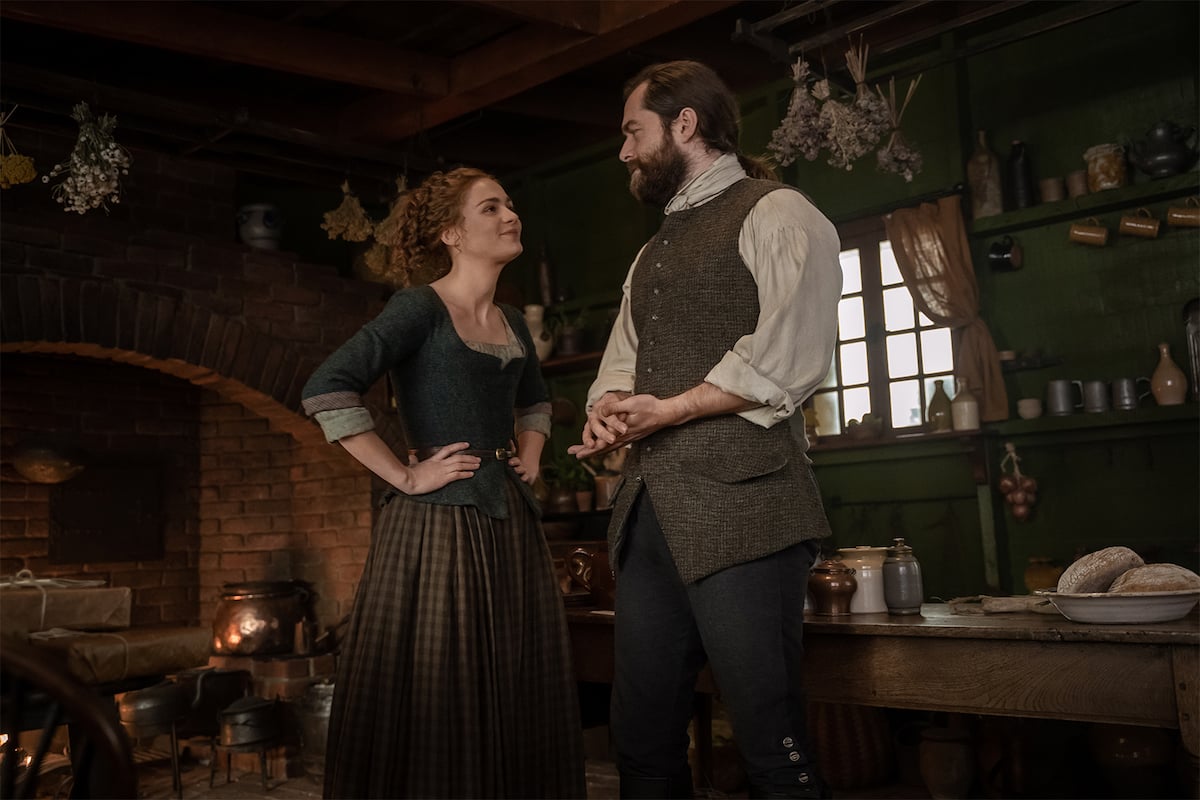 Roberts spoke about "Allegiance" on The Outlander Podcast on March 16. When he came to the Roger/Brianna scene, Roberts revealed he fought to keep it in the episode. Outlander Season 6 airs Sundays on Starz.
The Roger/Brianna scene 'Outlander' Season 6 almost cut
About 53 minutes into the episode, Brianna lights a match she invented to light the candles in her and Roger's cabin. They discuss their inability to conceive before Aidan (Caleb Reynolds) interrupts them.
RELATED: 'Outlander' Star Richard Rankin Says Jamie Has a 'Newfound Respect' for Roger in Season 6
"I do like this scene," Roberts said on The Outlander Podcast. "This is one of those scenes when we originally, and I'm going to divulge something to the fans, we cut this scene down to the bare minimum when we were trying to get to time. When we say `get to time', just under 60 minutes."
'Outlander' Season 6 needed to see more Roger and Brianna in 'Allegiance'
Usually, Outlander episodes fit in a one hour time slot on Starz. When Outlander Season 6 had to reduce its order to eight episodes, they decided to make the episodes longer. The season premiere was over 80 minutes, and "Allegiance" ran 72.
RELATED: Before 'Outlander,' Sam Heughan Stole Eddie Redmayne's Audition Trick
"And then as you watch it again, you watch it again, you go, 'No, we need this scene. We need to see this couple. We need to see this moment in the show.' I said [to Executive Producer] Maril [Davis], got on the phone with the network. They were like, 'Hey, we need some extra time here.' We show 'em the episode. Then we get on these conference calls about why. And then people see it and they're like you're right, we need it."
The important moment for Roger and Brianna
Brianna has been working on her white phosphorus matches previously in the Outlander Season 6 episode "Allegiance". When they finally work, Roger compares her to Thomas Edison. This leads Brianna to lament that back in the 18th century, a man can be an inventor but a woman's role is just to have children. And she's frustrated they haven't conceived yet. Roberts said the key to this scene is Roger's pride in Brianna's invention.
"I love this moment because Roger's just so proud and in awe of his wife and his partner," Roberts said. "And you don't get to see that very often on television. I really like that."
Roger further demonstrates his pride when Aidan shows up lost in the woods. Before Roger walks him home, he shows Aidan the match, which is like a magic trick to the 18th century boy.
RELATED: 'Outlander' Prequel: Sam Heughan 'Jealous' of New Show