'Outlander' Season 6 Spoilers: Jamie and Claire's Love Will Deepen, While Roger and Brianna Will Be on 'Their Own Journey'
The cast and crew of Outlander have not yet begun production on season 6. Unlike other scripted TV series, the pandemic has created some serious obstacles for the Starz time-traveling drama. Still, plenty of details are emerging about the upcoming season. Fans can look forward to seeing Jamie and Claire's love deepening, while Roger and Brianna will be on 'their own journey."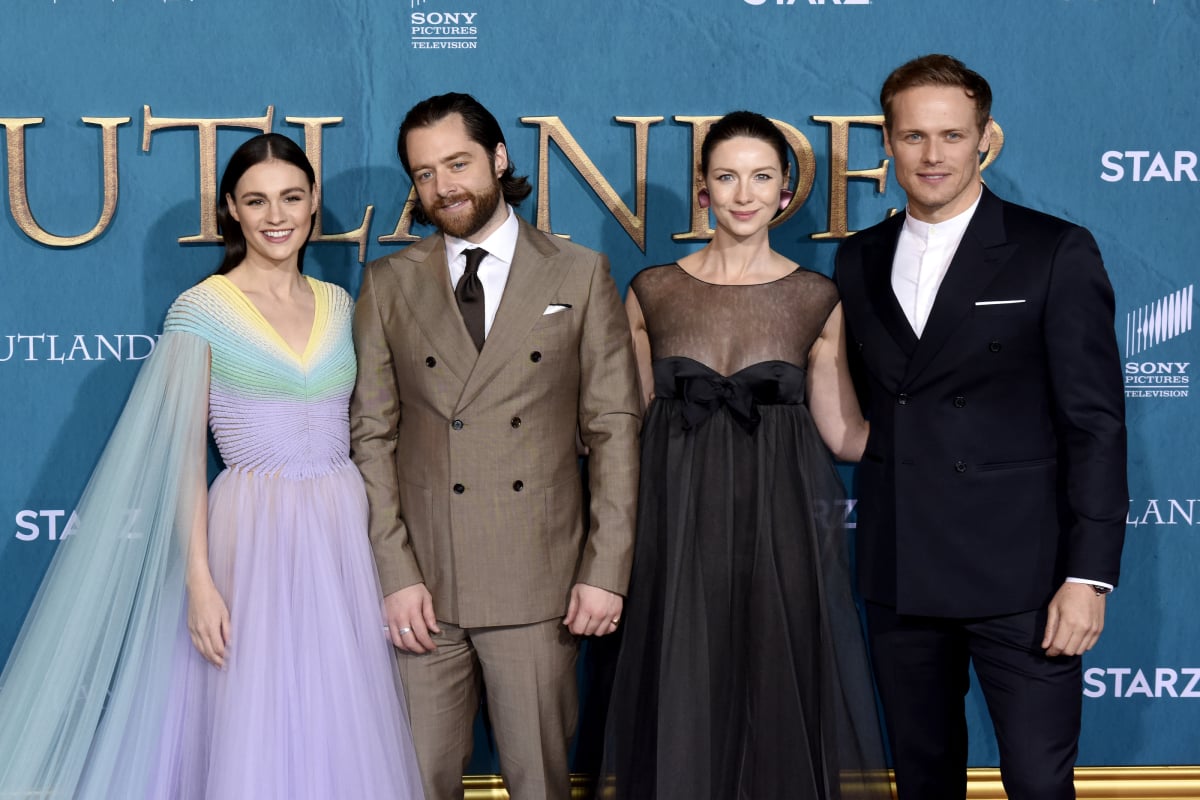 'Outlander' executive producer explains why they can't begin filming
Filming for season 6 was supposed to begin around the same time that season 5 was airing on Starz in the spring. Of course, the pandemic put everything on hold and has subsequently thrown production plans up in the air.
According to Express, series producer Maril Davis recently told fans, "We have not started filming yet." She then added that they traditionally don't announce their production start date until they are "actually in production."
Before she tweeted her season 6 update, Davis went into more detail on David Berry and Tim Downie's unofficial Outlander podcast.
"Obviously with everything going on right now, we've been a little slowed down," Davis explained. "We are going to be shooting season six. That has been slowed down as well. We will come back once we feel like it's safe to do so with our crew and our cast. We don't have the kind of show, unfortunately, that can be COVID friendly."
Davis explained that the large number of extras that Outlander requires – plus the steamy love scenes between Jamie (Sam Heughan) and Claire (Caitriona Balfe) – make filming in a COVID world extremely difficult.
Season 6 is based on Diana Gabaldon's novel 'A Breath of Snow and Ashes'
Davis described Outlander as "the least COVID-friendly show ever." She explained that new set protocols could result in "no kissing" and "no interaction." Another precaution is using less actors and extras in scenes. Of course, this is not the Outlander that fans want to see.
"That's something that a lot of studios are talking about, and some shows have the luxury to do that, we do not," Davis noted.
Season 6 will be based on Diana Gabaldon's novel A Breath of Snow and Ashes after season 5 covered a portion of the large book. This means that the American Revolutionary War is on the horizon and battle scenes are imperative.
There is also plenty of drama and romance in store for the four core family members – Jamie Fraser (Heughan), Claire Fraser (Balfe), Brianna Randall MacKenzie (Sophie Skelton), and Roger Mackenzie (Richard Rankin).
As Heughan noted, the end of season 5 left the whole family "fractured." Jamie and Claire are together, but she still has some healing to do. Jamie is also grieving the loss of his godfather Murtaugh (Duncan Lacroix) at the Battle of Alamance.
'Outlander' season 6 sees the Frasers and MacKenzies on separate paths
According to Parade, Davis loves the book A Breath of Snow and Ashes because it has "so much for everyone." The book is set in the years of 1773 to 1776, and the American Revolution is getting closer.
"Jamie and Claire, their love deepens; Roger and Brianna, they have their own journey, and something fun and new happens with them," Davis revealed. "Caitlin O'Ryan, who plays Lizzie, has a great story, and she is such a phenomenal actress. There are just so many exciting things."
The Frasers and MacKenzies are overcoming the traumas of season 5. Balfe says she is looking forward to seeing how Claire copes with "all of that and the repercussions of it."
Some of the plot points from the book that could make their way into season 6 include Claire being accused of murder, Jamie's new job as "Indian Agent," and Brianna and Roger welcoming a daughter.
Season 6 will feature 12 episodes, but fans probably will not see them until mid-2021 at the earliest. There is a strong possibility that Starz will push it back until 2022. In the meantime, fans can watch seasons 1 through 5 of Outlander on the Starz app and on Amazon Prime Video.