'Outlander' Season 6: There Is Trouble Ahead For Jamie and Claire Thanks to Newcomer Malva Christie
Sam Heughan and Caitriona Balfe are currently filming season 6 of 'Outlander' on location in Scotland. While the new season will not premiere until 2022, book readers already know that there is trouble ahead for Jamie and Claire all thanks to newcomer Malva Christie.
Outlander season 6 is currently in production in Scotland and is expected to premiere on Starz in early 2022. It will be based on the sixth book in Diana Gabaldon's series — A Breath of Snow and Ashes — and will feature the arrival of the Christie family.
As fans of the books know, with newcomer Malva Christie at Fraser's Ridge, there's trouble ahead for Jamie and Claire.
Warning: Possible season 6 spoilers ahead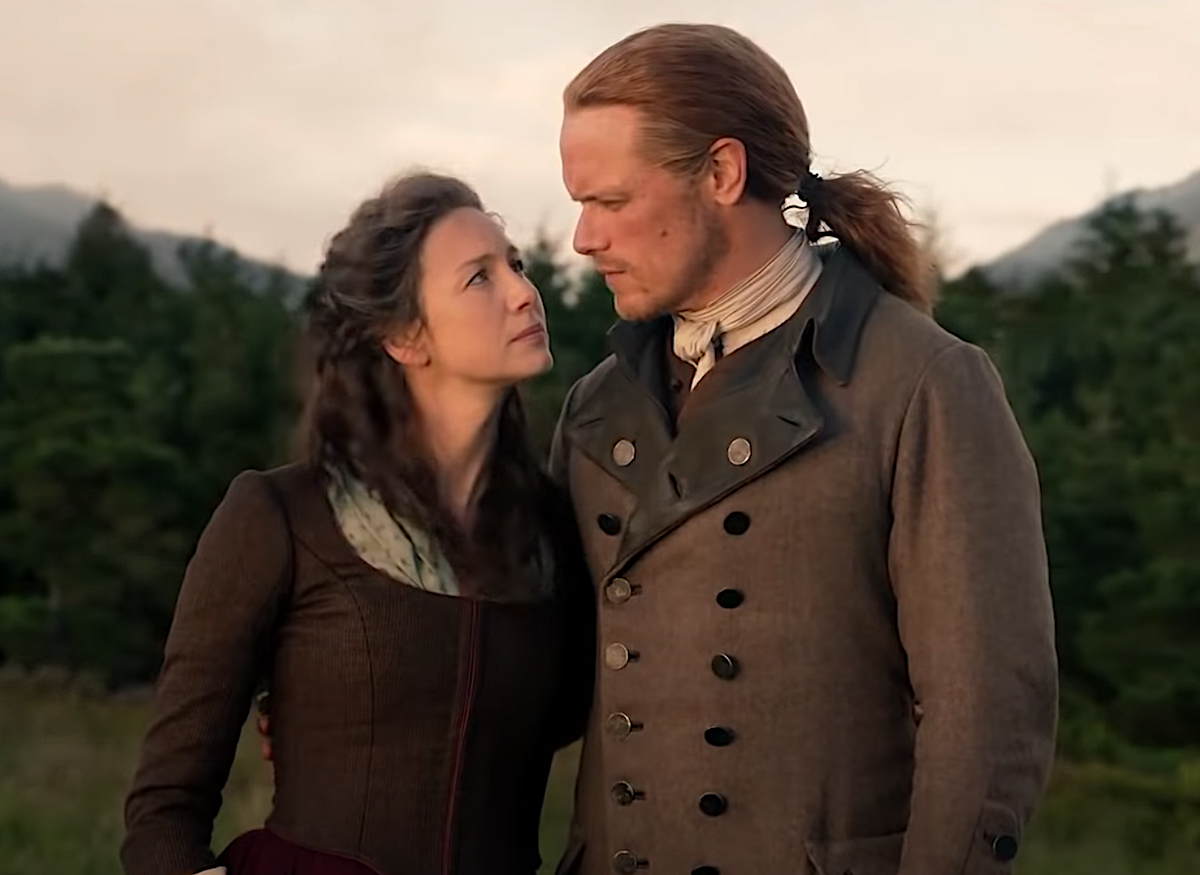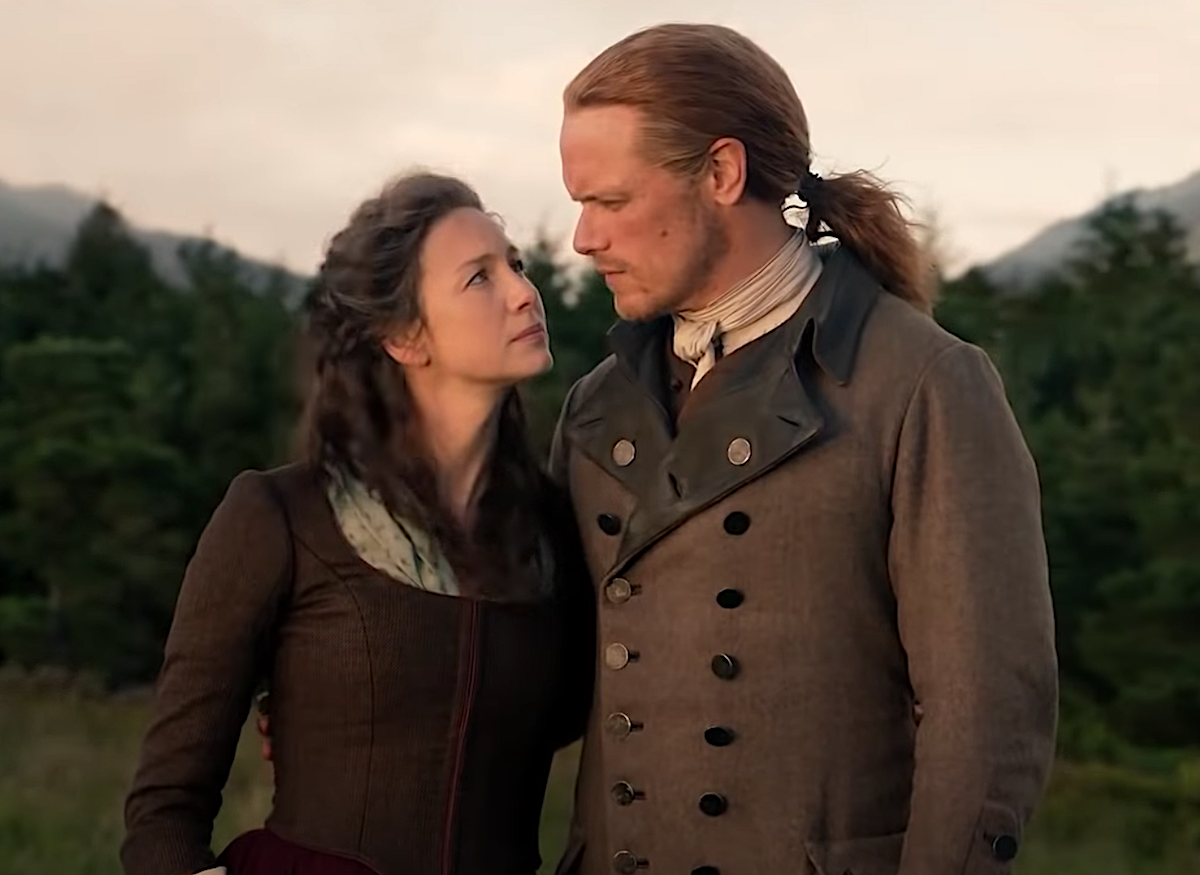 The Christie family actually arrives in 'Outlander' book five
In Gabaldon's Outlander novels, the Christie Family arrives at Fraser's Ridge during book five, The Fiery Cross. But the Starz drama has saved their arrival for the upcoming season.
The Christie family features dad Tom (Mark Lewis Jones), son Allan (Alexander Vlahos), and daughter Malva (Jessica Reynolds). They arrive at Fraser's Ridge because of Jamie's (Sam Heughan) standing offer to help the former prisoners of Ardsmuir.
At first, the family seems like a welcome addition to Fraser's Ridge. But when Malva becomes close with Claire (Caitriona Balfe), it also allows her to get close to Jamie.
 "She's kind of in awe of Claire, I think when she gets to the ridge, she's heard so much about Jamie and she expects him to kind of be the hero of her story and then she sees, then she sees the woman and she's like 'Oh no, I'm more interested in that,'" Reynolds said in a video posted on the Outlander Instagram page.
"There's an opening for an apprentice going, and I sneak in."
Does Jamie cheat on Claire in season 6?
In Outlander book six, Claire gives Malva some sex advice that is straight from the 20th century. She tells her that women have sex for pleasure, and not out of duty to their husbands. Later, when Malva gets pregnant, she claims that Jamie is the father.
"We kind of start off with a very innocent, kind of eager to learn, you know she's got the world in front of her, she thinks this is her kind of chance to blossom and become a woman potentially like Claire, and then lots of stuff gets in the way," Reynolds explained.
Malva's claim that Jamie is the father is enough to damage his relationship with Claire, but it only gets worse. As Claire's apprentice, Malva tries to poison her while passing it off as a deadly wave of dysentery on Fraser's Ridge.
Who is the father of Malva Christie's baby on 'Outlander'?
In Gabaldon's books, Jamie is not the father of Malva's baby. She actually has several relationships with the men of Fraser's Ridge. Including Young Ian Murray (John Bell), who says the child could be his.
Another possibility is fellow settler Bobby Higgins (David Trickett), who also happens to be married.
Ultimately, the baby's father is revealed to be Malva's half-brother Allan. And, fans also find out that it was Tom who encouraged her to name Jamie as the father. Later, Malva ends up murdered and Claire gets arrested and accused of the crime.
Some 'very traumatic and very emotional' scenes are coming
On the official Outlander podcast, executive producers Matthew Roberts and Maril Davis recently gave fans an update on production of season 6. They revealed that they've already filmed some "very traumatic and very emotional" scenes.
"Certainly this season, we've had a lot of moments. There are some very traumatic and very emotional times," they said. "It's a difficult season for Jamie and Claire and everyone."
What else can 'Outlander' fans expect in season 6?
The season 5 fake out of Roger (Richard Rankin) and Brianna's (Sophie Skelton) attempt to time travel was a huge departure from the books. In season 6, it's likely they will time travel for real if they stay closer to the books. An urgent matter with their daughter will force them to go back to the 1970s.
Fans might also finally get answers about Claire and Jamie's obituary that's been hanging over the show since season 4. The whole reason Brianna traveled back in time in the first place was because of the obit.
And a house fire does occur at the end of book six. But, it's not exactly what you might think. Ultimately, it sends the Frasers back to Scotland.
Seasons 1 through 5 of Outlander are available on the Starz app and Amazon Prime Video.