'Outlander' Season 6 Will Not Be the Only Time 'Friends' Come Between Jamie and Claire
Warning: Outlander season 6 and 7 spoilers ahead!
Outlander season 6 is almost here, and the premiere will see the arrival of some new characters. The Christie Family will show up at Fraser's Ridge when the new season begins. At the same time, Jamie (Sam Heughan) and Claire Fraser (Caitriona Balfe) are struggling in their marriage after the traumatic events of season 5.
Fans of Diana Gabaldon's Outlander books already know that the Christie family means trouble for the Frasers. But, this won't be the only time "friends" come between Jamie and Claire.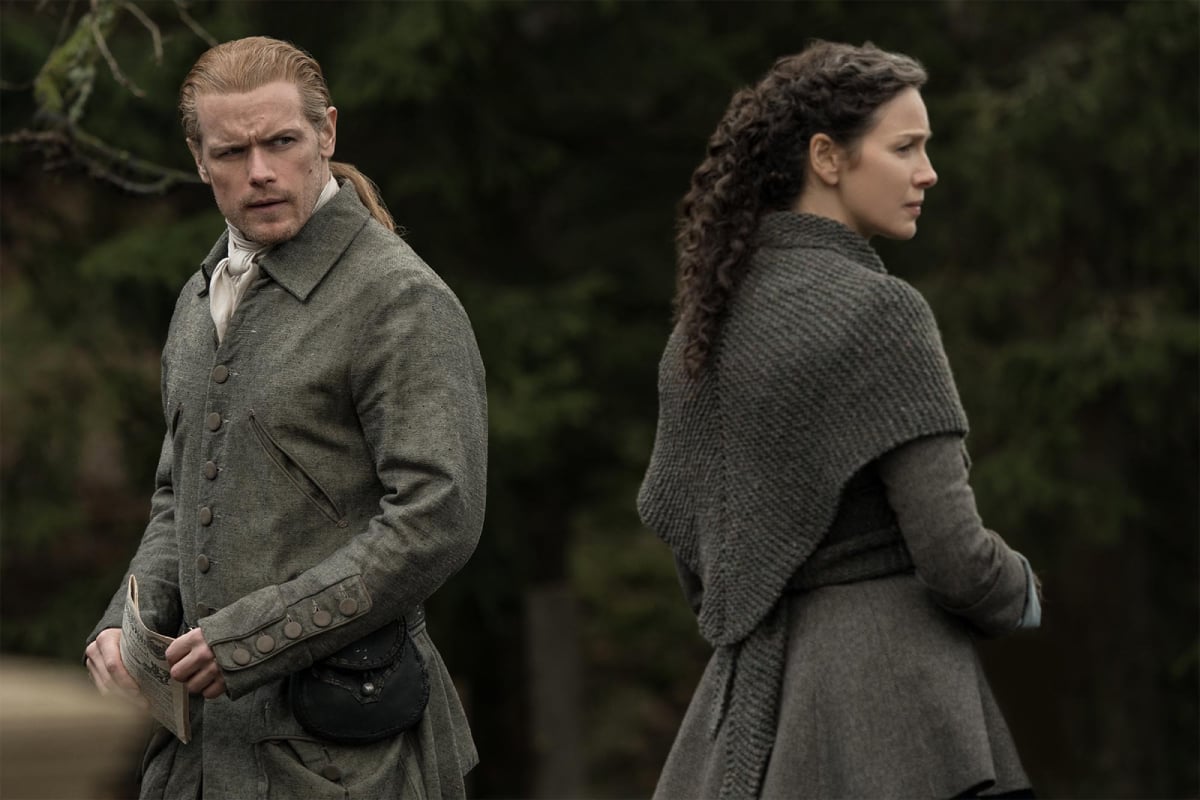 The 'Outlander' season 6 premiere will set the tone
The new season of Outlander will be loosely based on Gabaldon's sixth book A Breath of Snow and Ashes. According to executive producer Matthew B. Roberts, the premiere episode is very important because it "sets the tone for the entire season."
"It's the first chapter in the book and you want to start that with a bang. Like Diana usually does, we move forward and try to pace the story out," Roberts explained, per Deadline. "It's very important to introduce new characters which we do every season as Diana creates new characters."
The Christies will finally arrive in the season's first episode
Roberts explained that they "went backward" in the first episode of the new season to Gabaldon's fifth book The Fiery Cross so they could introduce the Christie family — Tom (Mark Lewis Jones), Malva (Jessica Reynolds), and Allan Christie (Alexander Vlahos).
The "new villains in town" arrive at Fraser's Ridge seeking refuge thanks to Jamie's long-standing offer to help the former prisoners of Ardsmuir. Tom and Jamie don't have an amicable past. But the Frasers still welcome the Christies with open arms. At the same time, Jamie and Claire start to "lose each other a little bit."
"His eye is taken off the ball and he's also dealing with Tom Christie. In the flashback [in the Season 6 premiere], it really sets up this relationship. There's something unsaid between Tom and Jamie, this war and this powerplay that they're constantly battling each other," Heughan explained.
Season 6 of 'Outlander' is not the only time 'friends' will come between the Frasers
We already know that Starz has renewed Outlander for season 7. Which will be loosely based on Gabaldon's seventh book An Echo in the Bone. In that book, someone else comes between Jamie and Claire — Lord John Grey (David Berry).
Viewers have already learned that Lord John is gay and in love with Jamie. But he must hide his sexuality in the 18th century. But surprisingly, in book seven — and likely during season 7 — Claire and John get married.
Why does Claire marry Lord John Grey?
In the novel, the central love story between Claire and Jamie takes a dark turn when Claire believes that Jamie is dead. She believes this because John tells her that Jamie died due to the sinking of the Euterpe. Both are heartbroken, but things get worse when John is told that Claire is going to be arrested for espionage.
John insists that Claire marry him for protection, and tells her it is the "last service" he could carry out for Jamie. They tie the knot at his home, and he gives her a large case of medical equipment as a wedding gift. Over the next few months, they start sleeping together and form a close bond.
Jamie returns in 'Outlander' book 8
Throughout Gabaldon's eighth novel Written In My Own Heart's Blood, John and Claire's relationship develops even more. So when Jamie turns up at John's home, he was shocked at what he discovered.
Both Claire and John are happy, yet surprised, to see Jamie. But he feels betrayed by Lord John, and they end up fighting over Claire.
Will this story be part of Outlander season 7? We already know that it will be super-sized with 16 episodes. Or, will they wait until season 8? Fans will have to be patient to get those answers. In the meantime, Outlander season 6 premieres Sunday, March 6 on Starz.
RELATED: 'Outlander' Drops a New Look at the Family Bringing Trouble For Jamie and Claire in Season 6