'Outlander' Season 7 Will Explain Why Tom Christie Helped Claire in the Season Finale
The Outlander season finale left fans hanging on a major cliffhanger. Fortunately, Outlander Season 7 is already in production, but it can't come soon enough. Until then, executive producer Maril Davis and star Sam Heughan will do their best to give fans answers to their burning questions. 
[Warning: This article contains spoilers for the Outlander Season 6 finale.]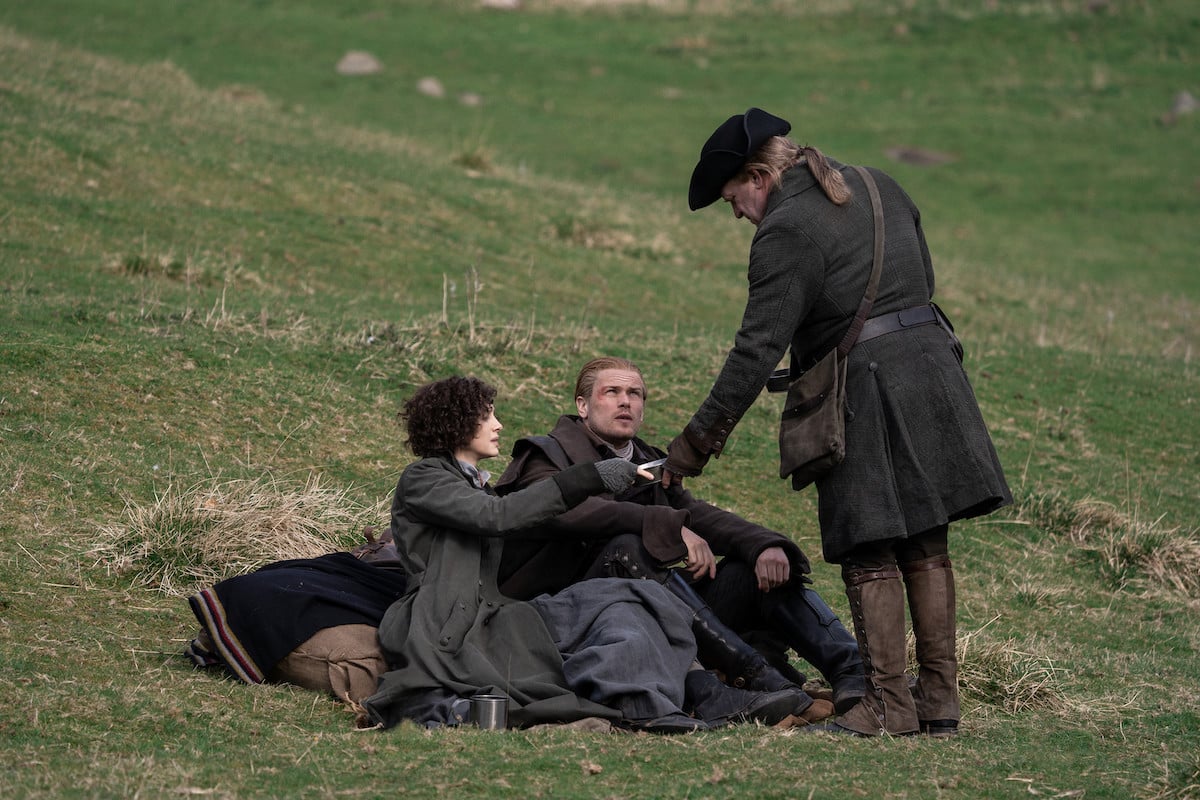 Davis and Heughan spoke with Variety in an interview published May 1 immediately after the Outlander Season 6 finale aired. They shared their thoughts on Tom Christie (Mark Lewis Jones)'s surprising actions and what they mean for Outlander Season 7.
'Outlander' Season 7 will answer a lot of Tom Christie questions 
When the mob came for Claire (Caitriona Balfe), it was Tom of all people who helped her. The mob was accusing Claire of murdering Tom's daughter, Malva (Jessica Reynolds), but he still ensured Claire got escorted to stand trial. Davis explained what issues Outlander Season 7 would answer for Tom.
"We will see in Season 7 kind of the reasons why Tom has done what he's done," Davis told Variety. "Tom is a flawed character, played so brilliantly by Mark Lewis Jones. He's flawed and he's conflicted. He's always at war with himself. He knows what's right or what he thinks is right. He's a very pious man. He's very judgmental. Deep down, he's a fair man and he wants to see justice for his daughter."
Maril Davis hints at Tom Chritie's 'Outlander' Season 7 opinion
While we won't find out exactly what's on Tom's mind until Outlander Season 7, Davis offered some suggestions for what he might be thinking. She, of all people, would know, save for author Diana Gabaldon herself. 
"I think deep down, he probably knows Claire didn't do it," Davis said. "But regardless if she did it or not, he's not okay with this vigilante justice. He's not okay with Richard Brown taking her off. He knows if Richard Brown takes her, he's just gonna kill her by the side of the road. She's never going to see a fair trial. So for him, he does want this to be done the right way. And he knows he's also the only one that can make sure that happens because… the justice is his."
Tom Christie's turn will mean something for Jamie too
Meanwhile, Jamie was about to be shipped back to Scotland when he broke free to ride to Claire's rescue. Will he make it in time? Only Outlander Season 7 will show for sure. 
"Their allies come in different shapes and forms," Heughan said. "In this standoff with the Browns, Tom Christie, in a very odd way, comes to help them. The situation they're in now, for Jamie certainly, he's clearly gonna go find Claire and luckily does have some allies left. But it's a very different world that we're used to. We see that throughout this journey of the last two episodes. We see the world, the actual physical world around them, is also very unsettled. A lot of terrible with the upcoming revolution. But you can count on one thing and that's that Jamie's gonna go find Claire."