'Outlander' Season Finale: Caitriona Balfe Says Claire Is in 'a Much Better Place'
The 'Outlander' season finale was full of drama and ended on a cliffhanger, but Balfe said Claire showed some signs of healing despite all the turmoil.
Outlander Season 6 has been a rough one for Claire (Caitriona Balfe). Having survived a brutal attack in season 5, Claire made her own ether to self-medicate throughout season 6. Even though the Outlander season finale left her on a major cliffhanger, Balfe saw some improvement.
[Warning: This article contains spoilers for the Outlander season finale.]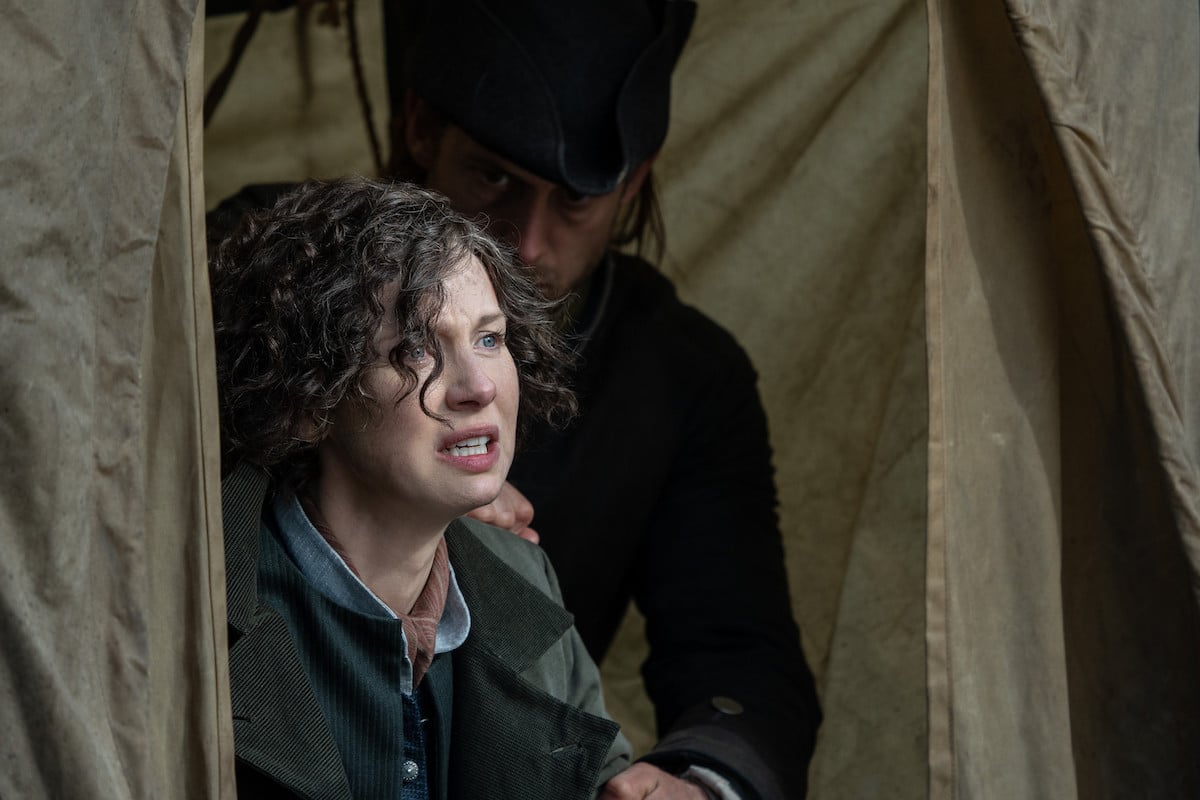 Balfe spoke with Variety in an article published May 1 immediately after the Outlander season finale aired. Discussing Claire's journey, Balfe explained her character's progress. Outlander Season 7 is now in production. 
The 'Outlander' season finale sees Claire opening up, Caitriona Balfe says
There was a lot of action in the Outlander season finale, from a gunfight to the storming of Claire and Jamie (Sam Heughan)'s home. Balfe said Claire learned to open up about her emotions, and that puts her on better footing than before. 
"How does she get through trauma and get over what happened or heal from what happened if she's not processing it, if she's not dealing with it" Balfe told Variety. "And the answer to that is that it rears its ugly head and forces her to find a new way of approaching things. I think what's beautiful is that we are still showing her continued journey and it's like a growth now, which is so beautiful. We see that she's learned a new coping mechanism. She's learned that she can't shut down and hide things and try and manage things on her own. She needs to be able to share."
'Outlander' Season 7 will begin with a more open Claire 
Balfe said it was the penultimate episode this season that forced Claire to deal with her guilt over the death of Malva (Jessica Reynolds). The Outlander season finale showed how open Claire can be, providing she can resolve all the other drama in season 7.
"When we see her in Episode 8, I wouldn't say she's healed, but she's definitely on that journey," Balfe said. "But now, of course, mentally, she's in a better place, but physically she's in a really bad place. She can't really catch a break. The most pressing concerns for her at the moment are that she's stuck in this jail, but because of the Revolutionary War, the system of justice that would normally be in place is sort of completely blown apart. So I think for Claire, her biggest fear is that she's just gonna be left to rot in jail."
Claire couldn't bury her feelings
Balfe said Claire's background as a 20th century doctor led her to attempt to suppress her emotions. While that might have been temporarily productive in a hospital setting, it was no way to live. Balfe saw glimmers of that in the Outlander season finale before Claire faced all new problems.
This whole season is in a way of deconstruction of Claire. Claire, as a product of her time, as a product of her profession, has always been very good at compartmentalizing everything. I think in the medical field, you have to be able to do that. You have to be able to experience trauma, see trauma, but put blinkers on and focus on the job that needs to be done. You put away your feelings about it and you're very good at shelving your emotions. I think Claire has always been able to do that. But I don't think anybody, doesn't matter if you're a strong person or not, I don't think anyone is able to go through life without allowing yourself to process these emotions. It'll come up one way or another. I think for Claire this season, that's what we really explored.

Caitriona Balfe, Variety interview, 5/1/22