'Outlander' Showrunner Says Intimate Scenes To Be Filmed With Strict Safety Protocols
Sam Heughan and Caitriona Balfe have finally started filming season 6 of Outlander. The show is taking extra precautions to keep the cast and crew safe during the pandemic, but that doesn't mean fans won't get the steamy episodes that they're used to. According to showrunner Matthew B. Roberts, the actors will continue to film intimate scenes while following strict safety protocols.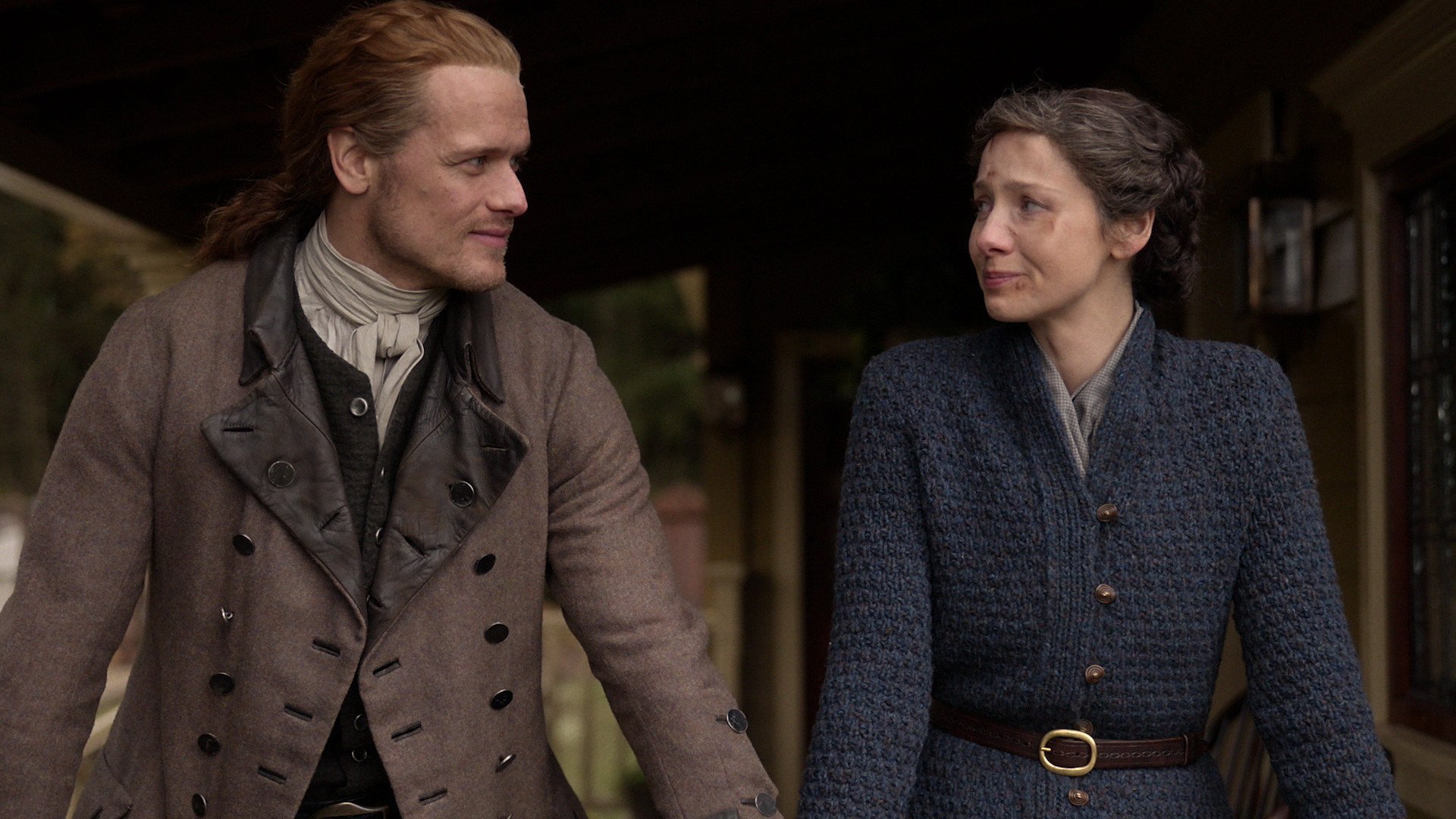 'Outlander' season 6 production was delayed
Due to the COVID-19 pandemic, this year's Droughtlander is going to last a little longer. Last summer, Heughan revealed that the show was supposed to start filming season 6 in May 2020. But with studios still learning about how to safely resume filming, production was delayed.
"We were supposed to be shooting right now, and obviously things are still slightly up in the air, but I think you know, I'm hopeful that we're gonna be back before we know it," Heughan said in a June 2020 interview with This Morning. "They're putting plans in place."
"We have been delayed," the Outlander star continued. "We were supposed to start shooting by May. But we are gearing up. We've had fittings, we've got scripts, we are getting there. It's just such an epic show it's taking a while to get there, but we will be back for season six."
RELATED: 'Outlander' Star Caitriona Balfe Recalls How 'Tough' and Critical the Modeling World Was
The cast is getting a private testing center
Film and TV studios all over the world are learning how to navigate the pandemic safely. And as a result, the Outlander crew will have a considerable advantage while filming season 6. As reported by Glasgow Live, the production is getting its own private testing center.
The $200,000 facility was built in Cumbernauld, Scotland. It is located in the parking lot of Wardpark Film Studios, where most indoor scenes are filmed. With this facility, stars like Balfe and Heughan can get regular COVID-19 tests and continue to film safely.
RELATED: 'Outlander' Fans May See Jenny and Ian Return in Season 6
"The makers of Outlander are taking no chances and invested heavily in this purpose-built lab," a source told the outlet. "They're taking covid very seriously as they not only want to ensure the safety of the cast and crew, but they want to ensure there are no filming delays."
The 'Outlander' showrunner says intimate scenes will stay in
Outlander fans are used to seeing Balfe and Heughan's steamy scenes as Claire and Jamie Fraser. And despite the challenges of the pandemic, showrunner Matthew B. Roberts says their intimate scenes will continue in season 6 with lots of "testing" behind the scenes.
RELATED: 'Outlander': Caitriona Balfe Like to Tease Sam Heughan About One of His Quirks
"I didn't want me or the staff changing what the story is for COVID," he told Elle. "We have a lot of intimate scenes — that's where we live and breathe."
"We had to figure out how to make sure we tested everybody a million times before they walked onto set and keep that bubble as safe as possible," Roberts added. "That was our main focus — making sure everybody feels safe walking onto a set in the studios and locations."