'Outlander' Star Caitriona Balfe Reveals She Has Constant Battles While Filming the Show's Sex Scenes
Caitriona Balfe and Sam Heughan have an undeniable chemistry as Claire and Jamie Fraser on Outlander. The co-stars make their intimate scenes look beautiful and authentic. But Balfe recently revealed how difficult it is to film the show's sex scenes because of her constant battles with confidence.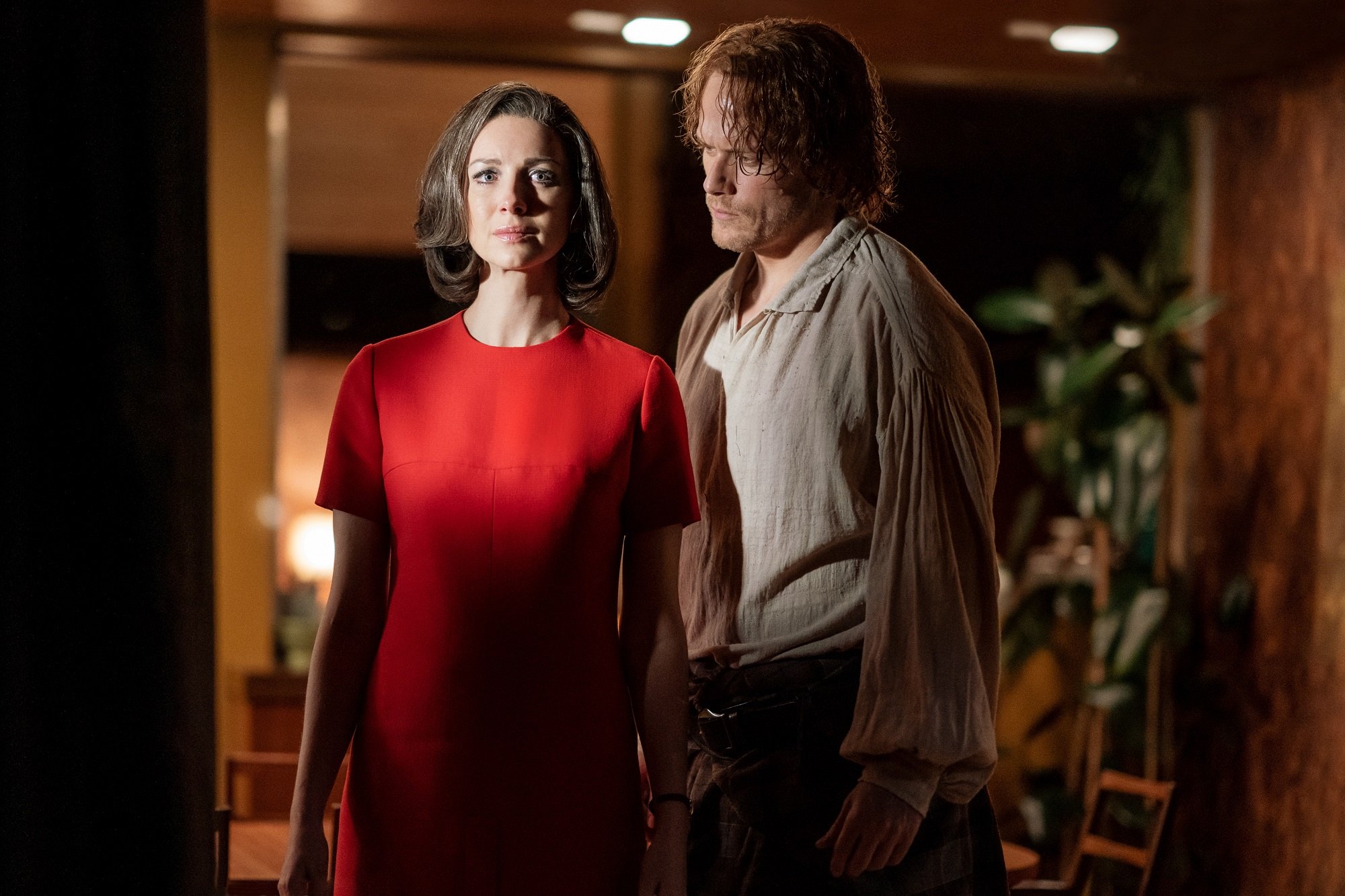 Caitriona Balfe filmed her first sex scenes in 'Outlander'
Before Outlander, Balfe appeared in several popular projects, including Now You See Me and Super 8. But the actor had never done intimate scenes before. So when she joined the Starz series, she found herself in entirely new territory.
"I think season one was such a learning curve, primarily I had never done sex scenes before," she told her Outlander co-stars Tim Downie and David Berry on their Outcasts podcast. "I don't think Tobias had. Sam might have on something else before."
RELATED: 'The Boys' Season 2: Fans Can't Get Over MM's Tender 'Outlander' Moment
"But we were all sort of quite naive about it, and in the beginning as well, I was really trying to find my footing as in where I could personally draw lines about what I was comfortable with and what I wasn't," she continued. "I think also it is not until you see yourself later where you know, you really realize what the impact of having scenes like that out there are."
As an actor, she takes those scenes seriously
Outlander revolves around Jamie and Claire's passionate relationship. The two are ready to travel time and space to be together. And when they reunite, sex is one of the things that brings them closer.
And while Balfe respects the story and her character, she doesn't take the sex scenes lightly. When talking to Outcasts, she noted that she is always cautious about only doing those scenes when they count.
"It is also such a difficult thing because, as an actor, you're not getting into this business to take your clothes off," she explained. "You know, you are getting into this business to portray characters and sometimes that is a necessity to say something about the character, but it becomes really difficult when it becomes expected."
RELATED: 'Outlander' Fans Feel Caitriona Balfe and Sam Heughan Were 'Robbed' of Emmy Recognition Once Again
"It almost feels like sometimes people expect certain things from you without taking into consideration that you know, your family is out there, and the local priest is watching this show or whatever it might be, and this stuff lives forever," Balfe continued. "I definitely, I don't know, it's still something to this day. It's always a negotiation about what is necessary for the scene and what is expected. It is always this sort of fine line because you want to honor the character, and you want to honor the scenes, but you want to protect yourself."
Caitriona Balfe is torn about her body image during those revealing 'Outlander' moments
Balfe has been on Outlander for six years. But in that time, fans have watched Claire go from a young woman to a 50-something grandmother. In her chat with Downie and Berry, Balfe suggested that she was torn about her portrayal of Claire, especially in the scenes where she is nude.
The actor noted that she couldn't look too toned because it would defy the character, but she also admitted her insecurities make her think twice. "It's such a weird thing, because you're constantly, or at least I am constantly, torn between these two things of well, Claire would not be going to the gym so I should not have a gym body," Balfe said. "And, she's now a woman in her fifties so you know, I should try and let that be the thing that leads me. But, then, you have all of your own personal s**t, right?"
"You have your own personal shame and vanity and all of those things, and you try to leave those at the door, but you also know that if you feel insecure, that's going to hamper your ability to lose yourself in a scene," she continued. "So it's always this thing I'm constantly battling with. Between leaving my s**t at the door and also giving myself, I guess, enough confidence to be able to walk into those scenes and not have to think about whether or not I have cellulite on my a** or whatever these things are that kind of run through your head. We're not unflawed people, and it's hard sometimes to live up to the expectation."
Balfe also serves as a producer on Outlander. She is currently working on Season 6, which is scheduled to start filming in January 2021.