Caitriona Balfe's Response to Being Dubbed 'Some of the Best Sex on TV' Would Make Jamie Fraser Blush
For five seasons, Outlander stars Caitriona Balfe and Sam Heughan have been steaming up TV screens with their passionate love scenes. The undeniable chemistry between the two has resulted in those scenes being dubbed "some of the best sex on TV." And Balfe's response to that title would make Jamie Fraser blush.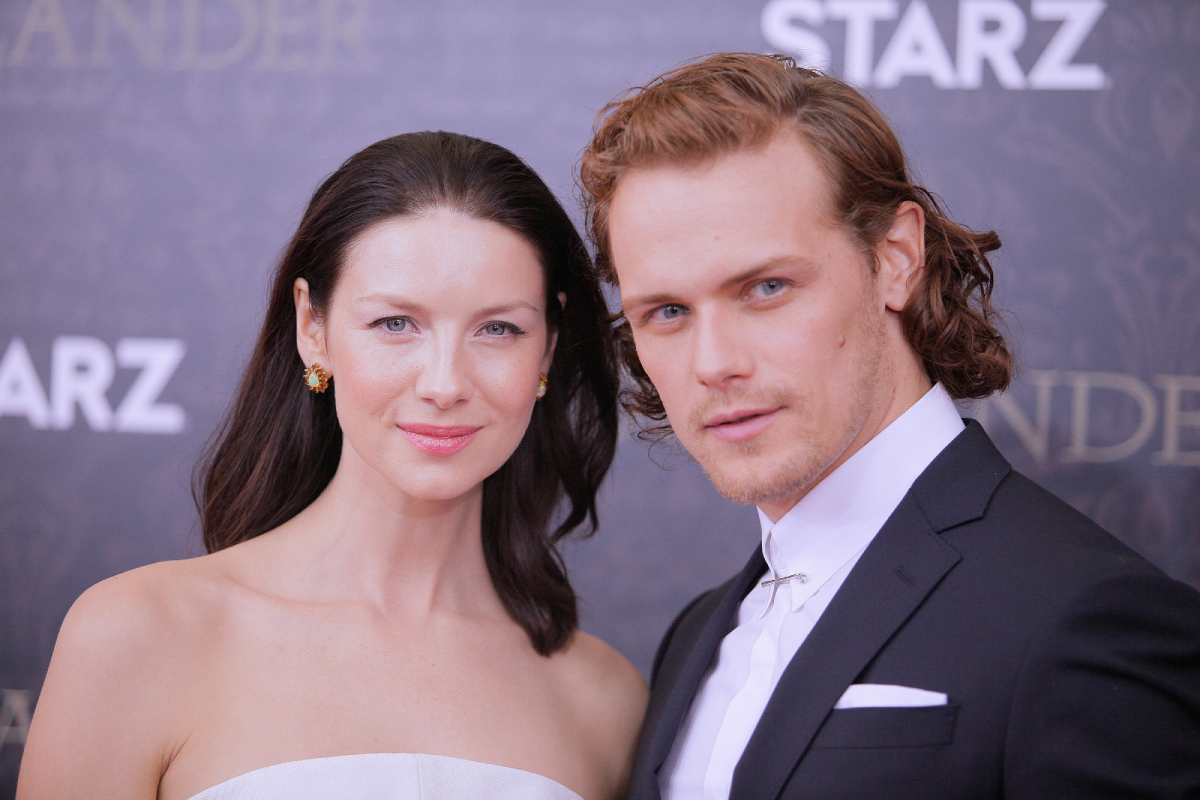 The 'Outlander' book series also includes plenty of sex and nudity
The steamy scenes in the Outlander TV series come from Diana Gabaldon's Outlander book series. According to Express, the books feature plenty of "raunchy moments" just like the Starz drama.
The love, passion, and chemistry between the two main characters is the foundation of the story. Both the book and TV series have featured lots of sex from the beginning. But it hasn't always been between Jamie and Claire.
In the pilot, Balfe's Claire shared intimate moments with her first husband, Frank Randall (Tobias Menzies). During her narration, Claire explained that sex was "a bridge" that brought her and Frank back together during their second honeymoon at Inverness after being apart during World War II.
Later in season 1, Claire found love with Jamie and that relationship continues to grow and evolve. But no matter what happens, there's always plenty of sex. This demonstrates Claire's strong female sexuality, while also being an important part of her marriage.
Diana Gabaldon says sex always brings Jamie and Claire back together
Gabaldon doesn't mince words when discussing just how important sex is to the Outlander story. In 2016, she explained that it always brings Jamie and Claire back together each time they are separated.
"They were never intending to marry each other. She wasn't intending to marry him. He married her mainly because he wanted to sleep with her, to protect her also," Gabaldon explained. "But the sexual attraction between them is very strong and is the glue that holds them through some very difficult times."
Gabaldon added that Outlander isn't just a courtship or romance story, it's a "long-term marriage." But just because those intimate scenes between Jamie and Claire are an integral part of their romance, it doesn't mean they are easy to shoot.
'Outlander' star Caitriona Balfe responds to being dubbed 'some of the best sex on TV'
Balfe has explained numerous times in interviews that the steamy scenes featuring her and Heughan aren't always easy. She's also made it clear that those scenes are never what people think they are.
"There's usually a lot of people in the room," Balfe noted. "Unless you're into that and you like to have an audience. I'm not saying that some people aren't but there we go."
Heughan has also reflected on the love scenes during interviews, and he says that he and Balfe work closely with the writer and director before they "get it on." The scenes are carefully choreographed and rehearsed, and both the lighting and costumes are always tested.
"Yes, they're always awkward," Balfe told Strahan, Sara, and Keke. "But it's weird, we've been doing it so long now. It's always this conversation of like 'Ok. So what are we going to do for this one that's different from every other one that we've done before.'"
During an appearance on The Late Show with Stephen Colbert, Balfe responded to her and Heughan being dubbed "some of the best sex on TV."  The Irish beauty's response would make Jamie Fraser blush.
She said, "[Claire's] great with anatomy. And the men wear kilts so it's easy access."
Outlander seasons 1 through 5 are available on Amazon Prime Video.