'Outlander' Star Sam Heughan Opens Up About His Favorite Kilt, His New Whisky, and Getting Drunk With Caitriona Balfe
Outlander star Sam Heughan has managed to remain rather private despite his rising fame. He rarely shares details about himself or his family. But that recently changed thanks to his new book Clanlands.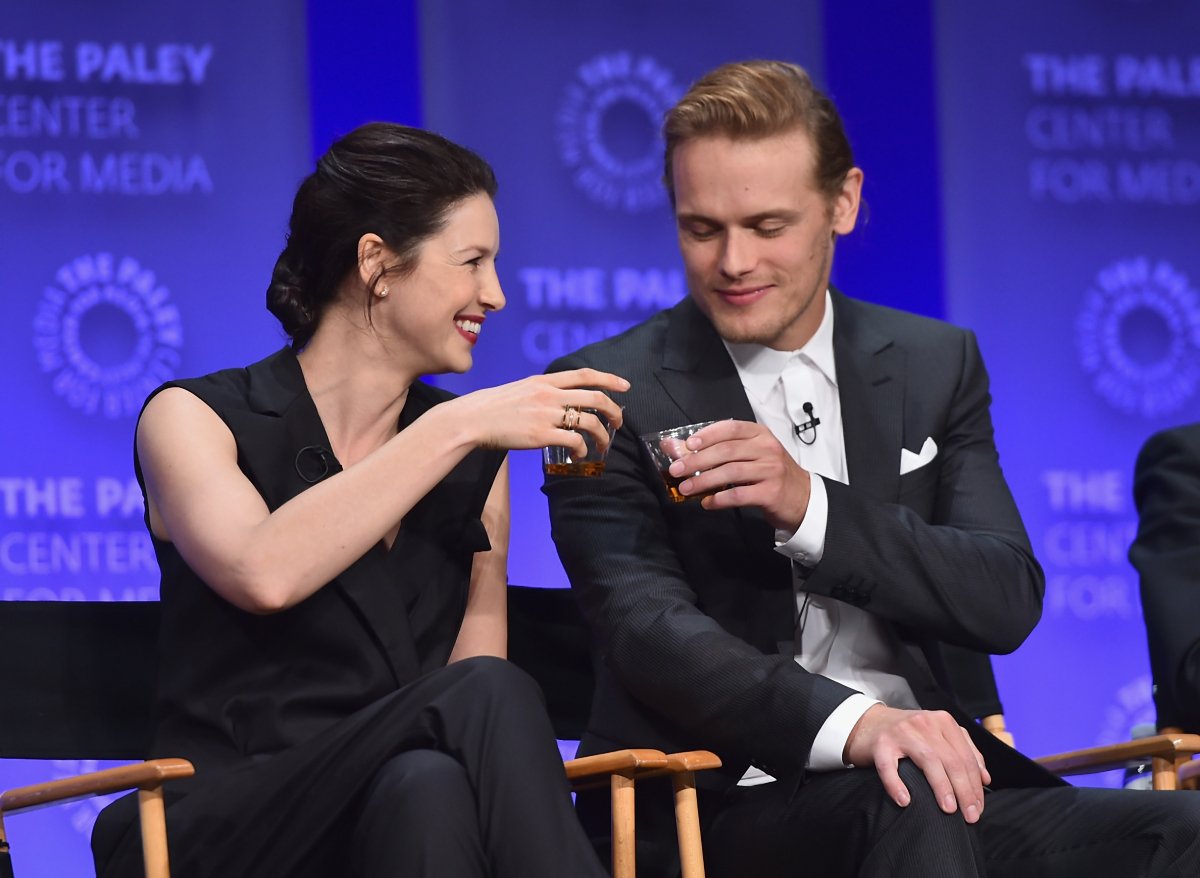 On November 3, Heughan and his co-star Graham McTavish released the book that provides Outlander fans with some insight into their lives while they road trip through Scotland and discover their country's history.
'Outlander' stars Sam Heughan and Caitriona Balfe once showed up to the set drunk
In Clanlands, Heughan reveals that he and co-star Caitriona Balfe once showed up to the set of Outlander when they were still drunk from the night before. In the book, Heughan recalls a cast party that McTavish threw at his Edinburgh apartment during season 1.
Among the guests were Heughan, Balfe, Tobias Menzies, and Duncan Lacroix. When the part began there were five bottles of whiskey. By the next morning, only two bottles had any whisky left.
"The next morning I found myself strapped in and being driven by Cait's driver to work. Cait was upside down in the back, her feet the wrong way up," Heughan revealed.
RELATED: Why 'Outlander' Author Diana Gabaldon Once Accused Sam Heughan and Caitriona Balfe of Having 'No White-Hot Passion'
"She had slept in and was still blind drunk as we raced to the studio for the read-through. I was chugging water and couldn't see straight as I listened to her laughter and giggles coming from the back seat. We fell into the studio and found our seats."
Heughan admitted that he wasn't sure if Balfe could speak. He says that "constructing a sentence or following a story" was beyond his grasp.
"We were definitely still 'aff our heids' drunk," Heughan wrote.
McTavish, it turns out, was sleeping it off in his own bed. He planned the party to take place the night before his day off.
Sam Heughan owns several kilts, the most important one belonged to his father
In Clanlands, the Outlander co-stars talk about the different tartans and how they reflect the area of the country that each clan is from. The colors of each design reflect natural elements and resources. When Outlander started, they decided to create their own that reflects the wildlife of the clan's home area.
Heughan notes that he owns several kilts., including a "beer kilt" that's "fine to get dirty and covered in beer." He explained that the kilt was perfect for attending a rugby game or a rowdy party.
He also admitted that lost his most recent kilt in Sassenach tartan "somewhere between Las Vegas and Mexico." Heughan hopes that someone is in Mexico distilling tequila while wearing "a fine grey and black plaid."
RELATED: 'Outlander' Star Sam Heughan's Audition Made Diana Gabaldon Clutch Her Chest and Proclaim 'Oh My God, This Is Actually Him'
However, the kilt that is "most dear" to Heughan is his father's kilt. Heughan received it after his dad passed away when he was shooting season 1 of Outlander in 2014. Heughan hasn't worn the kilt yet, but one day he will.
"It's MacDonald, as our family descends from the MacDonalds and comes with a plain but well-used brown leather sporran," Heughan writes. "I'll honour him one day by wearing it – just need to lose some weight first, he was rather slender!"
The 'Outlander' star has his own brand of whisky
Drinking alcohol is a significant part of Clanlands and the follow-up docuseries Men In Kilts. As Heughan and McTavish make their way through Scotland, they often stop to enjoy their country's food and drink.
Heughan has a passion for whisky, and he recently revealed that his Sassenach whisky brand has upcoming release dates in both the UK and the United States. This will be the brand's second release in America and its first in the UK.
Heughan took to social media to let fans know that his Sassenach whisky will be available across the United States on Black Friday, November 27. It will hit the market in the UK on St. Andrew's Day, November 30.
RELATED: 'Outlander' Star Sam Heughan Is Taking Fans On a Tour Of Scotland With This Fan-Favorite Co-Star
"May be a cold winter ahead but here's something to warm you!" Heughan wrote on Twitter and Instagram.
According to The Daily Record, Heughan's "rich, distinct, sweet and smooth" whisky received double gold at the 2020 San Francisco World Spirits Competition. The Sassenach brand is a reference to the nickname that Heughan's character Jamie gives to Balfe's Claire on Outlander.
Clanlands is available wherever books are sold. Season 1 through 5 of Outlander are available on the Starz app and Amazon Prime Video.