'Outlander' Star Sam Heughan Reacts to Being Called Out on 'This Is Us'
The Starz time-traveling drama Outlander has built a passionate fan base during its first five seasons. The show is definitely making a name for itself and the mentions in pop culture are starting to add up. Even This Is Us has called out the show, proving Outlander has officially gone mainstream. Leaving star Sam Heughan and executive producer Maril Davis to celebrate being called "one of those people."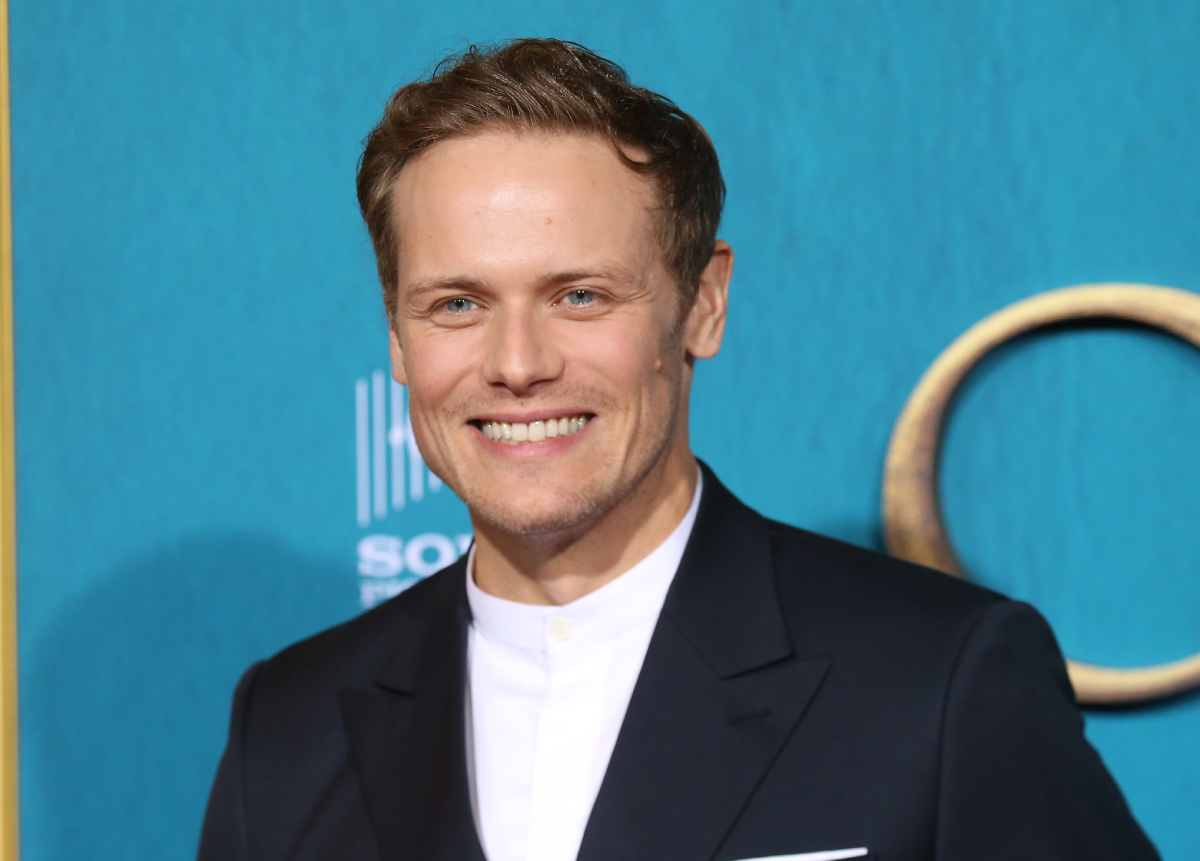 'Outlander' got a mention on NBC's 'This Is Us'
Outlander has already popped up in Jeopardy clues and on Amazon Prime's The Boys. But the show just received its biggest shout-out yet on one of network TV's highest-rated scripted dramas.
During the November 13 episode of NBC's This Is Us, one of the characters gave Outlander a mainstream mention. During the scene, the newly-engaged Kevin (Justin Hartley) and Madison (Caitlin Thompson) are having a serious discussion about the baggage they are bringing into their marriage.
The couple barely knows each other, and are expecting twins after what they thought was a one-night stand. Both struggle with body image. Kevin has an obsession with working out and staying in perfect shape for his acting career. Madison struggles with bulimia and is finding it difficult to eat during her pregnancy.
While having a heart-to-heart talk about their personal issues and what they might pass onto their children, Madison admits she's an Outlander fan.
"Also, I am obsessed with the show Outlander. I've gone to conventions," Madison confesses. "No," Kevin replies, to which Madison insists, "Yeah."
"You're one of those people," Kevin says. "Yeah, One of those people. I know," "Madison admits.
The 'Outlander' cast and crew respond on social media
Immediately after the episode aired, Outlander fans took to social media to react to the mention. Stars of the show also chimed in, including Heughan.
"We are One of those people too!!!!" Heughan tweeted.
Executive producer Maril Davis responded to Heughan and wrote, "By 'one of those people' he meant the BEST FANS ON EARTH! Thanks for the shout out @NBCThisisUs ! the Outlander folks @Outlander_STARZ."
"Haha. Brilliant. We love 'those people,'" Caitriona Balfe wrote.
RELATED: 'Outlander' Star Sam Heughan 'Hopes' That Love Scenes Will Still Get to Be Included In Season 6
"Amazing!!" Steven Cree (Ian Murray) tweeted.
This unexpected mention from This Is Us comes as the cast and crew of Outlander are gearing up for production on season 6. Heughan told Town & Country that they are "ready to go."
"We have about half of the scripts now and are doing costume fittings," Heughan revealed. "Everything is taking longer because of COVID, but we will be back to work very soon. I don't know if I can say this, but we may be dealing with those differences between Lowlander Scots and Highlanders in the states in the new season, so that should be interesting."
Sam Heughan is officially a best-selling author
As the Outlander fandom continues to grow, Heughan is ready to teach them all about his beloved home country of Scotland. Heughan and his Outlander co-star Graham McTavish just released a new book titled Clanlands. It follows Heughan and McTavish as they road trip through Scotland while eating, drinking, stopping at historical sites, and sharing anecdotes from Outlander.
The book is already a New York Times Bestseller and is currently number one on their Print Hardcover list.
"So delighted and shocked, this is incredible. Thank you to everyone who has bought the book and joined in this adventure. Instagram Live tonight to celebrate," Heughan tweeted.
RELATED: In 'Clanlands' 'Outlander' Star Sam Heughan Opens Up About His Family Like Never Before
In 2021, Heughan and McTavish are following up the book with the Starz docuseries Men in Kilts. Heughan says fans will see him and McTavish "bicker and argue" like an old married couple.
The actor says that fans will also learn more about Scotland compared to the "romanticized" version they see on Outlander.
Outlander seasons 1 through 5 are available on the Starz app and Amazon Prime Video.