'Outlander' Star Sam Heughan Reveals His Diet and Workout Secrets — and It's All About Jamie Fraser
ARTICLE HIGHLIGHTS
Outlander star Sam Heughan revealed he has experiemented wih all types of diets, but in he end he just eats clean.
Heughan considers an actor's posture and physique as an extension of their costume.
So he builds his workout around Jamie Fraser — a military man and a farmer.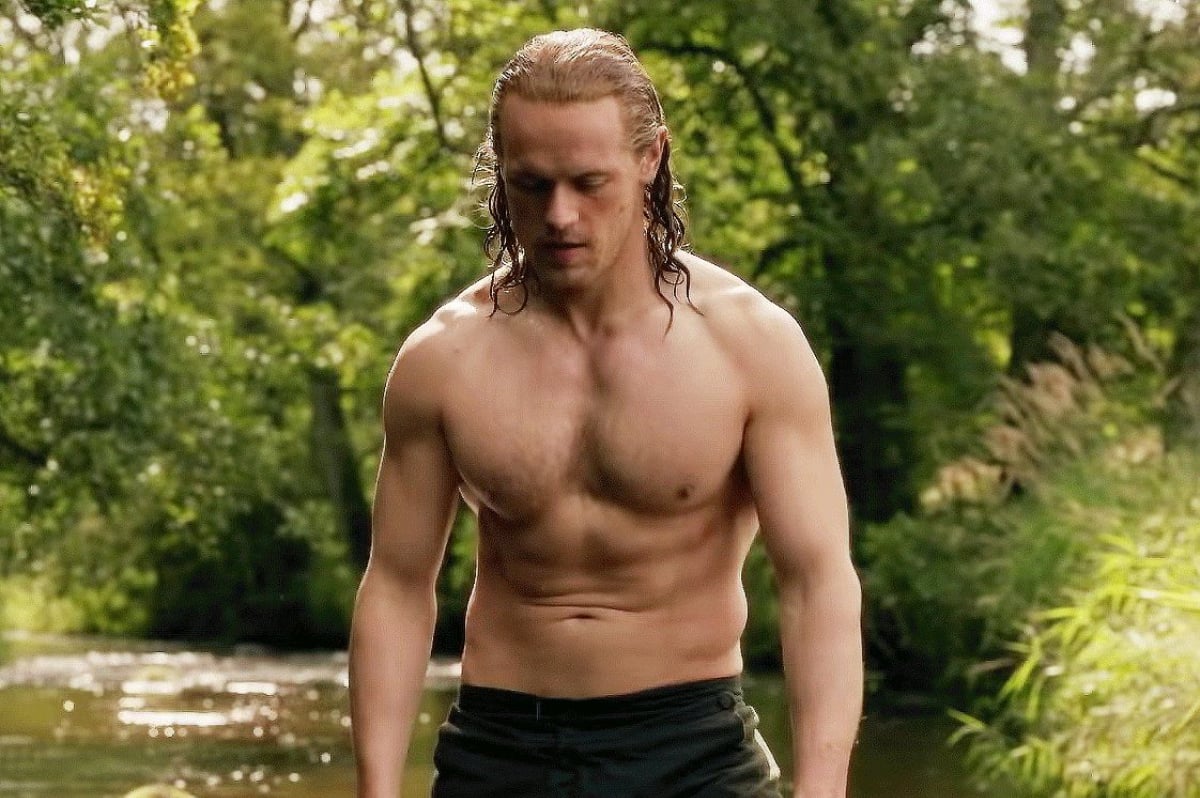 Outlander star Sam Heughan sees an actor's posture and physique as an extension of their costume. It makes it easier to play a Highland warrior when you're ripped and ready for battle. Which is one of the reasons why fitness has become such a focus in Heughan's life. Especially since landing one of the leading roles on the Starz time-traveling drama.
When it comes to the 41-year-old Scot's diet and exercise secrets, he says it's all about Jamie Fraser.
The 'Outlander' star has experimented with a lot of diets
Heughan says that he's done a lot of experimenting with his diet — from going vegan to full-on carnivore. He's even gone through Atkins and likes to try new fads regularly. The Outlander star says he's always curious to see how his body will respond to things. But in the end, he always goes back to "eating cleanly."
"My body does well on carbohydrates, especially porridge," Heughan told GQ UK. "It's probably the number one power of food for me. There are infinite ways to enjoy porridge. I always have a flavored protein powder in there, chocolate or vanilla, and you can put anything you want on top of it. The world is your oyster."
He noted that the main challenge he has with his diet is finding good options when he is on set or traveling. Because of that, he always keeps a box of protein bars nearby. Heughan also takes supplements to boost his immunity and give him energy "because the days are long and tiring both physically and mentally."
Sam Heughan's workout routine is all about Jamie Fraser
When it comes to Heughan's daily fitness routine, he says that in general it is crafted with Outlander in mind. He says the idea is "about staying true to what Jamie Fraser would do."
"He's a military man and a farmer. Therefore I'll cover all body groups across the week. The workouts tend to be strength-based, but functional. Compound lifts, farmer carries (I really enjoy them), split-rack carries, overhead carries," Heughan shared.
"I find carries are really good for posture too. I'll finish with some sort of WOD (CrossFit speak for Workout of the Day), these tend to be pretty classic ones. I alternate strength and cardio across the week. Cardio is usually running, cycling or hiking."
The 'Outlander' star was 'doing too much' which led to an injury
Heughan revealed that he had to recently change his approach to exercise and relaxation after a bike accident in December. His injuries included a torn MCL and knee fracture, which he is still rehabbing. The Scot admits that he was at a point where he needed to start taking things easier. And the injury has forced him to do just that.
"Until that point, I was going and doing CrossFit style workouts, cycling there and back, and usually doing a second workout later in the day when I could fit it in. It was a little too much really," Heughan admitted.
"I was pretty depressed for a couple of days after the injury. I've done a lot of endurance sports, marathons and the likes, going hard is what I like doing."
New episodes of Outlander air Sunday nights on Starz.
RELATED: Sam Heughan on the Growing 'Outlander' Universe — 'I Can Absolutely See' It 'Without Me'